From Jaurès Métro station, looking down from where the trains run high above street level, you can see the line of tents stretching along the Canal Saint-Martin. This is where the tenth arrondissement meets the nineteenth, well inside the Paris péripherique ringroad, and not far from the centre. Here, camped out in the cold, more than 400 migrants are living. Most are from Eritrea, Afghanistan and Sudan but some also come from countries such as Mali or Guinea.
Over the last two years, and particularly since the demolition of the so-called Calais Jungle, dozens of informal camps have been set up in the French capital. Rejected by the formal welfare systems, thousands are now living in the streets, in tents and shacks, with almost no access to essential services and goods or institutional support. The government's response has been purely reactive: as soon as a camp forms it is demolished and its inhabitants evicted. According to the Guardian, the Paris police have undertaken 37 such operations since 2015.
In November 2016 a provisional shelter was set up at Porte de la Chapelle, the only shelter in Paris which is run by the government. This can only house 400 people. The first thing you see as you come out of Porte de la Chapelle Métro station is a massive inflatable container in the shape of a dome, and behind it a large building, dominating the horizon. Until last summer, people were camping out all around this official shelter, under the overpass, among the garbage and in the continual comings and goings of the busy Périphérique ringroad. "Then the police came and evicted everyone, and moved the problem to other parts of the city. They only allowed one official camp to exist, managed by a well-known NGO," says Danika, a Croatian volunteer who, following the journeys of thousands of other migrants, has found herself in Paris.
Inside that official structure, a migrant is only allowed to stay for 10 days. Then they are reallocated to a temporary residence elsewhere in France, assuming they have the right to international protection. As a result, many migrants who have passed through 'La Bulle' (the Bubble), as the Porte de la Chapelle shelter is now known, end up back on the streets after 10 days. Rather than be sent off to God knows where around the country, many prefer to remain in Paris. Sometimes they organise together to try and get to the UK. All this means is that despite the evictions and bans, the city is home to several informal camps, most of them located in hard-to-reach places, hidden from the passing gaze of Parisians. In addition to the 400 or so people at Canal Saint-Martin, more than 500 are staying under the bridge at Canal St. Denis, while another fifty or so minors sleep in the park at Belleville.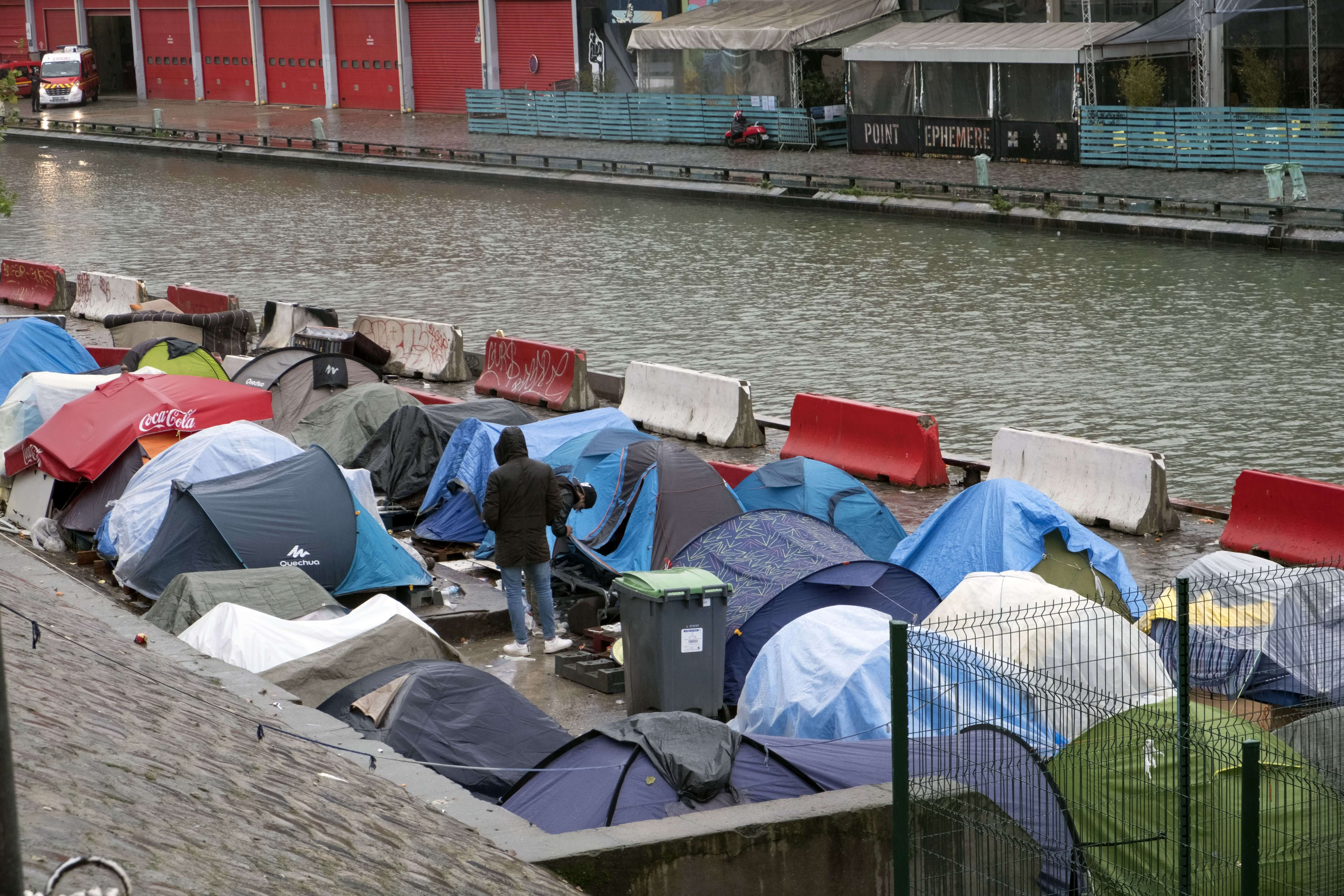 "Listen, sorry, I have to go to this office the lawyer told me about, they should give me a place to sleep." Outside the station at Jaurès I meet a young man with a piece of paper in his hand. He asks me for help. His name is F. He tells me that he's 17 and comes from Ghana. He speaks in a broken, agitated manner. The temperature is only 5 degrees and he is wearing a light t-shirt and a jacket, totally inappropriate for the Paris snow. "I've been here for a month. At the start, I found a place to stay. But then I ended up on the streets. It's cold at night and I have almost nothing to cover myself with," he tells me. He's wet, freezing, and confused.
"They gave me the number of this lawyer, but I have never met him. He told me to go to a place near here where I could spend the night. But it was closed. So what now?" he continues. He doesn't know what to do, and has been wandering around the city for hours without finding anything. And yet according to international law, he has the right to special protection as a minor. He explains that he began the asylum process in Italy but then ended up in France in the hope of getting to the UK. A new border crossed over, and a new, complicated and rigid bureaucracy to confront. It's too much for a young man who ran away from Ghana two years ago, aged fifteen.
Danika arrives not long after. She knows what it means to be a refugee. In her case it was the war in former Yugoslavia that forced her to leave home. She has been a volunteer for many years. "I cook for more than a hundred people in the worst-affected parts of the city, I distribute clothing, and I worked for a while at the Porte de la Chapelle, providing theatre and artistic services for the migrants in the centre," she says as she goes through F's documents. She is now a crucial point of reference for the many hundreds of migrants living on the streets of Paris.
More and more refugees make their way to her, through word-of-mouth. They know that at any moment she is ready and willing to help find a roof for someone, or simply provide a mug of hot soup. Danika has seen from the inside how the provision of refugee accommodation has changed in France, month after month. "This emergency has gone on for two years now" she resumes, giving F. back his papers and signalling him to follow her, "They keep on evicting the camps, in the hope that new ones will not be created. Really it's just a question of time management. In the meantime, the problem is moved and not solved. The evidence is right here in the streets."
We take F. to a space set up by the Red Cross to offer support for unaccompanied minors. The doctor on duty asks us to leave immediately. "Unfortunately F. was already here a few weeks ago and we cannot offer him support. We don't have enough space, and his condition is not so terrible that he requires immediate intervention," he says. So what happens now? A Ghanaian refugee, who has made it through the hell of Libya, taken a boat to Italy and then made his way to France, has no choice but to sleep on the icy pavement. We recuperate a little in a nearby café. F. doesn't react: probably he hasn't understood what's going on. Danika explains to him that the Red Cross cannot help him. "In Africa I have nobody. My mother is dead and I have never known my father. I don't have any other relatives" he says, without lifting his gaze from the mug of tea that he holds between his hands.
Then he tells us about Libya, where he arrived without any money. "I couldn't get on a boat right away. Then the Arabs kept us locked up, they made me work to pay for the trip. They would often beat us." He interrupts himself in a rare outburst "Libya is a horrendous place!" After four months of hard work he saved up enough money. First he spent a few months in Sicily, then a short time in Milan. "Even there I wasn't sleeping on the street, I had a place to stay. I decided to try to cross the French border but at the station after Ventimiglia, after I had crossed, they sent me back." As a minor he has the right to assistance. But in the end it was only by hiding in the bottom of a truck, on his second attempt, that he managed to get into France.
Danika interrupts F.'s story, as if wanting to bring him back to reality. She takes his phone number and assures him that for that night she'll find him a place to stay. In the meantime we take him to a library at Belleville where at least he can stay warm until seven o'clock. Leaving F., Danika takes me around the various migrant 'hot spots', spread across the city.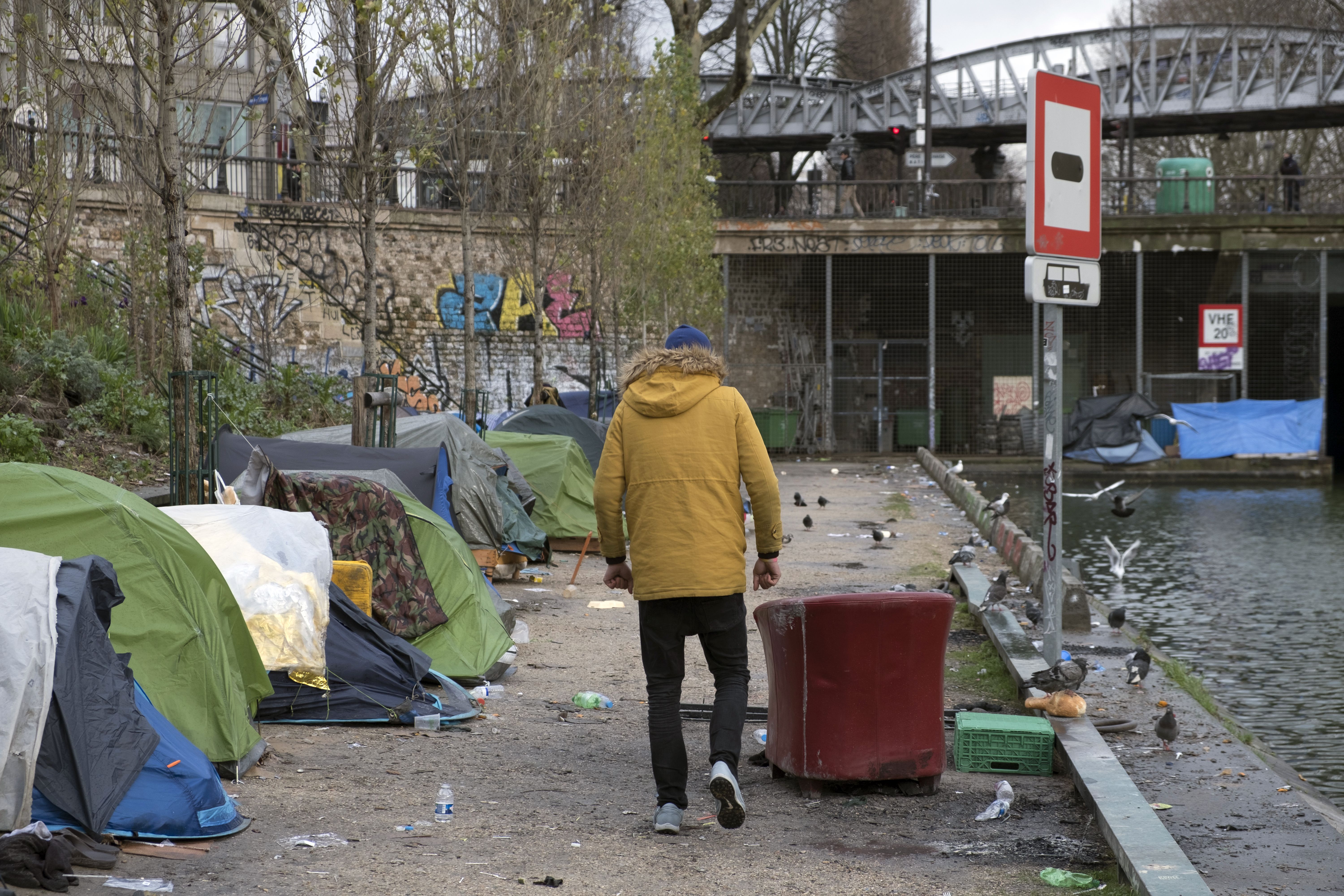 We get to Jaurès and go down to the Canal Saint-Martin."There are a lot of people here in tents" says my guide as we enter into a snake of blue and green tents from Decathlon, winding along the waterfront. There are no toilets, no clean water, no services. To keep warm, they burn whatever they can find: clothing, plastic, abandoned sleeping bags, cardboard.
"Every evening, food is distributed" she continues. "I don't do it here, it's covered by others. But there are other places where nobody goes."  In front of us three men from Afghanistan are working on their tent. One of them, A., tells us what life is like here. "The police come very often, sometimes they take away the tents, other times they simply tell us to move on. We don't know what to do."
A. is wearing a balaclava and a heavy coat that he also uses as a blanket inside his thin tent. All of them came through Serbia. It's likely that some of these men waited in line to receive food in the freezing cold of Belgrade, as the whole world saw in a series of shocking photos which, like so many others before them, were soon forgotten. A.'s story is also one of violence and disappointed hopes. "I tried 16 times to get across the Serbian border. I was beaten by Hungarian and Croatian police. Then finally I managed to get here," he says. The journey cost him€2000 and now he wants to get to his brother, who lives in England.
What he doesn't know is that the journey, for people like him, is almost certain to end at Calais. After the 'Jungle' camp, where more than 10,000 people were living, was dismantled in October 2016, the authorities will no longer tolerate even a single tent. It's nearly impossible to stay in the area, waiting for the means or the right moment to cross the sea. Anyone who does try is forced to hide. According to France24 there are more than 800 migrants hidden among the undergrowth and the forests at Calais, trying, in one way or another, to get to England. The website Infomigrants, funded by France24, Deutsche Welle and Ansa, describes the situation in the port as "highly explosive." The migrants there live in extreme precarity. Traffickers continue to get a few people across into the UK, but meanwhile drug-related violence is increasing, and clashes between different ethnic groups are a daily reality. In a conflict between Eritreans and Afghans, a few days ago, more than 20 people were injured, 5 seriously.
Back in Paris, Eritreans, Afghanis and Sudanese are still hoping to reach Calais. Y., a sixteen-year-old Eritrean that we meet at Saint-Denis, wants to go to England. "My brother is there: here in France I don't know what to do." Y. doesn't want to ask for asylum in France, and dismisses the possibility that he will receive protection as a minor. He has a childish face, curly hair and a stubborn streak. "I don't know what Calais is like, I don't even know where it is. I just know you have to go there, to get to the UK. And so I'll go."
There are more than 500 people here in Saint-Denis. As in the other camp there are no services, just food distributed in the evening by a few organisations. "This one hasn't been here long. We're near Porte de la Chapelle, so many of the people here have already done their ten days in the official space" explains Danika. "At least in the official camp, people can take a warm shower, sleep in a heated room, or watch the TV. Here, forget it." On the canal, if everything goes well, the only thing that is supplied is a single hot meal, and once again the unseasonal Paris snow begins to fall again, rendering these people even more invisible.
This article was first published on Il Salto. It was translated from Italian by Jamie Mackay and Frances Grahl.