"I have things.
I have rights.
I have a voice."
"They say the next big thing is here, that the revolution's near, but […] it's all just a little bit of history repeating," sings Miss Shirley Bassey in her majestic voice. In December 2017 Vladimir Putin declared that he would seek a new six-year term in March 18 presidential elections. But we all know that sixth reelection of Vladimir Putin isn't history repeating; there's nothing cyclic about it. Remember how in February 2012, during the invariably cold Russian winter, Vladimir Putin announced his comeback after 8 years of being prime minister?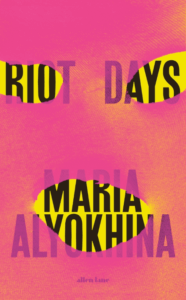 Back in 2012, in the midst of the "Snow Revolution" against the electoral fraud a few revolutionary minds were working on a plan. An unsanctioned action in the biggest church of Moscow. They called themselves "Pussy Riot," as protest was in their feminine blood: balaclaved group of acid tinted, tight wearing females, playing protest song in unauthorised places in Moscow. This time they were against the evil alliance between the Orthodox Church and the one and only Putin. At that time ties between church and state in Russia were growing. The thing that pissed theme off the most was that the Orthodox Church leaders' expressed their support for Putin during his election campaign in 2012.
The plan was simple, yet daring. Called "Punk Prayer: Mother of God Drive Putin Away", this time protest had everything: five women in balaclavas, a well chosen place — Moscow's Cathedral of Christ the Saviour, a good protest punk song against dictatorship and catchy phrases, like "Virgin Mary, Mother of God, chase Putin out," "Shit, shit, holy shit!," and "Virgin Mary, Mother of God, become a feminist."
Disorderly conduct, committed with the purpose of inciting religious hatred by a group of persons in an intentional conspiracy.
On February 21, having smuggled a guitar and an amplifier into the cathedral, Maria Alyokhina, Nadezhda (Nadya) Tolokonnikova, Yekaterina (Katya) Samutsevich and two other women, clambered onto a platform by the altar and belted out their song. The thing lasted barely forty seconds, but by March, Maria, Nadya and Katya had all been arrested and would be later charged with "disorderly conduct, committed with the purpose of inciting religious hatred by a group of persons in an intentional conspiracy."
Here what was supposed to be a story about feminist guerrilla politics, instantly became a story of trial, imprisonment, and the inhumane Russian justice system. And when you find yourself targeted by the president of your own country it is expected of you to write memoir so that one day world could learn the truth. And so Alyokhina did just that. She wrote an autobiographical book titled "Riot Days," first published in English on September 11, 2017.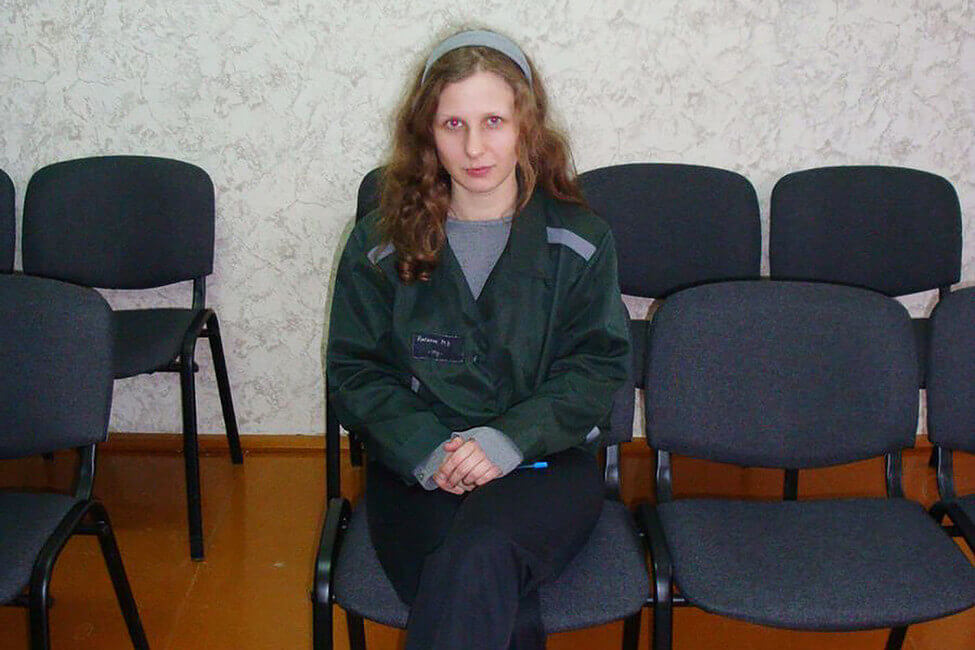 It is Alyokhina's brief account of the period between 2011, when Pussy Riot was founded, and her release in December 2013. The book does cover her performance, trial and incarceration, but mostly focuses on her subsequent protests in prison against human rights abuses. The story is peppered with textual fragments, official pieces of historical evidence – news reports of Pussy Riot's action, citations from speeches by Putin and the Russian Orthodox bishop Patriarch Kirill, and excerpts from the trial transcripts. It also includes drawings by her son, Filip, to help us visualize the story.
The number of people held in prison, colonies and pre-trial detention centers in Russia is 617,191. 48,455 are women.
After the brief introduction, including a vivid account of her role in Pussy Riot and comments on the absurdity of the trial, Alyokhina focuses on her time in prison.  If you are looking for any practical details of Pussy Riot's experience, inside information, you will be disappointed. The largest part of the book covers her incarceration in Correctional colony No. 28 for convicted women (Berezniki) in Perm Krai and later colony No. 2 in the Nizhny Novgorod region.
According to the latest statistics from Russian Federal Penitentiary Service,  the number of people held in prison, colonies and pre-trial detention centers (SIZOs) in Russia is 617,191. 48,455 are women. Among those, 39,018 are serving their sentences in colonies, medical-correctional, or medical institutions. 9,437 are being held in jail in anticipation of a verdict.
In Russia there are two types of colonies: black and red. "Black" colonies are those in which prisoners influence the life of an institution. Convicts that serve time in such prisons have loosened the rains of regime by using violence, establishing connection with the outside world, for instance, by getting access to normally forbidden items, such as cellphones. In result the administration has no real power over the imprisoned and is afraid to interfere. The colony has its own criminal rules. The "redness" of prisons is achieved through torture and threats to convicts by colony employees. In order to achieve obedience from inmates, prison staff consciously violates the law. If the administration was to release the reins just little, the colony would organically turn "black."
"Black" colonies are those in which prisoners influence the life of an institution.
Alyokhina is taken to a red prison. All female colonies are red. Of course, prison authorities try to break her, mostly manipulating other zeks (Zek — a Russian slang term for a prison or forced labor camp inmate) into it, fearing, that she, like all political prisoners, would disrupt the docility of the colony, and turn other prisoners against the administration.
Maria finds enough strength to continue her protest in prison. But she does not protest against her sentence; although she doesn't think she done something wrong, Maria has empathy for those whose feelings Pussy Riot may have hurted by it's performans. She demands that the colony administration and staff obey the law and internal prison regulations. But the administration tries hard to hinder any of her complaints or allegations from leaking out. They force her fellow inmates to stay silent by using collective punishment. If Alyokhina complains to human rights advocates about the lack of hot water, it's cut off for everyone. Inmates are threatened and punished with wage withholdment, reduced medical care or not being allowed to see family, especially to see their children. The authorities remain unpunished and boldly oppress prisoners ever more severely. Women are forced to file statements that they "voluntarily" want to work on weekends and overtime. They are separated from their lovers, their girlfriends put in solitary confinement, and threatened with physical violence.
She demands that the colony administration and staff obey the law and internal prison regulations.
Alyokhina is open about her battle to remain strong in prison. "To back down an inch is to give up a mile" — she repeats to herself constantly. Although everybody asks her why she does it, and what's the point, she continues to protest. Maria goes on hunger strikes, writes petitions with the help of human rights advocates, taking prison officials to court in a campaign for better conditions. One time she and another inmate at the colony No. 2 in Nizhny Novgorod made an insulting poster and paraded with it up and down the prison for everyone to see it.
Alyokhina also writes about important problems that women face in the colonies. They have nowhere or nobody to come back after they are released. In most cases their husbands walk out. Long terms of imprisonments have broken more than one family. "When it sinks in that their wives will be stuck behind the bars for years to come, they usually abandon their women. Wives don't abandon their husbands, though. Often, women bring enormous bales of goods they've hauled thousands of miles for their husbands in prison," writes Alyokhina. The percentage of women who have lost contact with their husbands left outside the bars is much higher than in the reverse. Male prisoner's wife doesn't cease to visit and write him for long years. In men's colonies there is always a queue for dates and for transfers; in women's — silence and emptiness.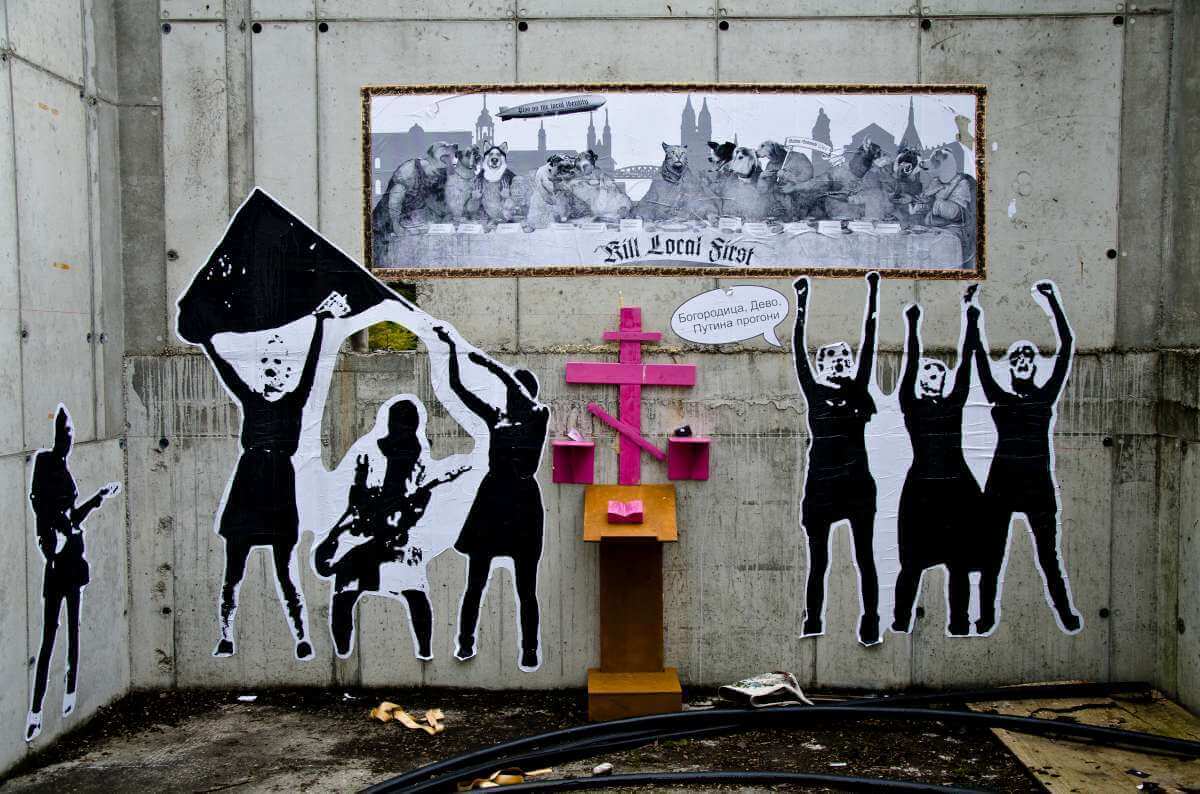 Another difference from male colonies is that women do not protest their bad prison conditions as often. Men have what they have because there is a bigger number of prisoners that demand their rights and things, turning to human rights advocates. Women are afraid to report violations in prison and if they do, they are easily silenced: "(…) if you press them on anything they immediately take it all back," complains Alyokhina's female advocate. That is why overall conditions are better in men's prisons.
"'Riot Days' could so easily have been a straightforward, from-the-horse's-mouth confessional account of on of the most publicised political protests of recent years," writes The Guardian. And it's true, we still haven't read or heard a lot what happened behind the scenes. Maybe it's because Pussy Riots do not want to seem as if they were drunk on fame, or they are not yet old enough to be reminiscent about their past. But thanks to Alyokhina addressing the urgent problems in the whole prison system, we are yet again reminded, that prospects for the improvement of women's situation in Russian penitentiary system are not  expected in the near future.
If you press them on anything they immediately take it all back.
Maria Alyokhina clearly sees continuity between the Soviet labour camps and her own incarceration. She is sure: although the face of the system has changed, its semantics remains the same. Since she feels as another dissident in this continuous history of Russian penal system, Alyokhina tried, it seems to me, to write a text similar to the memoirs of two Gulag survivors and great writers, Varlam Shalamov and Vladimir Bukovsky. In her book she writes of them with admiration and is inspired by their struggle to survive Soviet oppression, to go on with hunger strikes, and to fight against multiple human rights violations in prison. In a certain way Alyokhina's book can be accounted to literary cycles about the Gulag system and prison in Russia. The author accurately depicts a grotesque system through observations and actions of one person, as did Shalamov and Bukovsky. On the other hand, there is a difference between "Kolyma Tales" and "Riot days." Although the antagonism between the Russian political power and the individual reminds of the Soviet Union, Russia can now be beaten on international arena. "Riot days" is more optimistic than any other prison diary, because it is led by protest and riot.