"So beautiful yet so stupid" – the hunter snaps at the girl holding the banner. But Edyta is not stupid. In fact, she's coordinating today's joint action of the Lublin and the Warsaw Against Hunters groups to prevent the annual Hubertus, a solemn hunt of 4 hunting clubs in the Kozłowieckie Forests. There are 20 of us. Edyta separates the tasks, leads us through the forest and with the help of the geolocation application directs journalists to the spot.
It all starts with a car chase after a convoy filled with a busload of reflective hats and three roadsters. Being a chase driver was a unique experience. After 10 km, we arrived and to prevent the hunters from shooting, we walked between the positions occupied by them and the beaters. Dogs and men from neighboring villages run animals straight into the shooters. They do not have to exert themselves. They sit on portable stools behind a wall stacked from a ready-to-export, cut pine. A deer or boar won't even have the chance to run without falling into a deadly trap. But our presence, according to the law, makes it illegal to shoot under the threat of losing a gun license.
Out in the fields we meet a stroller. "Be careful with your dogs sir. They'll shoot them. Do you know there is a hunt running here? " "No, but what can I do? I have to get dogs out every day. " The hunting area should have been marked a few days in advance, but the local hunters failed to do this. In addition, one of the groups has lit a campfire in the forest. Michał called the police since it's strictly forbiden to do so. The officers that come greet the hunters with a handshake and no fine is given. There's no point mentioning missing hunting signs either: "They were there as they should but ecologists took them down" – the hunter says with a cheeky grin.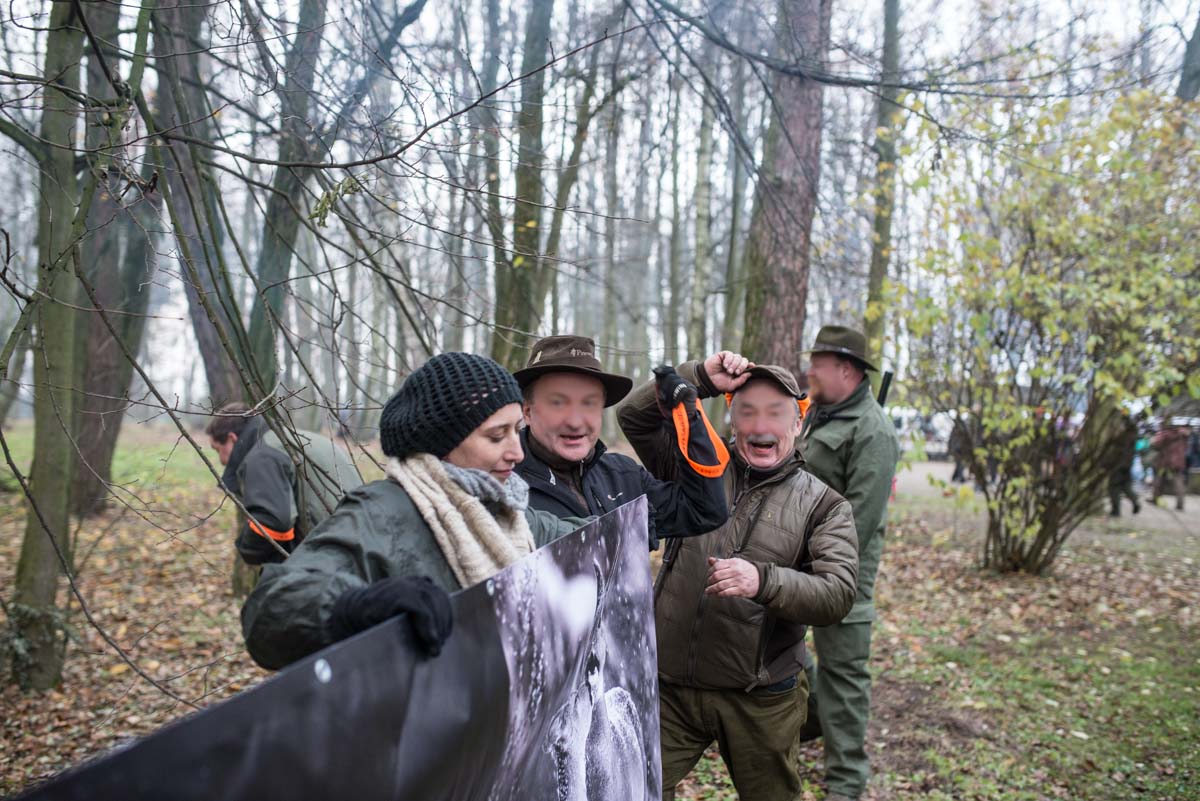 Moving from one failed shooting place to another, constantly harrassed by activists, and losing time and money on beaters (in front of us, 50 to 100 Euro bills change hands) really starts to aggrevate the hunters. They get vulgar and provocative: "What are you doing behind me? You want to give me a blow job? Such a pretty boy"- spits one of them from under a thick mustache. There are 3 teenage girls sitting right next to him, probably the granddaughters of his nervously laughing colleagues. Three hours earlier, each of them took part in a open-air mass celebrated by a local priest: "We know that if God is in the first place, all is in the right place. (…) Respect and listen to seasoned hunters "- he enumerats the commandments of the hunting brotherhood one by one.
"You want to give me a blow job? Such a pretty boy."
Stay calm, do not let them provoke you. It's a strong lesson in humility, but it works: the huntsmen seem dumbfounded, their consternation, surprise and disappointment are clear on their faces. They mainly focus they mockery on girls. They try to  grab them while posing for pictures, ridiculing their appearance: "You retards, mongols!" – they shout while everything is being recorded on our cameras. "Say what you want but there will be no shooting for you today" – Ania strikes back, shutting him up.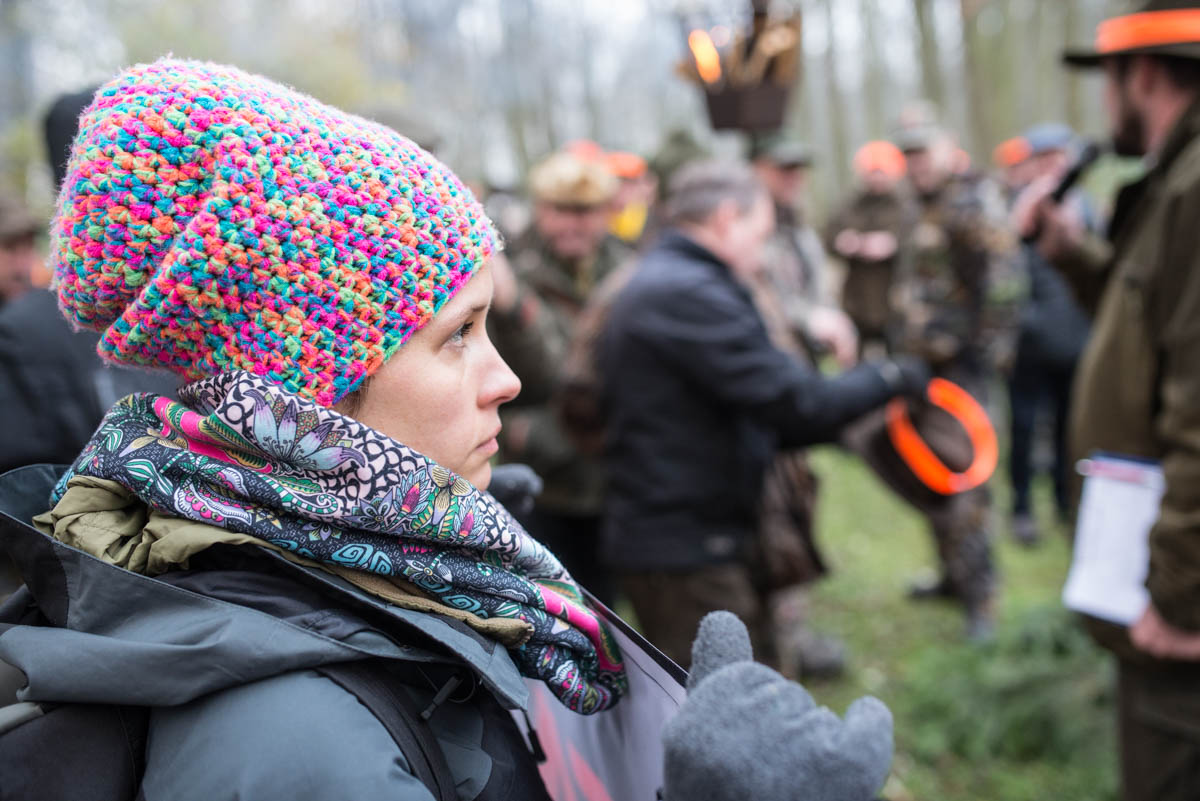 There are only a few of us and we do not manage to keep up with all the hunting groups. We hear a shot and a moment later we see a hunter dragging a beautiful, dead fox through the mud. They throw him into a stinky cart and drive  away. It's a loss, but we know that all in all we did well. From their conversations we hear that only this fox and one boar fell today. Considering 100 hunters participated it's a very poor result. The hunt is usually followed by the Pokot – a ritual presentation of the prey. But today they are ashamed of hunt's outcome so they call it of. The vast majority of hunters are men in their 60s and so in order to discourage young people from joining, we try to enhance the shame. All of us appear at the closing ceremony and while the hunters trumpet their hymn's, our people stand in silence holding up anti-hunting banners. Again the taunts are heard, but the men silence each other. The "King of the Hunt" coronation takes place, but the "King", looking rather poor and depressed by the situation, recieves a gift bag from Decathlon – the largest sporting goods retailer in the world and the hunt's official sponsor. We will have to ask if Decathlon's PR department knows that it supports the killing of wild animals and what its customers think about it. Their official facebook profile should be useful.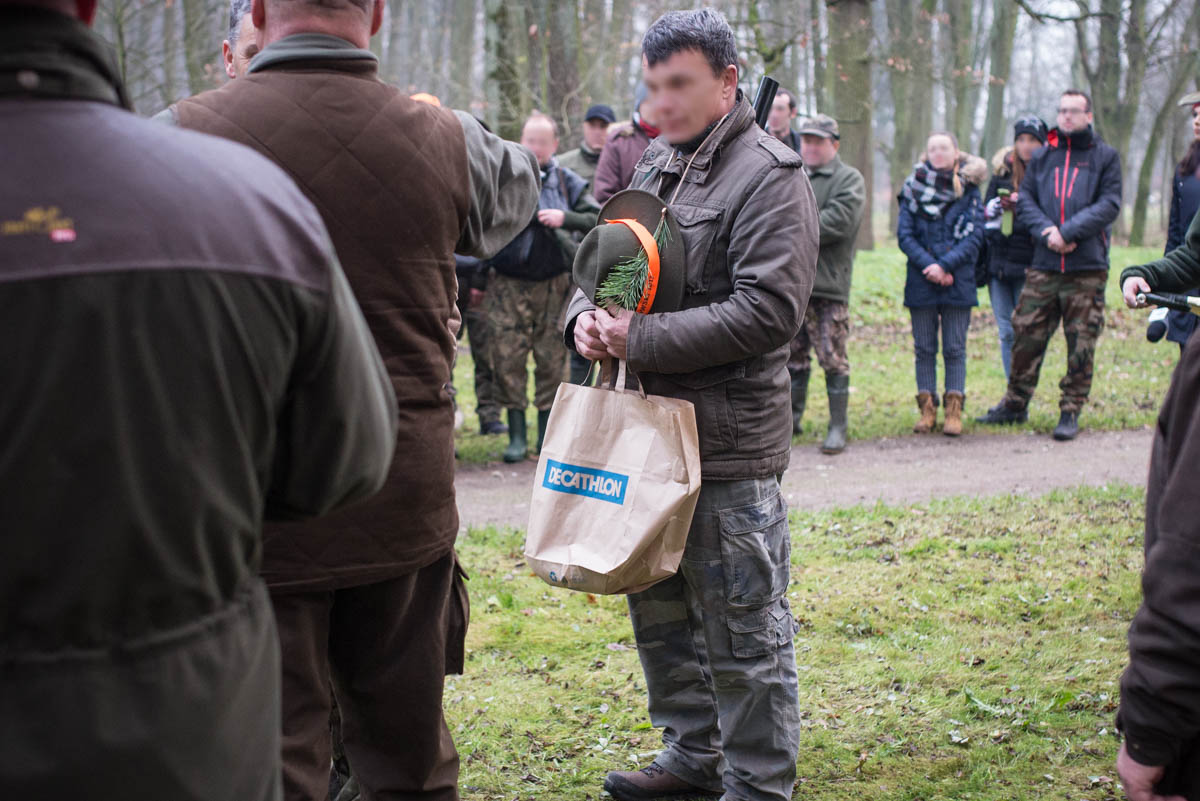 We had to get up at 3am and only were able to come back home after 10pm. We froze, starved, withstood insults and the mistreatment of animals, but no one will deny us the performance, the experience of breaking down fear and the satisfaction and joy of meeting new friends.
Animal right's and anti-hunting groups in Lublin, Warsaw, Wrocław, Poznań and Szczecin are always looking for volunteers. You don't have to go blockade hunt's themeselves if you don't feel comfortable. Any help spreading the news or searching for information on planned hunts really helps. And remember: if nature calls while hiking in the forest, hunting pulpits are the best place to let yourself have a healthy piss.
***