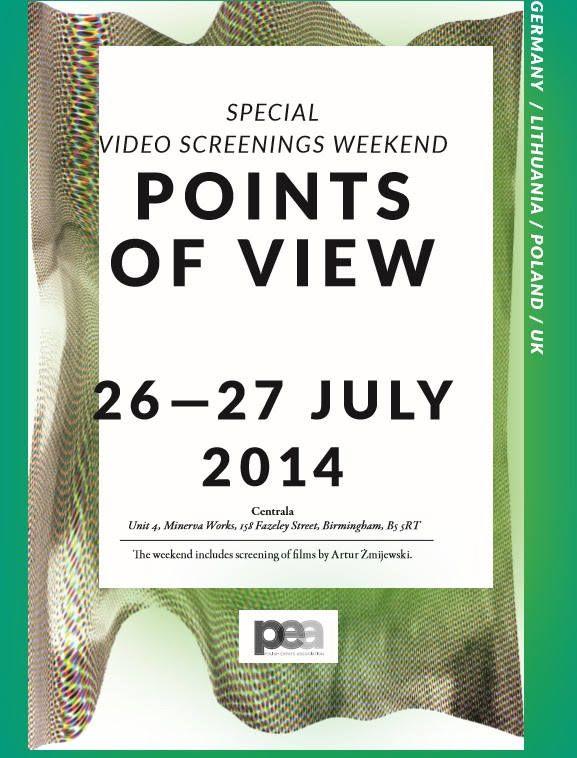 PEA and Centrala present the best video art from the Points or View Video Festival, originally taking place in Łódź, Poland since 2011. The Festival is a platform for the presentation of current video works made by students and recent graduates from fine art academies in Poland, as well as artists from Łódź's partner cities: Vilnius and Berlin. The Birmingham presentation comprises a selection of videos shown in Łódź between 2011 and 2013 and a selection from Vilnius and Berlin. The weekend includes a special screening featuring works by internationally acclaimed Polish artist Artur Żmijewski.VIDEO SCREENINGS WEEKEND PROGRAMME

SATURDAY 26 JULY 2014 16:00—21: 00

16:00 • Videos from the UK & Poland

17:00 • Videos by Artur Żmijewski

18:00 • Talk by Jakub Majmurek, an expert on Artur Żmijewski

19:00 • Videos from Lithuania & Germany

SUNDAY 27 JULY 2014 16:00—21:00

16:00 • Performance by Home for Waifs and Strays

17:00 • Videos from Poland

18:00 • Videos from Lithuania

19:00 • Videos from Germany

Artists:

Germany: George Drivas, Eduardo S. Mayorga, Faye Mullen, Iris Musolf, Gabriele Stelbaum, Ewa Surowiec, Clemens Wilhelm, Nuno Vicente

Lithuania: Šalnė Bučiūtė, Eglė Butkutė, Gediminas G. Akstinas, Gintaras Didţiapetris, Antanas Gerlikas, Tadas Kanapinskas, Ţymantas Katinas, Saulius Kmieliauskas, Donata Minderytė, Marija Olšauskaite, Petras Olšauskas

Poland: Małgorzata Goliszewska, Tomasz Koszewik, Magdalena Lazar, Justyna Misiuk, Maria Ornaf, Katarzyna Pacura, Piotr Światoniowski, Mikolaj Tkacz, Hubert Wińczyk, Agata Witkowska, Paweł Żukowski

UK: Sophie Bullock, Denise Brighton, Tereza Buskova, Craig Green, Stuart Layton, Grace Williams, Ioannis Voulgaris

The weekend is organised in collaboration with the Points of View Video Festival and Stowarzyszenie Kultura Aktywna thanks to the support of the Polish Cultural Institute in London. The first day of the weekend will coincide with Warwick Bar Summer Fete, a moveable feast of Bikes, Art and Food. Drop into our Family Picnic between 1 and 3pm.
For all press enquiries including large images and interview requests, contact:
Roma Piotrowska