Democracy is generally accepted as the most desirable form of government. And yet, there has been a growing unease both in advaced capitalist countries like the USA and in poor developing countries like India that all is not well with this form of political representation. For a better understanding of the faultlines of democracy and the ways to handle it, we need to understand the nature and exercise of economic power in a market economy, and its interacton with institutions and ideology. This lecture is an attempt to decipher this complex issue.
The discussion after Professor Amit Bhaduri's lecture will be moderated by Professor Jerzy Osiatyński.
The lecture will promote the new publication "The Global Economic Crisis After 2008: The Post-Keynesian Perspective" (in Polish: "Globalny kryzys gospodarczy po roku 2008. Perspektywa postkeynesowska"), published by The Institute for Advanced Studies and edited by Kazimierz Łaski and Jerzy Osiatyński. Among the authors of the publication are also guests of lecture series "Nowa Ekonomia Czasów Kryzysu" run by Institute: Amit Bhaduri, Mark Blyth, Heiner Flassbeck, James K. Galbraith, Eckhard Hein, Jan Kregel, Paul Krugman, Abba Lerner, Julio López Gallardo, Kazimierz Łaski, Jerzy Osiatyński, Thomas I. Palley, Martin Riese, Malcolm Sawyer, Robert Skidelsky, Friederike Spiecker i Jan Toporowski.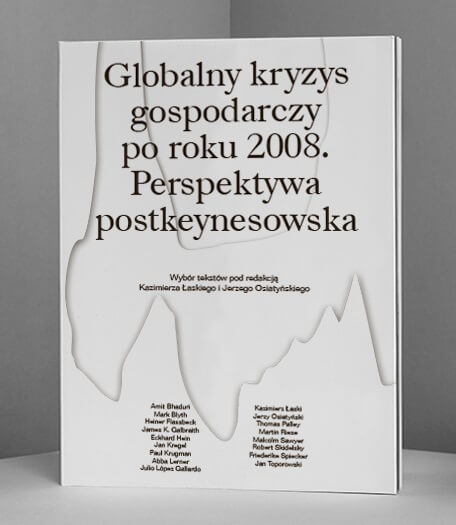 The publication of this book was financially supported by the Rosa Luxemburg Foundation.
The publication will be available for free to participants in the lecture.
***
The lecture will be held in English.
The lecture will take place at the Institute for Advanced Study (16 Foksal St., Warsaw).
***
Amit Bhaduri is an economist and a consistent critic of mainstream neoclassical economic theory, relentlessly exposing its logically flawed foundations. His research spans several important fields including capital and growth theory, Keynesian and post-Keynesian macroeconomics and development economics. His contribution as an economic theorist lies in challenging the mainstream theory in a precise and yet compelling way, bringing the role of power in the analysis of the market economy into formal analysis. Some of his writings have been translated into several major European and Asian languages. He is currently internationally selected professor at Pavia University, Italy and visiting professor in the Council for Social Development, New Delhi.
***
Partner: