The project COORDINATE SYSTEM brings together Berlin initiatives with selected researchers, artists and cultural entrepreneurs from twelve Eastern and Middle European countries. From May 14-21, the participants present and map current European urban activism art. The public is invited to join the artists during the Art Forum (May 20-21) for artist talks, podium discussions and video screenings. From May 14-19, artists, activists and urban researches join hands in order to network, gather inspiration and draw up projects.
The project COORDINATE SYSTEM is accompanied by the art show COORDINATE SYSTEM. New Urban Realities, presenting alternative/urban art in today's Russia.
Exhibition COORDINATE SYSTEM. New Urban Realities (May 13-24)
"Processes of a commercialization of space take place radically and rapidly in Russia," say the curators. "The question is – is it possible to democratize and open up public spaces via artistic interventions?"
In the exhibition which exemplarily focuses on Russia, main actors of the Russian illegal urban art scene scrutinize the ways in which activism art changes urban topographies.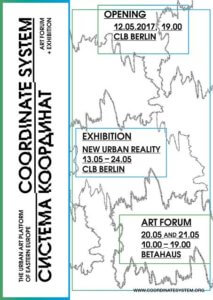 Partly monumental installation, partly subtle research, the artistic interventions in urban spaces break and poetize everyday life. At the same time, they are a rebellious call for participation below the economic, institutional and political radar. Grischa and urban art master 0331C reinvent graffiti art with petroglyphs in an urban context. The Urban Fauna Lab experiments with urbanized flora and fauna. Timofey Radya dominates the urban landscape with his critical, expansive installations. And dance cooperative Isadorino Gore integrates the "unforeseeable and incompatible" in their artistic interventions, "the way the Russian government demonstrates it."
Tickets: Free entry
Exhibition:  13.05.-24.05. Mo-Fr 2.00-7.00pm, Sat + Sun 12.00am-7.00pm       
CLB at Aufbau Haus, Prinzenstraße 84.2,10969 Berlin-Kreuzberg (entry via Oranienstraße)
Art Forum: 20.05.-21.05. Sat-Sun 10.00am-7.00pm
betahaus, Prinzessinnenstraße 19-20, 10969 Berlin
Language: English/simultaneous translation into English
Opening: CLB Berlin, 7pm
Keynote Talk Artist Forum by Charles Landry (UK)
Artist Talk with Vladimir Chernishev (Nizhny Novgorod), May 13, 7pm.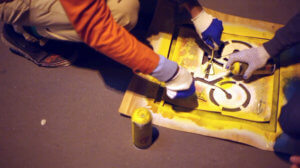 Artists of the exhibition:
0331C & Grisha (Moscow), Tanzkooperative Isadorino Gore (Moscow), Vladimir Chernishev (Nischni Nowgorod), Kirill KTO (Moscow), Timofey Radya (Ekaterinburg), Projekt Urban Fauna Lab (Moscow), Art Gruppe Partizaning (Moscow, St. Petersburg, Krasnodar), Art Gruppe ZIP (Krasnodar).
Participants of the Art Forum:
Margarita Augustin (Germany) tbc, Liva Dudareva (Latvia), Artem Filatov (Russia), Katarzyna Anna Klimowicz (Poland), Joanna Kocemba (Poland), Dana Kosmina (Ukraine), Wojciech Kostrzewa (Poland), Jekaterina Lavrinec (Lithuania), Maciej Lepkowski with Wojtek Matejko and Anna Wilczyńska (Polen), Kadri Lind (Estonia),  Annamária Nagy (Hungary), Aleksandra Nenko (Russia), Nataliia Neshevets (Ukraine), Ivan Pantelić (Serbia), Jovanka Popova (Macedonia), Jürgen Rendl (Slovakia), Arseny Sergeev (Russia), Gohar Smoyan (Armenia), Anton Valkovsky (Russia) and many more.
Curators COORDINATE SYSTEM: Igor Ponosov (Partizaning), Aleksandra Yurieva-Civjane, Alexandra Goloborodko (International Cultural Project BUTTERBROT), Alexander Formozov;
Project developer: MitOst e.V.; Partners: CLB Berlin, betahaus Berlin;
Media partners: taz, Le Monde Diplomatique, Political Critique, Portal Kunstgeschichte, n-ost