One of CMdB's main objectives was to support, enhance and inspire a widespread participatory process of government. How has your relationship with the platform developed since you took office? What do you think the relationship between social movements and institutions should be like in order to successfully implement citizens' demands?
I believe that the good governance of a city requires social movements, organisations and collectives of people that want to make a difference, to cooperate and stimulate progress. Cities cannot be transformed from inside an office. They can only be changed through continuous engagement in the city, on the streets and in neighborhoods. It's only natural that this has been one of the key aspects of our approach: my door has always been open for those willing to help. While before we used to have a queue of people waiting outside who wanted to ask for favors, now there's a queue of people who want to do something for their city.
Obviously, in this context, there is a unique link to CMdB, which is the political entity that emerged during the election campaign from the desire not to waste all the energy that had gathered around the large civic coalition that supported my candidacy. Within CMdB, while we respect each other's autonomy – which in my opinion is indispensable – we constantly discuss issues and organize common actions, each of us according to our role: mayor, city councilor, activist etc. By organizing ourselves in this way we help each other stay in close contact with the situation in the city and demands coming from the grassroots.
CMdB has an open and inclusive position towards migrants and refugees in the region. It opposes the dogma imposed by the economic crisis and the stigmatization of those fleeing war and devastation. Are the citizens of Messina developing initiatives or spaces for integrating migrants in the city? As a Mediterranean city, could Messina organize a joint action together with other European cities to develop a network of cities without borders?
We Sicilians are a migrant community ourselves: we have been all over the world and we know all too well what it means not to be welcome. This is why we must not make the same mistake.
This is one of the topics that is closest to my heart. When I think of the "least fortunate" – whom I believe should be at the centre of the government actions of any administrator – I can't help but think of them, of the migrants. We Sicilians are a migrant community ourselves: we have been all over the world and we know all too well what it means not to be welcome. This is why we must not make the same mistake. It is our duty, as human beings first of all, but also as administrators in this historical moment, to promote different policies that are humane and focus on human dignity. Over the last few years, we have grown used to receiving boats – though one never really gets used to it – full of migrants, full of life, full of hope, in our city's port. The solidarity shown by Messina's community has been extraordinary and encompasses many different integration initiatives, the taking in of unaccompanied minors as well as a number of reports on the living conditions of migrants who are kept inside a "welcoming" system which is sometimes inhumane (and which unfortunately doesn't depend on us). A network of welcoming cities without borders would be a very relevant message to send to our governments, to show that things really can be done differently, provided there is the will to do so.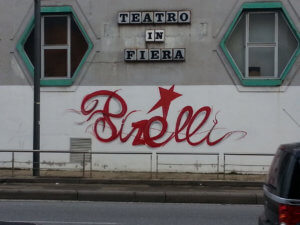 Squatters at the Teatro in Fiera said in 2012 that their goal in occupying the theatre, which had been abandoned and left to decay for decades, was "to give the city a key asset for the civil and cultural growth of the community". What is happening with the theatre today? What are the developments as regards legislation on occupied spaces in Messina? And what role should the City Council play in providing citizens with spaces for self-management?
Our experience with the Teatro Fiera was amazing. I myself participated, and that was when the thousands of signatures demanding my nomination began to accumulate in 2013. Nowadays, unfortunately, the theatre has reverted to a state of neglect because the entity that manages the building – the Port Authority, which is directly subject to the national government – closed it down again to wait for it to be renovated.
Faced with this situation we are taking action: in cases we consider appropriate, we claim ownership of a building or space for the municipality. The theatre belongs to the city and its citizens, and therefore it should be managed by the municipality. This is not just a quarrel between entities: it's about putting politics at the service of the common good and giving back to the city what belongs to it. If we manage to achieve this, it will be the final proof of how a bottom-up initiative, the action of a social movement, can be brought to successful conclusion by an attentive and responsive public institution.
Our administration recognizes the social value of self-management experiences.
This is how we try to work regarding other commons, or community resources, in the city. We created an institution – the Commons Lab – in which citizens jointly wrote the rules for the management of commons, the management of urban gardens, and for the execution of the participatory budget (in the hope that the City Council, where we are a minority, approves it!). Our administration recognizes the social value of self-management experiences. And despite many obstacles we will soon start an experiment on the commons in the city, as we have also created a self-recovery and self-management project for families living in emergency housing. In this respect, the municipality can do a great deal.
Messina has been described as "the first example of municipalism in Italy". What participation initiatives has the City Council implemented in recent years? What has been the reaction and level of engagement from the citizens? Has Messina's City Council established contact with other Italian or European cities to exchange insights on practices for increasing the level of citizen participation in the institutions?
There have been many initiatives, mainly because this was a sleepy city that was not used to active participation. The Commons Lab I mentioned comes to mind, but also the popular assemblies we organized on specific issues, and the Municipal Board meetings that were open to citizens in the city's various neighborhoods. We are also currently implementing a project for the participatory redevelopment of certain properties in the suburbs through popular assemblies in which the citizens themselves decide how a particular area should be redeveloped.
Yes, it would be nice if there were more opportunities and more citizens who wanted to get involved. But this is a start and not just a little step. Clearly, exchange with other cities – from Italian ones like Naples to cities outside Italy like A Coruña or
Barcelona – could help us greatly. Exchange, dialogue, and sharing skills and experiences on critical issues can only be beneficial for all of us.
***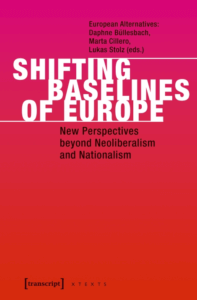 This is an edited extract of an interview from Shifting Baselines of Europe, a forthcoming book by European Alternatives. Shifting Baselines of Europe proves that Europe has more options than only Neoliberalism and Nationalism. The book brings together reflections from well-known authors with presentations of emancipatory projects from across the continent: from the municipal level to the level of transnational media, from technology and counter-surveillance to a concrete proposal to revive the European refugee policy.