It is a sunny Saturday morning in October and the clock in Madrid's Puerta del Sol shows almost half past eleven. I'm meeting Malik a bit further up, in the Lavapiés neighbourhood. These days, Lavapiés is buzzing with young people playing African music, dancing flamenco in the street and drinking cheap beer. Traditionally, though, it has been an immigrant neighbourhood offering affordable rents, which are currently increasing exponentially due to tourism and Airbnb (stickers scattered across the neighbourhood read "Tourists Go Home" and "Tourism Kills the City", and a few banners welcoming refugees are hanging from balconies).
Racism is there in every aspect of our lives in Spain, as anywhere else in Europe.
"The first immigrant from Senegal arrived here in 1984, and the Senegalese community has been living in this area ever since." Malik, my thirty-four-year-old guide for the day, was born in Pikine, a city with "a hip hop tradition" outside the Senegalese capital, Dakar, but has been calling Spain "his home" for the last twelve years. "Lots of pirogues [small boats] from Senegal arrived here during 2005. It didn't take me long to learn the language—various dialects are spoken in my country, so I already had a language-learning culture", he continues. Madrid is now home to lots of families who emigrated from Latin America, but the locals are still not at ease with African migrants. "Racism is there in every aspect of our lives in Spain, as anywhere else in Europe. When I enter a supermarket, the security guard will scrutinise me from head to toe. This is what you are dealing with, if you are black."
While we're having coffee, I notice a few street sellers walking by hastily, carrying the blankets that they lay their wares on over one shoulder, like a Santa sack. Rushing to ensure they don't get caught by the police, they shout a quick hello in Wolof (a language of Senegal) when they see their countryman. That brief moment of unrest brings me back to the actual reason why I met with Malik today.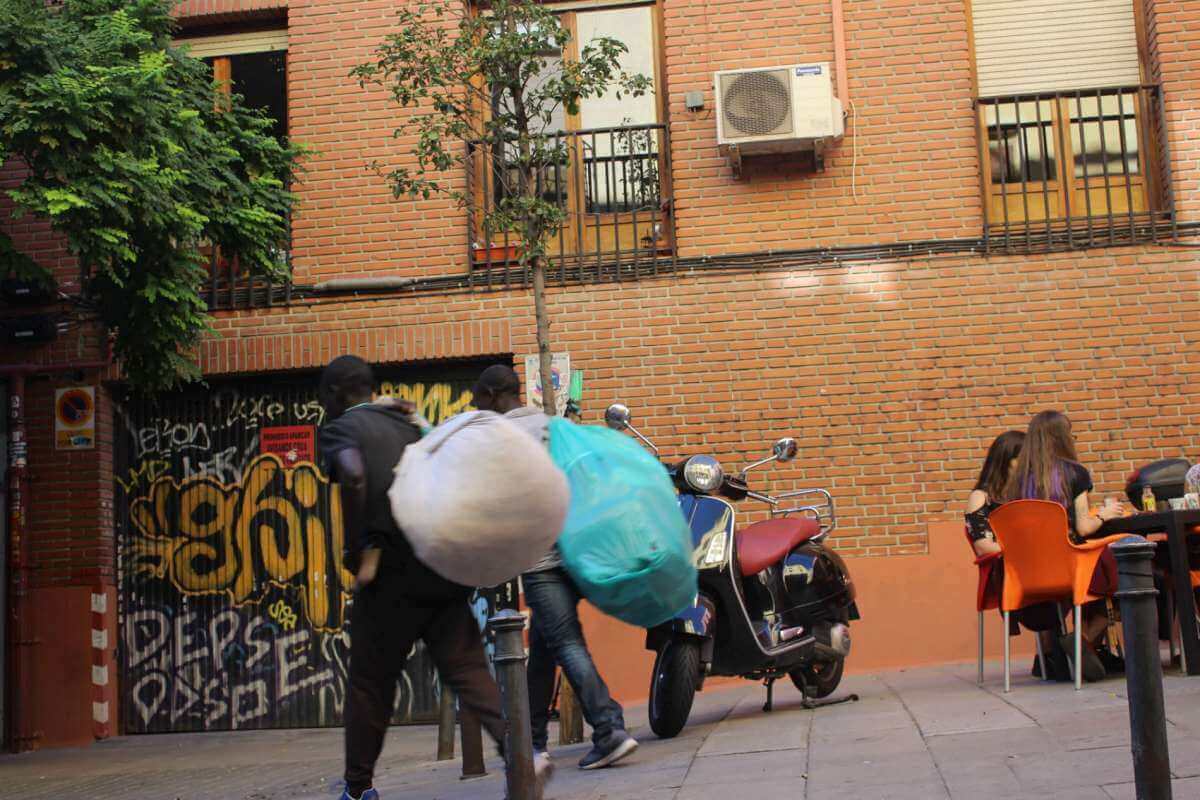 Malik's story begins with the fact that "the first street seller immigrant in Madrid was from Senegal", and he hasn't broken with tradition himself. "I was selling gloves, hats, handbags, scarves and the like, much like the first ever street seller. Unlike me, however, he had to reside inside a Senegalese restaurant nearby. During the 80s, hotels wouldn't rent rooms to black  immigrants, and if they'd ask to rent a house, the owner would run a mile. It was much harder back then when we were only a handful. My brother was already in Spain, making a living out of selling counterfeit goods on street corners. When I arrived myself, having no papers, that was the only option I was left with. Did you see all of them running away from the police earlier? None of them really like doing this for a living, nobody", Malik tells me.
None of them really like doing this for a living, nobody.
Street sellers in Spain are known as Manteros. The name comes from the Spanish word for blanket, manta, on which they lay their knock-off merchandise. In Madrid, they mainly operate around the main square, Puerta del Sol, not far from where we're having coffee. Even though the weather is nice and the square is crowded, ideal circumstances for Manteros, police presence is heavy in the area, so no one is to be seen at their usual spot. "They will probably show up again around midday when the police go for lunch", Malik reckons. "The police mistreat us. Especially when they see people who don't speak Spanish well, they often insult us with racist remarks. Between us street-sellers, however, there is an unspoken rule of respect and solidarity, without which we wouldn't survive. What we earn is barely enough for rent, food and sending some money to our families back home."
I ask Malik where they obtain their pirated goods from: "Primarily from Chinese vendors, while a few other products, like counterfeit perfumes, come from Greece."
"Upset about forgeries? We'll create our own label!"
The first union of undocumented immigrants emerged in 1991 with the purpose of gathering a pool of money for their compatriots in need. Malik reports that "today, 85% of the street sellers are from Senegal, 10% are Arabs and there are also a few from China and Bangladesh". These are not random estimates—Malik has been active for years in networks of immigrants and street sellers without papers, which are also supported by local activists. The collective in which he participates fights for the decriminalisation of Manteros' street selling, which was previously punishable by a term of imprisonment of up to two years. After putting a lot of pressure on the government via awareness campaigns and solidarity from various artists and activists, immigrant street sellers achieved a change in the Criminal Code in 2010. This did not last long however, as in 2014, "due to the Indignados movement, the government banned mass gatherings in Puerta del Sol [see the Ley Mordaza or Gag rule], and by extension our activity was once again criminalised", explains Malik.
Its trademark is a blanket, which is "flying free; it's a symbol of freedom".
The collective is now fighting for decriminalisation all over again with the help of Podemos. At the same time Manteros in Barcelona have captured the media's attention and startled locals with an unexpected initiative: they entered the world of trade and fashion, launching their very own label: Top Manta. Its trademark is a blanket, which is "flying free; it's a symbol of freedom", says Malik, while showing me photos of Top Manta clothes and shoes on his mobile.
"Banning us from selling on the streets is like denying us the right to survival. The police are chasing us. Why? Are you upset about forgeries? Then, we'll create our own label". This is the message Manteros are trying to communicate, and now they have even opened their own store in Barcelona. "Things aren't easy, as many people still prefer to buy fake Nikes, but we're hanging in there", says Malik with a smile.
It is not a coincidence that this initiative was born in Barcelona. It was there that, in 2015, a fifty-year-old street seller from Senegal lost his life when he jumped off the third floor of a building, while trying to get away from a police raid. Anger and injustice set off the mobilisation of Manteros in Barcelona.
"At some point, they entered into negotiations with the Mayor of Barcelona, Ada Colau, who attempted to create jobs for Manteros, so that they would not have to sell illegally. However, there were 30 job openings for 600 people, so this was all in vain", says Malik, while arguing that "at least, the Mayor in Barcelona has good intentions and a better attitude compared to the Conservatives in Madrid."
Indeed, similar initiatives are currently cropping up in Barcelona, funded by the municipality and aiming at the emancipation of African immigrants, so that they can break free from illegal trading.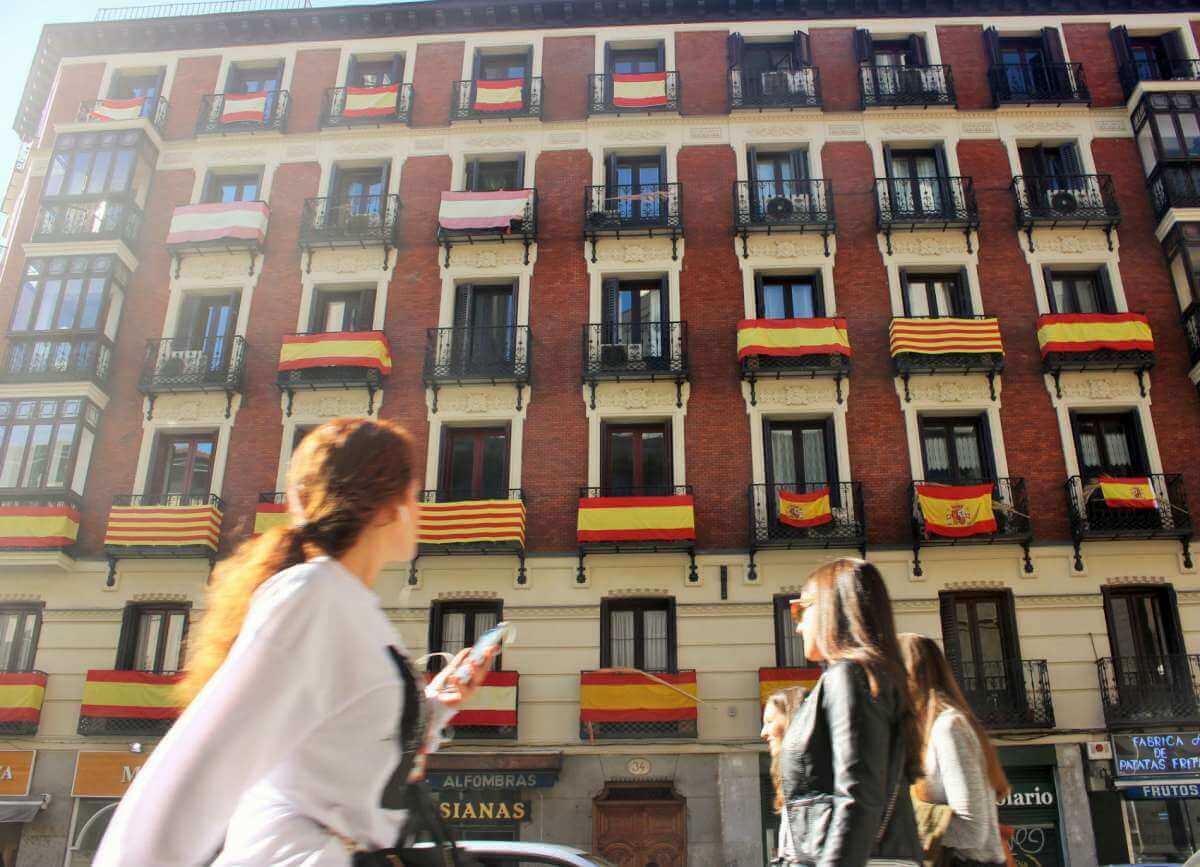 Marta Cillero is responsible for European Alternatives communications and a member of the Transeuropa Festival organised in Madrid between 25-29 October. Studying the programme of the festival, I was particularly intrigued by the only photo which didn't show any faces, but rather displayed two hats lying neatly on a piece of cloth. I later found out that this was a presentation of the Manteros union. I ask her how come they decided to invite Manteros among academics, politicians and artists."They give voice and visibility to a reality in Spain which has been concealed for years, thereby exposing institutional racism" she answers, "their collective managed to unite one of the most vulnerable and silenced groups in our society and they are fighting against everyday harassment, police violence and severe punishment, issues that no one dares to openly address. Rendering these groups more and more isolated helps to perpetuate the impunity of the perpetrators. The union is a remarkable example of self-organisation and we could not but invite them to a festival of activism and culture—otherwise, it would have been like ten men gathering to discuss feminism, without any women present."
And you are in Spain, we don't speak English here. Don't you speak Spanish?
My meeting with Malik is coming to an end. We haven't even left our seats when we witness two policemen confiscating a blanket with some seller's wares.
"Can I take a photo of the merchandise only?", I ask in broken Spanish.
"No, it is forbidden by law", they say.
"I'm a journalist, can you tell me which law that is, exactly?", I ask, now in English.
"It is the law. Look it up online. And you are in Spain, we don't speak English here. Don't you speak Spanish? You must speak in Spanish", they give me an authoritative response in their language and refuse to discuss any further.
The independence referendum in Catalonia has inflamed Spanish nationalism and racism.
Malik is waiting for me further away. Even though he now has papers, he is still afraid of dealing with the police.
"The independence referendum in Catalonia has inflamed Spanish nationalism and racism. Muslims, Africans and Arabs will suffer the consequences, especially after the recent terrorist attacks too. Street sellers are particularly vulnerable because we are out there, you can see us, we are easy targets", he says, while we are roaming around the streets of Madrid. An array of red and yellow flags are flying from balconies all around.
This article was first published in Greek on The Press Project. It was translated by Maria Ampelourgou.