"Battered for a decade, Greece feels an unexpected whiff of revival as Europe gains strength … It's nearly springtime in Athens: Street trees are heavy with citrus, wildflowers are erupting in the pine-scented hills and the air is thick with talk of a Greek exit. But not the kind of exit that has preoccupied the country, and Europe, in so many seasons past."
With this surprisingly lyrical lead, the Washington Post offers a glimpse into the wondrous world of what it's like to watch Greece and attempt to keep the public informed of its fate from another planet. Given I've never felt capable of talking about anything in those kinds of terms, I want to explain why I think this parody of optimism has significant political consequences. The same goes for the institutional actors, who now see our government as responsible and successful and express their congratulations, and for Greek officials with their self-satisfaction at how well everything is going.
The article continues:
"…the country is on the verge of something many never thought possible — a successful exit from the bailouts that have kept its debt-ridden economy afloat for the better part of a decade."
This is the narrative of a "clean exit". In other words, we're pretending that it's all finally over. No one in the government actually says this, because even massive nerve recognizes a limit: not dignity, but ridicule, of the sort Greek Shipping Minister Theodoros Dritsas experienced with his back and forth regarding the sell-off of assets from Piraeus port to the Chinese Ocean Shipping Company (Cosco). This means that today's member of Syriza is careful not to express too strongly what the Washington Post says so blithely, because while it might not sound like a joke in the Post it is a joke here. And you know how jokes go: in one country they're hilarious, while in another they come off as cold, cruel, and sexist. Humor doesn't travel well.
"…Unemployment, which peaked near an eye-popping 30 percent in 2013, is down below 20 percent and falling."
Yes. It's just that underemployment has increased. According to the most recent (2017) annual report of The Labour Institute of the Greek General Confederation of Labour (p. 88), it appears that in 2016 underemployment was triple what it was before the crisis began. The trend has not subsided under Syriza. That means that, instead of people without jobs, there are poor people with jobs — we just don't count them.
"…It reflects a return to relative normalcy across Europe, which, for the first time since the global financial crisis began in 2008, is looking economically vibrant, with a robust currency…"
Europe is experiencing its greatest stability yet. It's so stable, in fact, that we're just waiting to see when governments, and not just marginal groups, will start proposing crematoria. And as far as economic stability goes, Europe has never stopped confronting the possibility of its own disintegration. Optimism is part of the problem, not the solution to the problem. It's part of the problem because it reflects the refusal to take any measures. We can say this for certain, seeing how the forces of optimism responded to the crisis of 2008.
George Pagoulatos is the university professor whose authority the Post calls upon to explain how Greece is no longer Europe's "punching bag" and Europe "has suddenly emerged as a pole of stability." The person who served as advisor to our banker-Prime Minister Lucas Papademos is explaining how well everything is finally going. The article also mentions that now, instead of talking about foreclosures, Greece is talking about how it will share its surplus. No one is talking about anything in Greece. But if they were talking about something, it would be the number of seized-assets auctions our government has been holding: that number is projected to reach 130,000 by 2021.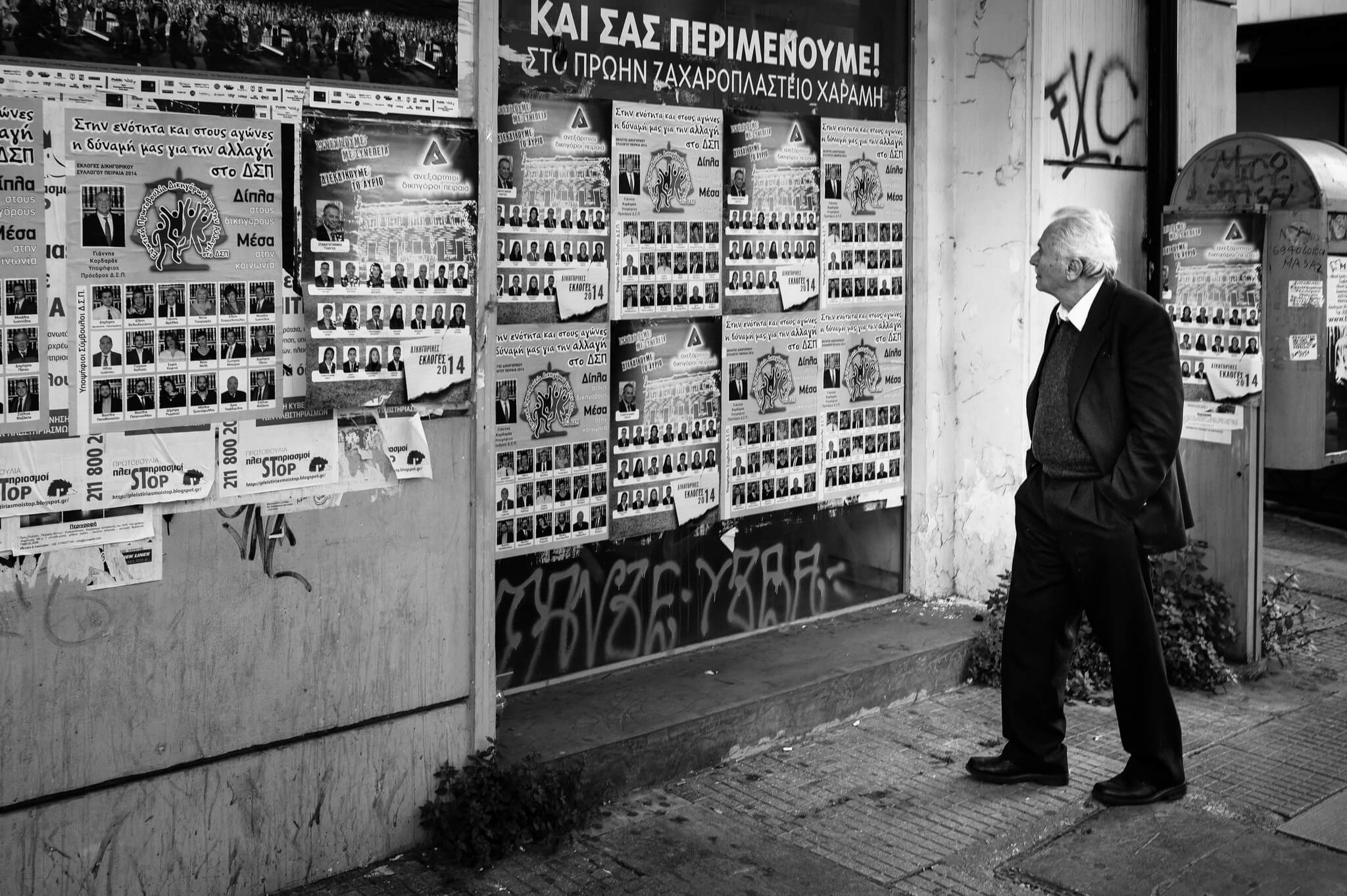 A parody of optimism
What is shocking about this description is not the glee with which it is established that the long-held hope of an alternative way out has now finally died. It is, after all, logical for someone whose views have prevailed to be happy. What is shocking is the chilling indifference to what is actually happening. This analysis piles on all the stereotypes about the Right's narrative of the crisis as we came to know it in the bailouts' early days. In other words, again we're hearing about the prodigal Greeks who drag down the Germans, as if we had never learned that more than 90% of the loans went right back to the creditors. The difference this time is that this is not being presented as one position to be weighed against another, but essentially as yet another declaration of "The end of history".
The argument is always that the changes "aren't being felt yet in the real economy." The stress here should be put on the word "yet", which means that the economy has in fact changed; it's just that we don't realize it. The tragic irony for those Greeks actually living this situation is that there is no crisis-era government that hasn't said exactly the same thing. From the very start, all of those governments tried, when the end of their mandate was approaching, to maintain that the crisis has ended and that we had entered a phase of exiting the bailout programs. The only effect of this rhetoric is to reduce the significance of anything that gets said in public discourse. When demagogic monsters emerge on the international stage and their election percentages skyrocket, when Britain is still trying to make sense of how its people could have voted, against the advice of its stronger economic operators, for Brexit, the answer is simple and to be found right here. The effect of propaganda is always what Cornelius Castoriadis used to say about the Soviet Union: if Pravda wrote that one plus one equals two, people would suddenly start wondering what one plus one really equals.
The members of Syriza reproduce this false optimism and attempt to convince us that they share in it, even though in reality it serves as an attack on and reversal of both the real optimism that might be drawn from the possibility of actual solutions and the resolve that implementing those solutions would require.
To sign a statement of repentance, as we know, was never a private process, that was only a matter of a person renouncing their beliefs. On the contrary, it was always designed to be a ritualistic public process for the former comrade. It required them to indoctrinate others about the dangers of communism as a way of publicizing their rehabilitation. And that's why the goal was never one of changing their thinking, since they were screwed either way. Instead, it was about public humiliation, and setting an example for everyone else. And that explains why the public nature of this renunciation of one's former self has to take place in something like a celebratory fashion.
Now Syriza has to demonstrate its "ownership of the program". In other words, it doesn't just have to implement the onerous measures that it knows are destroying society—it has to do it with joy. And to say that it's doing it with joy. The communications game it's playing with these attempts to reveal a Greece just one step away from exiting the crisis suffers first and foremost from a lack of correspondence with reality. The long-term result of this kind of approach is that what we say and write will have no meaning. The "We made it out OK" narrative presumes the existence of a wise and enlightened Europe whose approval we await, just like someone angling to get a good conversation out of a stern father. The people who signed those statements faced torture. This time, reality is being inverted just so a gang of inexperienced politicians can hold onto their seats in power.
*Lead image, Theophilos Papadopoulos. Some rights reserved