On May 19, 2016 Petr Pavlensky, a Russian artist, was sentenced to a year and four months of imprisonment for his happening titled "Freedom". However, Pavlensky won't serve the sentence as the case was deemed to be outdated. This happened even though from the very beginning, Pavlensky disagreed  with such a classification, because – as he claimed – "one has to take responsibility for one's acts".  In the justification of the sentence, the judge emphasized that Pavlensky "cynically abused moral norms" and that the damage caused by him amounts to twenty seven thousand rubles (over 360 Euros).
Solidarity with Maidan
Pavlensky's case has been dragging on for two years now. The Freedom happening took place on February 23, 2014. Three days after the riots involving bloodshed on Maidan in Kiev, resulting in seventy-five fatalities, Pavlensky and a group of several people staged a happening in which they struck metal sheets with sticks, surrounded by Ukrainian flags, and burnt tires on the spot where an assassination attempt on Tsar Alexander II occurred in 1881. In this way, he imitated the protesters from Maidan, who had, on the day preceding Pavlensky's happening, pressurized President Victor Yanukovych to step down. Yanukovych fled to Russia, where he remains until today.
Beating in police convoy
Before the sentence was announced by the court a few days ago, Pavlensky got beaten up during his detention in custody in a building adjacent to the Moscow Magistrate. "Every breath causes pain" – he wrote to his partner, Oksana Shalygina. He added that he suffered a knee injury as well as a fractured rib and internal bleeding. Pavlensky maintains that this is a standard practice in custody. Similarly to use of tasers, and beatings both with hands and truncheons. "Petr experienced that as well" – said Shalygina, while speaking to Radio Svoboda.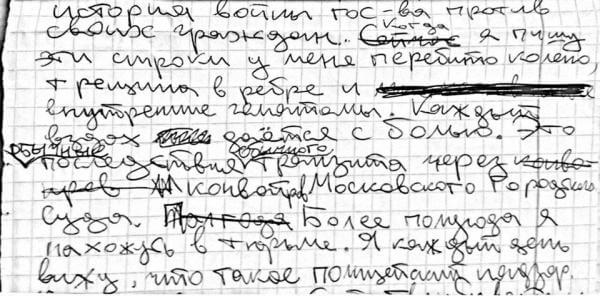 The information about the beatings was passed on to Shalygina together with acceptance Pavlensky's speech to be presented at the ceremony of the Havel Prize for Creative Dissent, which will be presented to Shalygina on his behalf.
The prison doctor who examined Pavlensky obviously did not report any injuries.
"Let him go to Ukraine"
The trial abounded in unusual events. At the end of April, during a session regarding Freedom, several prostitutes turned up as defense witnesses. Pavlensky revealed to have paid them to appear before the court. Although they were defense witnesses, they criticized his happening and called him a vandal. As the portal Media Zona reported:
– Do you consider Petr Pavlensky an artist? Dmitrij Dinze, the artist's lawyer, asks the witness Jelena Posadski.
– In a sense, I do, it's self-expression, but it should be performed in a closed space.
– Do you believe this happening to be street art?
– No.
Later the witness, answering a question from the prosecutor, commented: If he wants to commemorate those killed on Maidan, let him go to Ukraine.
 In a letter to Shalygina published by Radio Svoboda, Pavlensky explains why he paid prostitutes to turn up in court. "Whether you like it or not, there is no difference between prostitutes, judges, prosecutors, teachers, managing directors and clerks. They are all the same. The political reality defined all of them and put them all in their place".
 From the very beginning, the authorities, who do not realize their own involvement in Pavlensky's art projects, have played a crucial role. "The authorities always remain the key actor of Petr's happenings", said Shalygina to Dziennik Opinii, commenting the trial that was initiated after the happening Danger, in which Pavlensky set fire to the door of the seat of the Federal Security Service, the ill-reputed Lubyanka. "Now Petr has managed to penetrate the system of surveillance mechanisms even further. I believe that thanks to this trial, we will obtain ample material including surprising information".
It is because of the latter case that Pavlensky will remain in custody.
***
This article originally appeared on Dziennik Opinii. Translated by Aleksandra Hołubowicz.