At the beginning of December, members of the Platoniq/Goteo team came to Marseille to hold a two-day workshop on crowdfunding for the partners and close network of Les Têtes de l'art. What follows is an account of this workshop, including our observations and discussions that have occurred throughout those intense days, when we had the opportunity to share our experiences and challenges around our mutual field of action: the Commons.
Everything started in May 2015 during our visit to Madrid, when Sam Khebizi, Director of Les Têtes de l'art, and I were invited to participate to a Goteathon, which was organised by Platoniq at Media Lab Prado (we did not know yet that Media Lab Prado would be one of the two laureates for the prestigious ECF Princess Margriet Award for Culture in 2016). As part of the event OJO al DATA. Data Culture, Economy and Politics, Fundación Goteo put together a couple of days of hands-on sessions to share their work with the Goteo community and people interested in data, API and visualisations, and more specifically on crowdfunding data. The ultimate aim was to build new standards in the world of collective finance and collaborative economy, while also contributing to the open data commons.
That's precisely when we first become aware of concerns connected to the use of open data – in this case data generated by the Goteo platform – and when we could learn more about Goteo's work and how they organise participatory workshops, mixing different categories of participants and creating innovative synergies. For the Goteathon, the organisers mixed platform users and people interested in open data with software programmers, who would be able to translate the scenarios to specific applications and visualise data, to make it usable for others.
Goteo.org is a crowdfunding platform that has released its code under a free license, which encourages knowledge sharing across the projects that are published on the platform. They recently pioneered a release of their open data API to display all activities and impact.
On this occasion we met Olivier Schulbaum, co-founder of Platoniq/Goteo, who is originally from France. The idea came up to organise a workshop on crowdfunding in Marseille before the end of the year and to make local participants more familiar with Goteo's approach to crowdfunding, with the production and use of open data through the campaigns and to explain and discuss the concept of match-funding: every euro donated by the community to a project is doubled (or matched) by a euro from a public or private institution.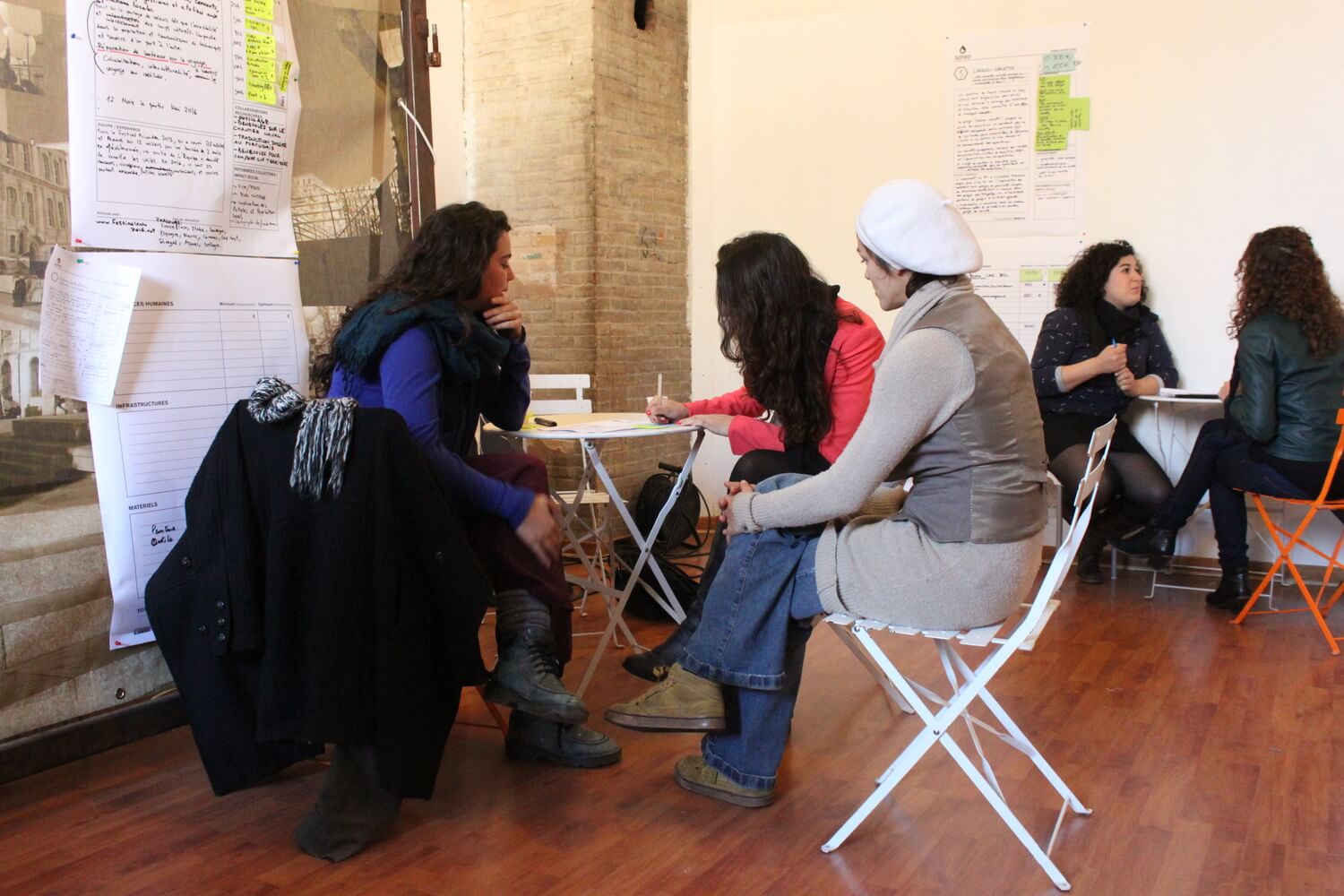 Crowdfunding in France
In France, more and more operators from the cultural and social fields become interested in crowdfunding. Public funding, which has been historically high in France, especially in the cultural field, is increasingly getting scarce. Besides, operators feel the need to reconnect with their communities and act for a wider and shared interest. A survey by CompinnoV from the beginning of 2014 shows that in 2013, crowdfunding campaign reached 78,3 million euros in France, almost 3 times more that the year before (more info). The gain of interest in crowdfunding is also reflected in an increased offer of trainings and workshops, where people learn to create their own campaign and to mobilise and develop their community. But still most of the traditional campaigns use crowdfunding to pre-sell their product and finance the production costs.
By inviting the Goteo team to hold a workshop we wanted to stress the fact that crowdfunding can be much more than that. As expressed on their website, Goteo aims to create a more ethical and collaborative online environment where citizens take an active role in improving and advancing their communities in economic, environmental, educational, political, social and/or cultural terms, through cooperative processes. A society where value is protected and the recognition of common goods, guarantors of fundamental rights, is expanded.
What makes Goteo different from other crowdfunding platforms
Goteo is a platform for civic crowdfunding and collaboration on citizen initiatives and social, cultural, technological and educational projects. It is a tool for generating resources 'drop by drop' for a community of communities consisting of over 65,000 people, with a funding success rate over 70%. Behind the platform is a non-profit foundation (with consequent tax advantages for donors) and a multidisciplinary team developing tools and services for co-creation and collective funding. Goteo's mission is tightly linked to principles of transparency, progress and societal improvement.
Goteo can be compared to other crowdfunding platforms, like Ullule or KissKissBankBank, better known in France, aadditionally, it commits to the following principles:
Commons, open and free: it promotes projects working for the commons, open code and/or free knowledge, putting the accent on the public mission and favouring free culture and social development.
Free and/or open licences: projects that wish to be co-funded with the help of Goteo must permit, through the use of licences, the copying, public communication, distribution, modification and/or use of part/or all of each creation.
Collective return: Goteo seeks the social return of investments and for this reason apart from individual returns, the system is based on collective returns for the development of the commons.
Distributed collaboration: apart from monetary contributions, it is possible to collaborate through services, material resources, infrastructure or by participating in specific micro tasks needed for the development of projects.
Two crowdfunding rounds of 40+40 days: campaigns have two crowdfunding rounds, each with a duration of 40 days. The first is an "all or nothing" round for the minimum essential budget, while the second is for an optimum sum to carry out additional improvements.
Community of local nodes: Goteo is a community of communities, a network of local, independent, inter-coordinated nodes that serve to localise the digital, contextualising it.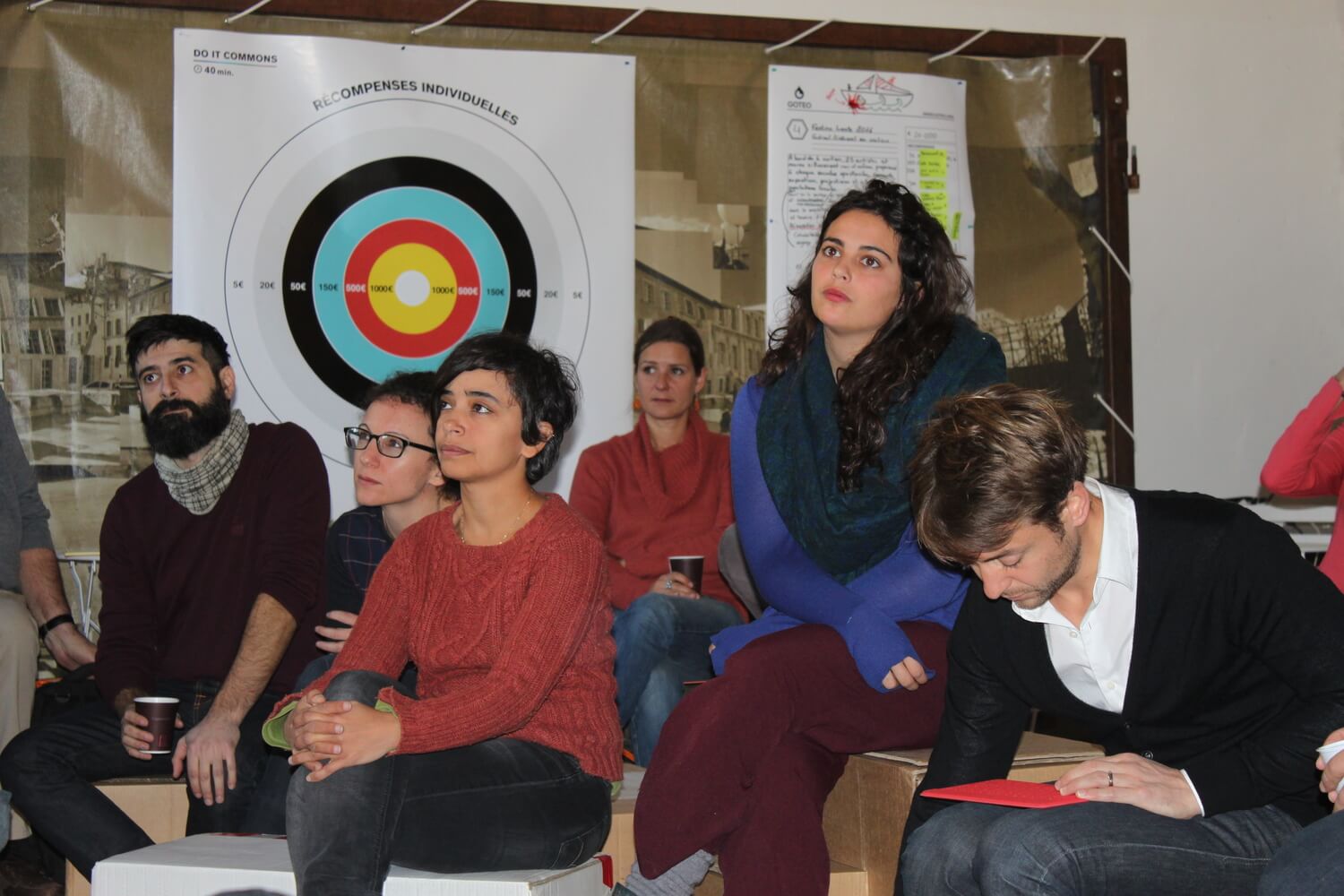 Participants during the presentation by Goteo
New format: Mixing the participants
Together with the Platoniq/Goteo team, Les Têtes de l'art designed a workshop on a new format which brought three types of audiences together on the second day of the workshop: people with concrete projects and representatives from local administrations or private organisations. A third category of people from Pôle d'Accompagnement has been invited to join the workshop. Les Têtes de l'art has a leading role in this platform advising and counselling artists and cultural operators from the third sector[1] on organisational, financial and governance issues. Those participants are part of our network of regional counsellors, all working in non-profit organisations (Inter-made, La Platforme) that are incubators for socially responsible enterprises or cultural organisations.
By mixing these three groups of participants, we wanted to foster discussions and provoke a reality-check: which projects best fit institutions' criteria and missions when they decide to fund? The group of counsellors and institutions were asked to feed back to the projects by helping define their social and digital impacts.
As Sam Khebizi explained in his introduction to the workshop, public and private institutions in France do know about the phenomenon of crowdfunding, but remain in an "observer" position. By inviting them, we wanted to open a space for exchange and mutual questioning of needs and requirements and thereby clarify the role, public and private institutions could play when it comes to crowdfunding.
A Variety of Projects
Timothée Vigal, in charge of the citizen media télévision participative du 3ème at Les Têtes de l'art was one of the ten project keepers in the workshop. He had the chance to design a campaign for a new project to be launched next year, called "Open Plateau": what if inhabitants and non-profit organisations in Marseille could use a professional TV studio for free to produce talk shows about topics they are concerned with? What if, a team of professionals would teach the inhabitants how to design and produce their own talk show? What if people could live-stream these community-made talk shows? As Open Plateau is entirely dedicated to the community as a tool for free expression and media education, it would make perfect sense to run a crowdfunding campaign in order to promote the tool and its values and help financing the technical equipment needed. Recently, télévision participative du 3ème has produced a film, titled Plein Air about an open air piano concert in one of Marseille's poorest districts, which has been financed entirely by the inhabitants, via a crowdfunding campaign.
A variety of projects were presented next to Open Plateau and most participants came from Marseille and its surrounding area.
Andrea, for example, originally from Naples is working on a solidarity grocery in the Belle de Mai district of Marseille, to make good food available for lower income communities. He and his collaborators from the association En Chantier would like to open a store with non-disposable packaging to reduce all disposable, single-use packaging and diminish waste. The grocery would be the extension of a popular restaurant, La Cantine du Midi, run by En Chantier for the past 3 years, using 80% organic food from regional producers.
Federico Brivio, from the Marseille based Collectif Transbordeur, one of this year's Idea Camp participants, has also participated in the workshop and designed a campaign for his migrant community docking pilot, named QX1. Federico believes that experience sharing and collective action will help migrants facing the helplessness and confusion generated by a heavy and complex bureaucracy. His idea is to create a participative information-sharing platform, in multiple languages, based on migrants' needs and experiences. QX 1, which in the International code of Signals stands for: "You have permission to anchor", has been awarded one of the 25 R&D grants by ECF.
Other projects presented during the workshop were anchored in artistic creation and intercultural dialogue, the development of alternative transport infrastructure in suburban areas, and educational help for children from low income families.
Go Analogue about Digital Contents
One of the common aims of Les Têtes de l'art and Goteo is to take care of methodology and tools to accompany people in the development of their projects. This concern is reflected in the methodology of the Idea Camp, organised by ECF with the Connected Action for the Commons programme hubs.
During the two-day Goteo workshop in Marseille, participants were asked to go analogue about digital contents and analyse crowdfunding campaigns from different perspectives: from the perspective of a private person who donates; from the perspective of the Goteo team, which chooses the projects with the most expected social and digital impact to go online; and from the perspective of public or private institutions, which co-fund the projects in order to multiply their impact.
Analogue means that the analysis of projects and the simulation of campaigns and votes were facilitated by game-like boards with visual elements and the use of chips and cartoon coins. By simulating what happens on the digital platform on a bigger but also more abstract scale, the participants could understand the impact and outcomes of their behaviour as individuals or groups.
On the first day, participants had first to slip into the role of a potential donor and then into the role of the Goteo team and find out on which criteria to choose the projects that had aspired for a campaign on the platform. The Goteo team brought a series of campaigns as examples and the participants were invited to discuss those in smaller groups and select one of them to be presented to the others.
What criteria should be looked at in particular? The reputation of the project team? The expected social impact? The collective returns to the community? The sustainability of the project? The values of the project?… Would they either select projects that offer the possibility to be replicated by others or projects with a sustainable impact, or should projects include both criteria?
Based on this new knowledge gained through the role switching exercise, the participants were invited during the afternoon to design the campaign for their own project, defining non monetary needs, individual rewards and collective benefits.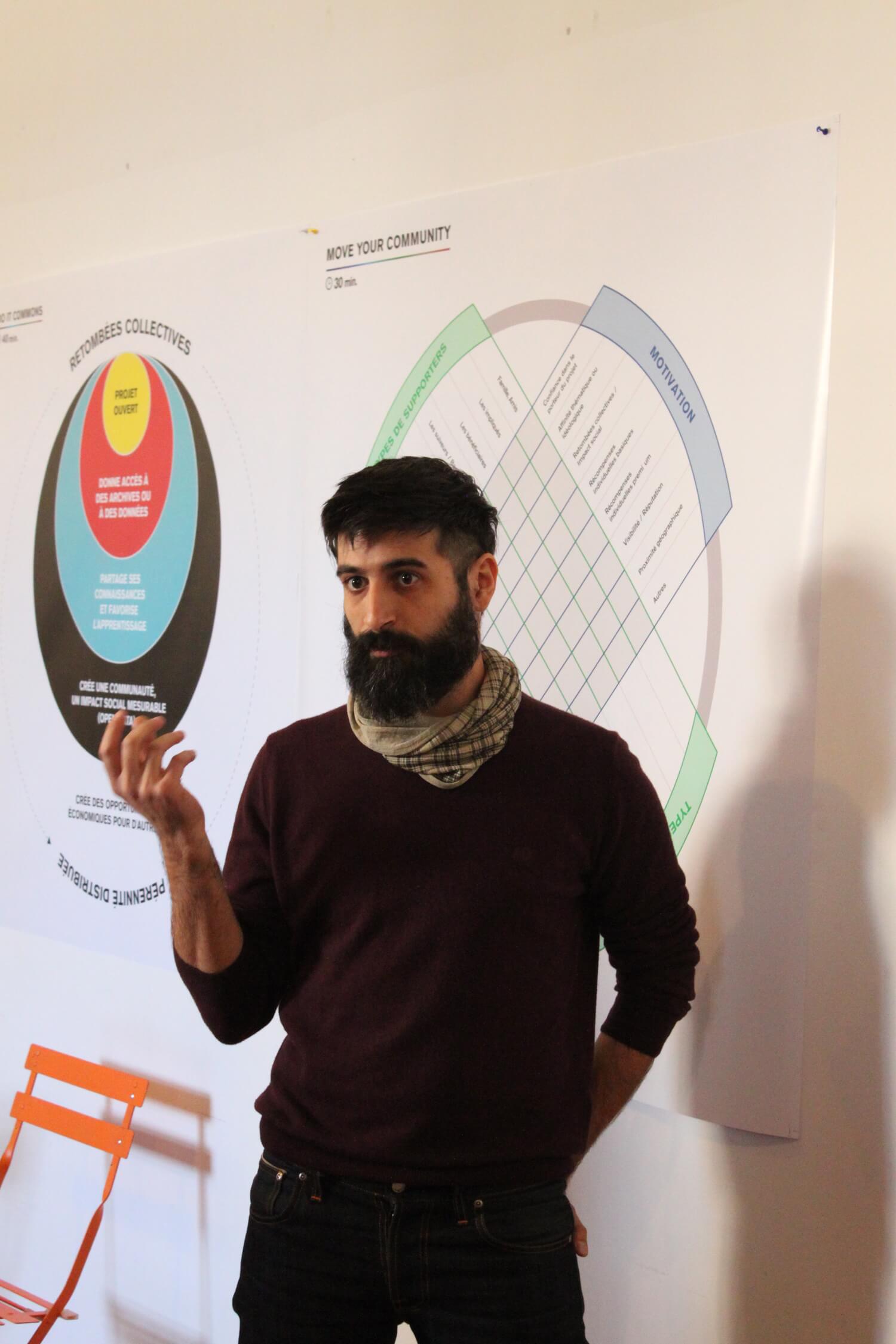 On the second day of the workshop, a group of representatives from local administrations like the City Council and regional department – the Conseil General des Bouches-du-Rhône, joined the workshop. We also had representatives from ESIA, an association which finances projects in the third sector, and La Nef, a financial cooperative which offers savings and credit to projects of social, ecological and/or cultural interest. This group first got introduced to the principles of crowdfunding and the specificities of the Goteo platform, and were asked to help project keepers to define the social and digital impacts of their projects.
During the second half of the workshop, we discussed the concept of match-funding which, according to Olivier Schulbaum, is a means for institutions to spend less money with more sense and more impact. In Spain, Goteo has already run match-funding campaigns with universities, social banks, foundations and governmental institutions.
The director of the regional chamber of social and solidarity based economy, CRESS Paca, was interested in learning more about the replicability of the Goteo platform in other countries or national contexts and the economic model of Goteo foundation as a non-profit model. For institutions, the Goteo platform can also be used as a tool for detecting new tendencies or needs stressed by civil society within our societies.
The workshop was held in both French and English, alternating between the two without simultaneous translation, which is quite uncommon in France. Enric Senabre, co-founder of Goteo spoke in English, Olivier Schulbaum spoke in French and participants were free to respond in their preferred language. The bilingualism of the workshop didn't cause any major communication problem within the group, which was also a new and positive experience for us.
On behalf of Les Têtes de l'art team and all participants to the workshop we would like to thank ECF and the Goteo team and especially Enric and Olivier for the inspiring and constructive workshop. We hope we could raise the awareness for campaigns on projects of collective and social interest, which take into account the non monetary needs and include the donator as an active contributor.