Udpate on 28 January 2016: French Minister of Justice Christiane Taubira resigned, expressing her doubts about the controversial plan to strip people convicted of terrorism of their French citizenship. Sam Khebizi has appeared next to other guests at France Inter's radio show Un jour en France focused on "Paroles de binationaux" (in French).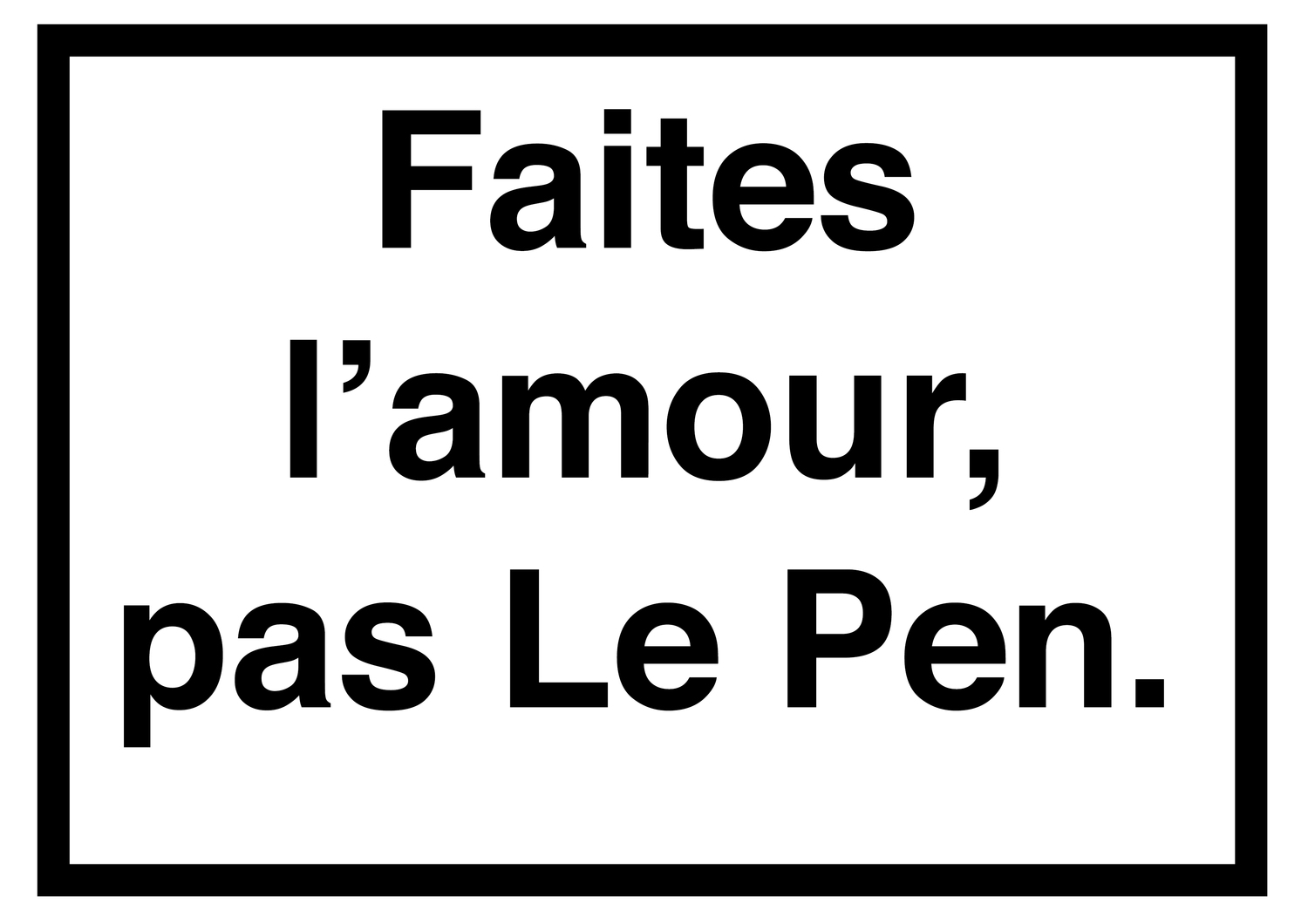 Make love, not Le Pen.
Sam, tell us about your organisation, Les Têtes de l'Art, and the work you are doing in your communities. What are the main issues you face in your region?
Les Têtes de l'Art is based in Marseille, in the region PACA. We mainly work in the central districts of Marseille, marked by high unemployment rates, deficient infrastructure, and few spaces for social interaction. Gentrification has become more and more of an issue in the last few years, relocating populations to decentralised districts and tending to make the city centre attractive for tourists and populations with higher incomes.
Throughout the year we propose three types of actions: "site specific" art works by artists, taking into account the specificity of the space, participatory workshops run by professionals and mediation activities involving the population. A cluster of activities dedicated to exchanges and services, such as guidance, networking, a technical resource platform, a cultural project management cooperative, complete and contribute to project management and enable our members to be part of a project which is common and shared beyond their own respective actions.
Since 2010, we have been organising Place à l'art ["Art square" or "give art space"], an annual event that takes place on a public square in the city centre. The artistic participatory process we initiated in this district is intimately linked to its social and territorial context. 'Place à l'art' aims to rethink modes of artistic intervention in public space. It places the artist at the heart of the city and the public debate. We also run a citizen media, La telepart du 3ème inviting inhabitants of all generations to produce films showing their neighbourhood and valuing citizen initiatives.
How do these projects impact on the local communities? 
In our experience, the combination of these activities and being on site, close to the communities and their concerns, adds to the building of a stronger feeling of local identity by improving relations between people and communities. We join forces with other organisations coming from different sectors, based in the same areas. For instance, the films produced as part of La telepart du 3ème, which would hardly have their place in commercial media channels, create social relations and make people change their views on their neighbourhood. And we just organised the sixth edition of Place à l'art and the success grows every year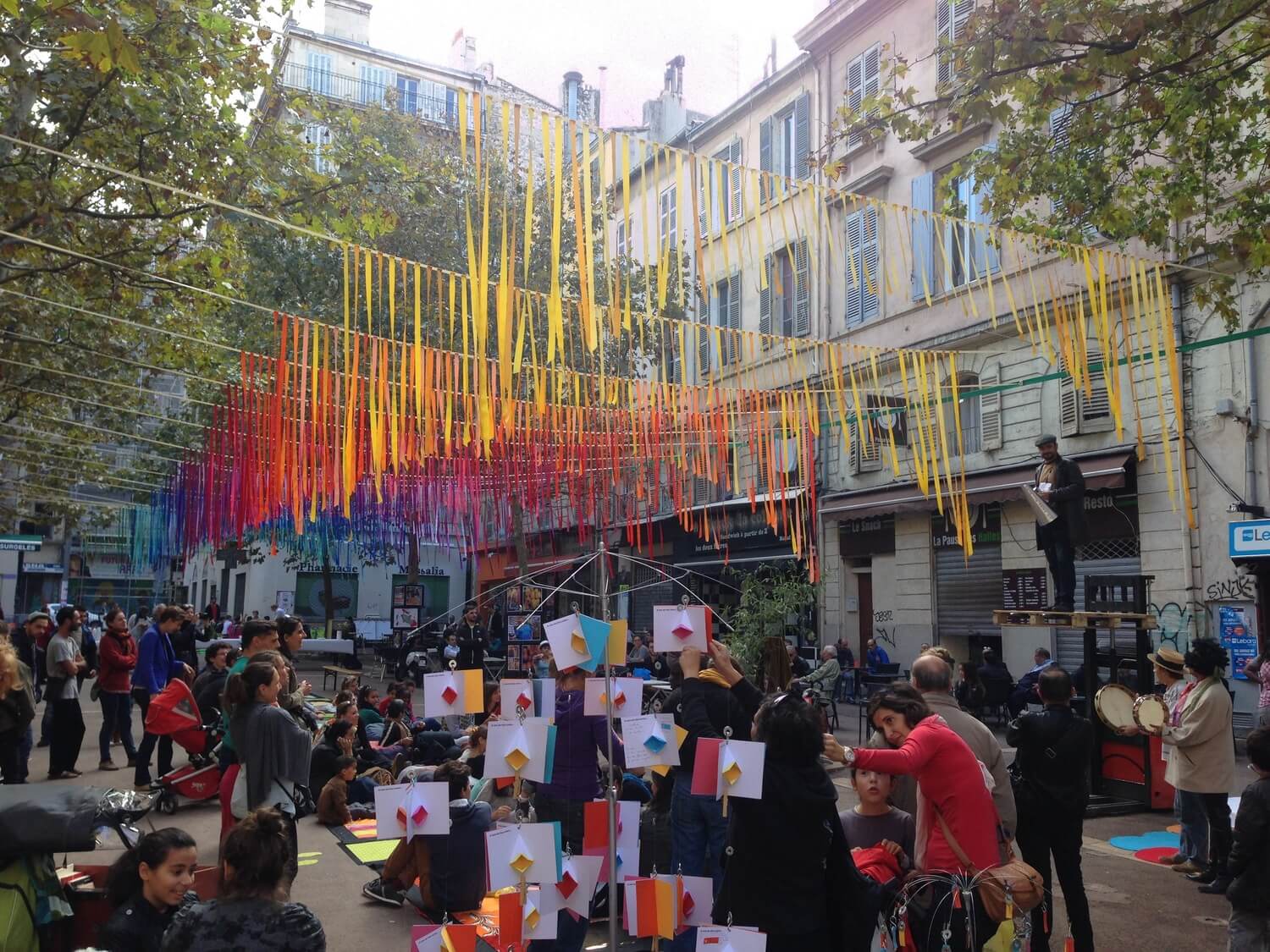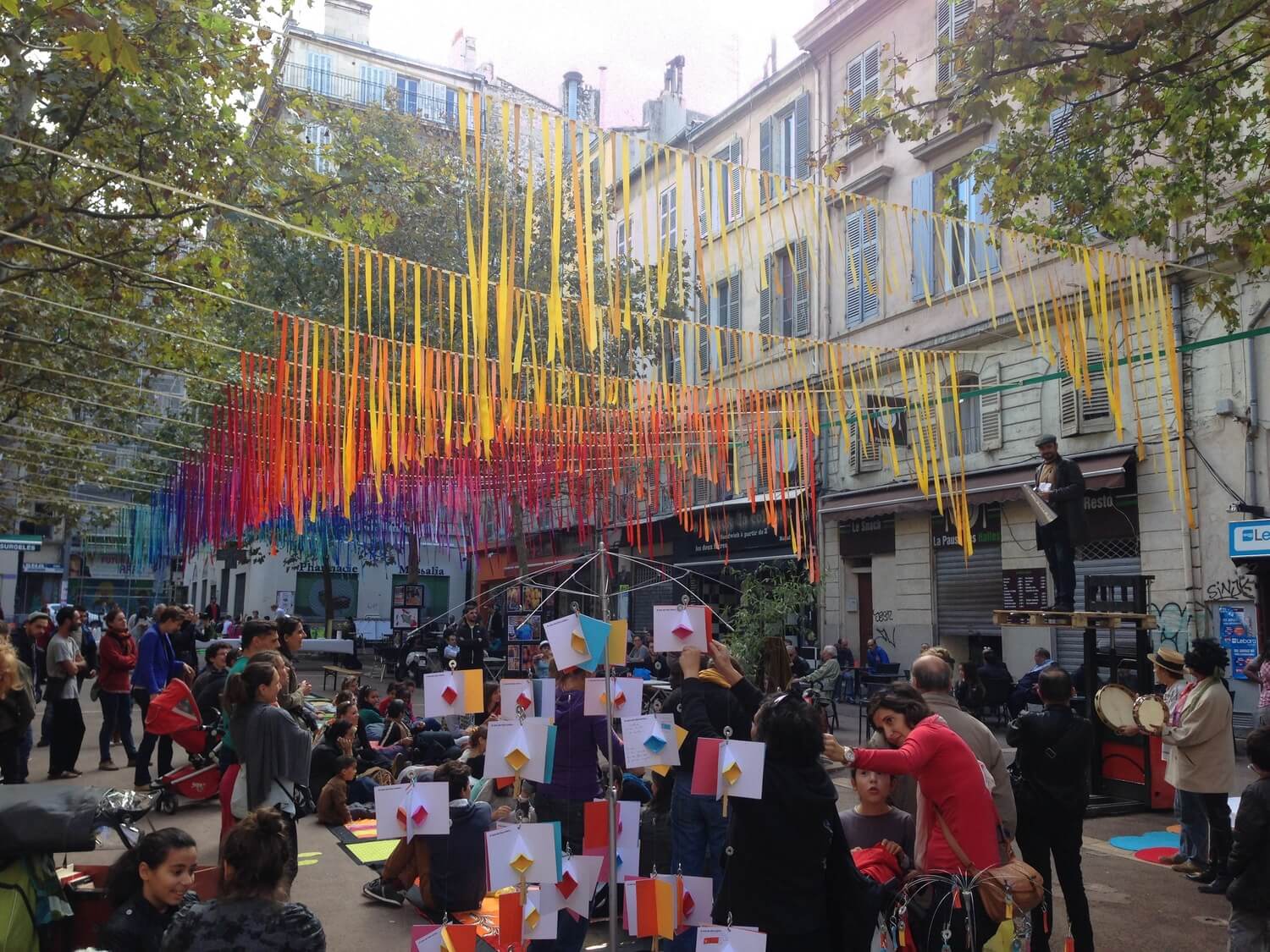 These are only a few examples showing how much you are doing in your city and in your region to build strong relationships between communities and therefore a much better place for all to live. How do you feel when your president says he will strip dual nationals of their citizenship if they are involved in terrorist offences?  
I have been personally affected by this symbolic violence from the president's newly announced measure. I had never been concerned by dual nationality. I am a French national. I was born in France. I grew up and live in Marseille. I am a non believer. My parents are from Algeria. They have educated me within the cult of integration, just like many of my friends from different nationalities at that time. When I think about it, I am rather proud of the values they taught me, even though I think that they could have taught me the Arabic language too, which, today, I truly regret they didn't. The more I travel, the more I am involved in international projects, such as the Connected Action for the Commons programme and the Idea Camp, the more I realise how soaked I am into this typically French education, open to the world and a tiny bit arrogant, into this culture and this history which are mine.
I became a dual national when my father died in 2002. Following his wishes to be buried next to his mother in Algeria, I have organised the repatriation of his remains. When I went to the Algerian consulate, it was the holiday season so I was told that, seeing my family origins, it would be easier for me to receive an emergency Algerian ID and passport rather than waiting for a visa, which would take longer to get. And just like that, I became a dual national: I could add the Algerian citizenship to my French one, all in one day! Until now, I only saw the practical dimension this dual nationality brought me: easy border control on both sides, no extra costs for visa, less bureaucracy… A very useful tool for a traveller like me. So I never really thought of any kind of identity claim. My Algerian papers were even outdated for the past two years.
Did you go back to Algeria since then?
Yes, I had to go to Oran and Algiers two weeks ago for a debate with young people on the concept of Mediterranean citizenship. The newly installed biometric passports meant delays in renewals and much more bureaucracy, I therefore decided to travel with my French passport and a visa. I didn't plan to renew my Algerian papers.
And now?
With President François Hollande newly announced measures, I am going to run to the embassy next week to claim my right for dual citizenship. I will do it as a visceral reaction, as a political act, as an attempt to repair the insult this measure is making towards the republican values that were taught to me. I don't believe such actions will protect the French people against blind terrorism, which touches not only France but many other countries too. As far as I know, radical Islamism is not a nationality and I don't know anyone with a "French-Terrorist" passport.
Where are we going?
We have seen the alarming rise of the Front National (FN) as a result of the first round in recent elections. This must affect you and your work a lot too.
I am fighting like many others against an unabashed FN which already sees itself at the presidency of the region PACA. We have recently hosted a debate about Culture under the Front National with our citizen media initiative (Open Plateau #1 : Vivre la Culture sous le FN). Sadly, with the results of the elections, this is a topic we must continue to discuss together.
Far too many citizens, among which an alarming number of young people, justify voting for the FN with their disappointment in the political parties in power. But since when does disappointment justify a fascist vote? The Front National managed, through a clever communication strategy, to present itself as a credible alternative while still using the same old totalitarian tools we have already experienced in recent history. This illness has become endemic, but it is inconceivable for me to give up.
We shouldn't give up indeed, and there is still hope as we've seen at the second round this past Sunday.
The ballots have talked! The nightmare scenario didn't come true… for now…
The leftists have agreed, with a heavy heart, to go vote for the right to stop the Front National from rising. Rarely has a victory been so bitter. In the region PACA, the withdrawal of the left from the lists has been an exceptional situation: they had no representative left in the regional assembly. The warning is strong; but it may be the last one. I think that we now must question and analyse the situation beyond the political realm. This also concerns the media, the economists, institutions and more. The cultural sector is no exception.
How about the rest of Europe? Do you think we should look at it as a local issue or should we all be discussing and acting at a wider European level? How?
Everyone may claim, to a certain extent, the uniqueness of their context. Historical analysis as much as current affairs seem to be indicating that a tidal wave is threatening Europe and its surrounding regions. COP21, which took place in early December, might be a good reference to consider. We need to react quickly but within a broad and sustainable movement, to mobilize citizens closer to the territories but in concerted action with policy makers at the Euro-Mediterranean level. President Hollande said that since the attacks in November, we were at war. In our case, it is within the field of ideas and values that we will focus our struggle, and culture will be our best weapon to push back the spread of the extreme right. I really like the over-arching thematic focus driving ECF's work: Connecting Culture, communities and democracy. It is visionary and oh, so necessary. So, let's get back to work!
Sam also announced that he will continue to fight against the newly announced constitutional reform through engaging directly with deputies and senators, by creating a "kit d'interpellation" (a toolkit for interpellation) for the members of his networks and communities.
Read more about Les Têtes de l'Art and watch a video interview of Sam Khebizi about the Idea Camp on our Partners' page.  
Further reading: