It's been almost a month since the 15th World Social Forum brought activists from around the world together in Montreal from August 9 to 13, marking the first time the conference has ever been held in the global North. It was also the first time that a "permanent" space dedicated to the subject of the commons was open for the duration of the Forum.
Commons Space, supported by the European Cultural Foundation and the Charles Leopold Mayer Foundation for the Progress of Humankind, welcomed well over 100 individuals to roughly 15 distinct, self-organized sessions on commons topics. The program (available in English and French) featured subjects such as the City as a Commons, Commons and New Political Movements, and Open Cooperativism.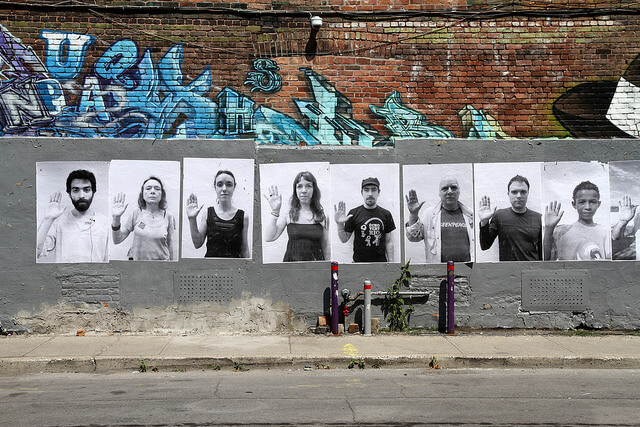 One defining feature of the space was its genuine effort at co-creation, as their organizing pad – the primary tool used to coordinate activities in advance of the forum – included over 50 different contributors. The spirit was festive, as Commons Space closed with a co-cooked dinner party and even partnered with the local Montreal group Silent Disco Squad to reclaim public space with a mobile dance party through the city streets.
Beyond the festivities, the space helped facilitate networking and continued political work on the commons. The Post-Capitalist Transition Convergence Assembly that took place within the Forum itself drew at least 150 attendees, and resulted in a collectively drafted list of initiatives for a shared post-capitalist agenda. Follow up on these takes place in different forms in and across attendees' home communities, supported by weekly international calls. Other follow-up initiatives include a Winter Camp deep dive for an analyzing distributed semantic mapping process for the alternative economy, and a session for the European Commons Assembly in the European Parliament in Brussels on November 16.
To capture the richness of the experience, several concurrent efforts at documentation are underway.  A documentary with footage and inside interviews, Les communs entrent en politique, is in postproduction, and a text dossier examining the commons' interaction with social movements is being prepared. In the coming days a first prototype of Les Cartes des Communs, an adaptable card game that participants helped to create over the course of the week, will be ready. There are future plans to continue printing and circulating this game, and to potentially deepen the design so that commoners can adapt and localize the game to their neighborhood contexts.
For a closer look at all of the happenings, view some of the content, images, and tweets that circulated here with #CommonsWSF.