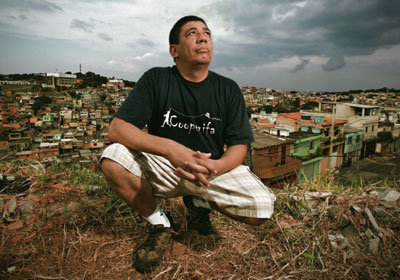 Tainã Mansani (Political Critique): What is Marginal Literature?      
Sérgio Vaz: Marginal Literature is literature produced in peripheral spaces. I prefer to use the term "Peripheral Literature", which has a similar meaning, but places more of an emphasis on the borders of societies. I also prefer to use this term because it tells much more about where I come from, the outskirts of São Paulo.  "Greek literature" was produced by Greeks. "Black literature" is produced by Black people and "Roman literature", by Romans. Therefore, Peripheral Literature comes from people who live in peripheral (surrounding) areas. I can't produce academic literature, as I did not attend university, but with this Peripheral Literature, I can discuss people in peripheries; their neighborhoods and corresponding internal conflicts such as racism, police brutality, violence against women, poverty, misery, slums and so on. I also tend to say that engaged poems are not politically partisan, but they are certainly a form of literature that talks about people. As a whole, the literature from peripheral spaces has eliminated intermediates. Poor people can now talk much more about themselves than they could several years ago.  In the 70s,"marginal authors" were those intellectuals who used to speak about us. Nowadays, we don´t depend on that type of discussion to have our voices heard. The Peripheral Literature that we produce has also served as a record in which we remember the actions of the Brazilian middle class during the 70s, who had fought against the Brazilian Dictatorship (1964-1985), and believed that all of Brazil`s problems were solved when Democracy was achieved. Not so … After the Military Dictatorship fell, we still had problems to overcome like racism and the continuing misery and poverty of millions of people.
How was the Cooperifa (Cultural Cooperation of Periphery) in São Paulo created?
The Cultural Cooperation of Periphery in São Paulo emerged as a direct result of a lack of useful public spaces. When I and Marco Pezão, a friend, decided to create it 10 years ago, the outskirts of São Paulo had no theater, no museum, no cinema – no space for cultural activities. People would complain, but no one was mobilizing to change anything. At the time, I was reading something about the"Week of Modern Art", which was a cultural movement that happened during the 20s in Brazil. Inspired by this movement, I looked to an old factory in our neighborhood and thought that it could serve as a place for cultural activities. As the years went by, we eventually lost that old factory. Subsequently, we started to use an old pub to hold our events. Pubs and evangelical churches are typically used as public spaces in the surrounding areas of São Paulo, but since I don't feel connected to the church, we just started to use the pub for our poetry readings. Eventually, we converted the pubs into common spaces where everyone could meet one another and participate in these cultural events. When we first started the events called "Saraus", people were skeptical – at the time, literature and poems were seen as some exclusivity of intellectuals. Despite our circumstances, we started the saraus for our poetry readings and, after that, one could say that we began to touch the literature with our own hands.
Did the concept of Peripheral Literature exist before the foundation of COOPERIFA (Cultural Cooperation of Periphery) ?
Yes, the concept of Marginal Literature existed before the COOPERIFA thanks to an independent magazine put together by a colleague, Férrez. My poems were published in some editions. The movement of »Peripheral Literature« emerged and spread quickly thanks to the »Saraus«, where people would meet to express themselves artistically. The »Sarau of Cooperifa«, for example, inspired other saraus to take root and spread. Soon, emerging voices (myself included) finally had a place where they could be heard. During the 70s, Brazil experienced a literary movement that was first described as "Marginal Literature" by Brazilian literary critic Heloísa Buarque de Hollanda. Up until then, however, that title was used to describe works produced by authors from Rio de Janeiro who operated outside of the network of big Publishing Houses. What differentiated us from them was the fact that those authors were not people from peripheries or slums. Our works were written from an entirely different perspective.
How has Peripherical Literature been received by "traditional literature" in Brazil?
Some years ago we were virtually unheard of. Actually, no one cared about what was happening outside of the city. We went beyond our borders and now we are here in Germany. We were also in England and in Mexico. The British Broadcasting Corporation (BBC), as well as some other journals and magazines, have been publishing articles about us. The magazine Fórum in Brazil took notice of us, and well… needless to say, we became targets for some critics. (smiles)
What are some of the criticisms?
Some people say we don´t produce real literature, or that we don´t write properly. In extreme situations, what those people can do, is not reading our poems or inviting us to a book fair or Bienals. But in whole, no one can prohibit us or the taxi-driver to write. The people who criticize our literature fail to understand that, despite not having had the opportunity to pursue higher education, we still have a strong desire to write poems. Despite our hardships, we still have something to say. It's as if one from the middle class were to go to the slums and deride the funk music being played there as lacking culture simply because the musicians aren't playing classical piano or violin. Some academics don´t respect us because we are not academics ourselves. Had our socioeconomic situations been better, perhaps things would have been different, but we simply weren't that fortunate. But as I said, in spite of all our difficulties we are making things happen. Thanks to all our hard work, we can say that we are helping people make artistic connections and experiment with art and literature. Well, If I were an academic person or a political man, I would be glad and say: "Well, I haven´t done anything for those people, but they are still doing poems".
With all the hardships you faced growing up, how did you develop your passion for literature?
Well, at this point in my life, I now realize that literature has always been a part of me. But in the 70s, when I was growing up, everybody wanted to be soccer player. Indeed, at the time, it was the only way a poor young man could realistically hope to escape poverty. It was almost magical for us. Being a poet in that "machista" sort of climate was considered something for gays or weird people. Seeing it through that lens at the time, I couldn´t understand myself. It was hard to identify as a romantic who appreciated reading poems. Thankfully, I had a father who read and who was very supportive. When I read Don Quijote for the first time at the age of 17, I thought: this is what I am. I identified myself with the characters from Don Quijote. Thanks to literature I started to use my imagination to accept myself as dreamer. In the middle class, a creative, imaginative child can play piano, dance, learn languages, go to Disney World, and so on. They have a structure that everybody should have access. But where I came from, if you were a creative, imaginative child, you were considered unusual.
How was your reception by the Berlin public during the events of Marginal Literature?
It was great! I had an interesting talk with a German guy from Leipzig, who told me that he had read my book for the first time at his local library, and that it kicked off his interest in our literature. It's wonderful to see that people are interested in hearing our voices.
From what you've observed in the two last Governments (Lula and now Dilma Rousseff ), what is your perspective in regards to the public Education System?
From my point of view, Brazil lacks a good public Education System. Brazil´s development today is tied to consumer issues and not to structural development. We currently have a situation in which people are consuming far more than they could have several years ago.
Does Cooperifa Movement advocate for better conditions in the Educational System?
Cooperifa has always been working side by side with our public schools. We still believe that these spaces are the best option for children and teenagers, despite all of the problems regarding violence and poverty. When I compared the access to good education here in Germany versus what I see in Brazil, I became disheartened by my country's educational system. Our reality there is really difficult. One can say "Oh, God is Brazilian", due to the images that the rest of the world is familiar with – from beautiful landscapes and beaches to the festivities and culture of Carnaval. But when I look to the reality regarding all those problems, well, I say "No, God is not Brazilian" and this is probably the last place in the World where God would want to live.
---
Sérgio Vaz is a poet and cultural activist who founded Cooperifa – "Cultural Cooperation of the Periphery" in São Paulo, Brazil. He is a prominent artist, producing poems about life in the city and its surrounding regions, and the context of social problems, such as exclusion and poverty. Since the founding of Cooperifa in 2000, he has brought people together to share their experiences though art. In Berlin for the first time in 2013, Sérgio Vaz talked with Political Critique about his experiences and about Cooperifa, which has grown and transformed into the movement now known as "Marginal Literature". Read the Interview.
More about Sérgio Vaz and Cooperifa: Sérgio Vaz, poet and cultural activist in Berlin

Language edition – Joachim Jachnow