I walk through the neighborhood of Kerameikos in the heart of Athens. The old, multicolored single-family homes with the lights outside and neon signs flickering "Open" stand side-by-side with the grocery stores, Chinese clothing stores, prayers being said in secret mosques, cafés, and farmer's market where native Athenians and university students shop. The men exit the "studios" alone or with friends; they button their jackets while escaping eye-contact with passersby. Some speak Greek while others speak less familiar languages. A few blocks up, in Omonia, I push through the heavy door of a neoclassical building and hear lively female voices and dance music. Under a red umbrella, female sex workers are putting on their make up and getting ready for work.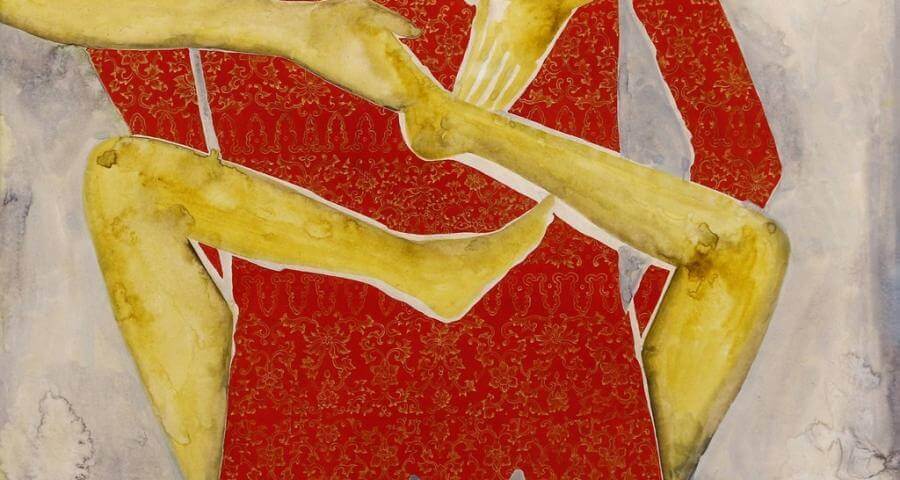 It is Wednesday late afternoon and I am at the Red Umbrella Athens (RUA), the first such organization in Greece which, since December of 2015, has been at the forefront of efforts toward the empowerment and social inclusion of sex workers. More specifically, it is a primary body for prevention and for the empowerment of sex workers born in the wake of the initiative of the Hellenic Association of HIV-Positive Persons "The Positive Voice", The Centers of Prevention and Examination "Checkpoint," and the Hellenic Liver Patient Association "Prometheus."
The Red Umbrella is the international symbol of sex workers and was adopted in 2001 when, while demonstrating in Venice, sex workers walked around the city holding red umbrellas in order to stand out: red is the color of love and the umbrella symbolizes protection.
The Red Umbrella is the international symbol of sex workers.
Sex workers are people who, according to most, are entitled only to a small corner on the margins of society, in the darkness of this city. They are pariahs, and we hardly think of them as having a family; parents; a "normal" life; nor do we imagine that they might even love their job. Stereotypes draw a dividing red line between us and "them", and in this case red is not the color of love but of strangeness, of shame and embarrassment. Sex workers find themselves antagonized by movements such as some strains of feminism which refuse to believe that a woman might choose this profession of her own free will and claim legal employment and equal treatment with social security and pension benefits.
It might sound extreme, but research shows that when large cities officially authorize women to work legally in specific areas of a city, rape and sexual abuse crimes in those cities fall by an estimated 30 to 40%. This happens primarily because "the illegal status of those sex workers makes them much more vulnerable". At the same time, it has been said that drug trafficking in these areas of the city decreases along with the vulnerability; but, according to one specific study conducted in the Netherlands, empirical data from the legalization of prostitution is not yet considered sufficient enough for drawing solid conclusions.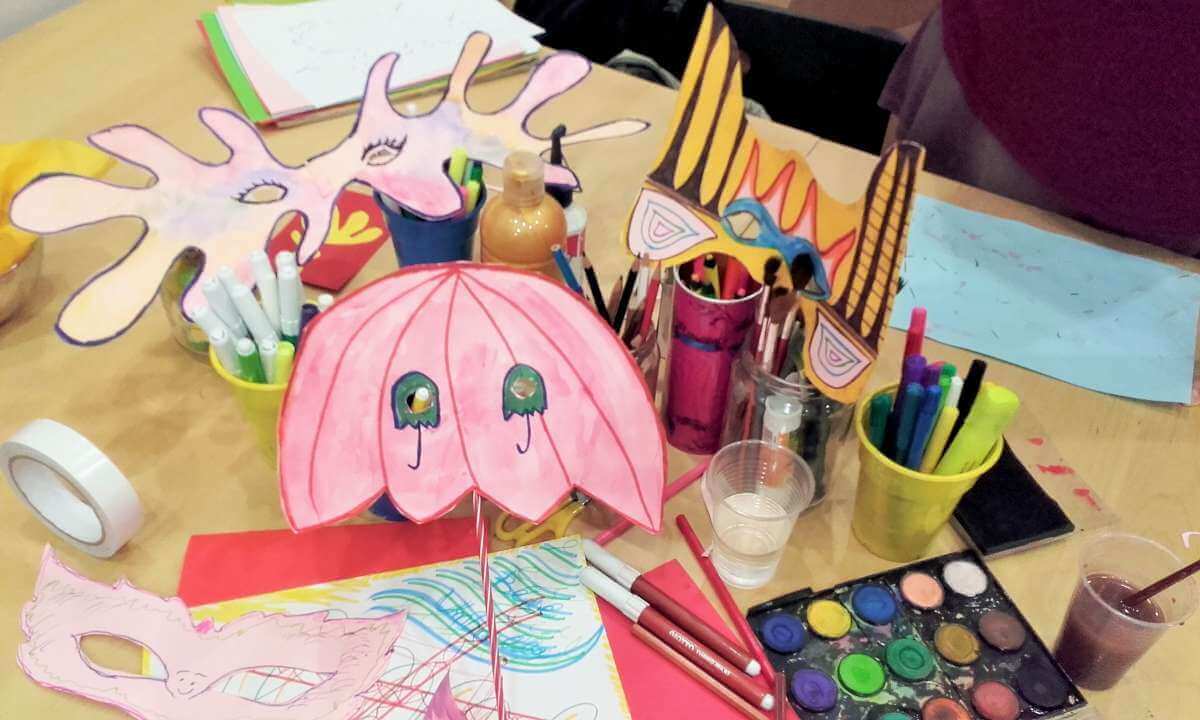 At RUA's home, the volunteers arrange the wardrobe from which sex workers can choose the night's clothing. The make up artist paints their eyes painstakingly using rouge and black eyeliner. Next to the make up station is a table with crayons and watercolors. On the wall hang several paintings with flowers; one painting depicts a girl with bright yellow hair and a narrow blue skirt. These have all been painted by the sex workers. The volunteers are running restlessly to make it all right so the girls feel at home. So as to not disturb this tranquility, I must keep my camera in my bag.
RUA provides free services of prevention and empowerment to female and male sex workers at the daycare center operated by the Department of Psychology of the National and Kapodistrian University of Athens. Services include sexual and reproductive health counseling, psychological and social support, legal support, free condom distribution and pregnancy tests, HIV testing, Hepatitis B & C and immediate connections with health services, counseling on issues of addiction and harm reduction.
Most Greek political parties have no agenda on this issue.
Trafficking, on the other hand, is an entirely different phenomenon. Red Umbrella internationally is concerned with the rights of people who want to work in the sex industry because yes, these people actually exist.
Most Greek political parties have no agenda on this issue, and for the world of politics, sex work is identified as trafficking. A small, yet important first step was made in May 2017, when organizations and party representatives (excluding the Communist Party of Greece and the extreme-right Golden Dawn) met for the first time, and they admitted that it was news to them that there are in fact sex workers who refuse to be labeled as victims and who demand equal rights.
"Red Umbrella" also goes out into the streets, where its staff carries out the so-called 'street work' and spends time getting to know sex workers. "These people are very suspicious of everybody and it is normal that they are, because they live far beyond the limits of society. Now, since we know the street codes, we are welcomed because there is a great need for communication and integration by them. When you hear 'no' everywhere and then suddenly you find someone who doesn't despise you, doesn't judge you, and tells you "to speak up" and remembers your first name, you will end up trusting them", says a volunteer at the RUA house.
We sit in the kitchen and make coffee. Everyone around the table has a lot to tell me and a lot to teach me. They introduce themselves to me with their aliases. Irene is a transgender woman. She has dyed blond hair, a long nose, and she is self-conscious about her voice while she lights up a cigarette. Irene is 35 years old and has been a street prostitute for 16 years. Next to me is the 25-year-old Manolis, who is what you would call a "boy next door." He is black-haired, smiling, has some stubble, is wearing jeans and a blue sweatshirt. Sex workers are not just females. Manolis finds his clients exclusively through the internet.
This is the job I decided to do, and yes, my friends are aware of this.
"I have my regular shift (eight hours), my own clients and I set my own prices. This is the job I decided to do, and yes, my friends are aware of this", he tells me. Irene and Manolis are also volunteers at RUA, helping wherever there is need. Our group is completed by Maria Xanthaki, Communications Officer, Rights and Networking Officer of RUA, and a jack of all trades, like all the other volunteers and workers of the team who work continuously for a human and just treatment for those in the world's most stigmatized profession.
I power on the voice recorder and we begin:
Jenny Tsiropoulou: There is the stereotype that the woman working in sex comes from Eastern European countries and the client is Greek. Has the pattern changed in recent years? Who offers sex and who is buying it?
Maria Xanthaki: Indeed, this stereotype exists and it focuses only on a certain profile, while the sex industry is huge, but this is not discussed in Greece. People working in sex are men and women, transexuals, both of Greek origin and from foreign countries. Customer profiles also vary. The media, however, unfortunately promote specific stereotypes, intensifying the stigmatization of certain countries, especially presently, where racism is on the rise.There are newspapers that write on several occasions that 9 out of 10 sex workers are immigrant women, however, from our experience, we notice that there are about as many Greek women as immigrant women. The customers are both Greeks and of other origins, of other religions, all kinds.
The customers are both Greeks and of other origins, of other religions, all kinds.
Are there male sex workers? If so, where do they work? Because the truth is that we do not see them anywhere and we think that sex work has only a female side.
Manolis: That's correct. Even the Greek law only speaks about prostitution of women, and on the street, we see that the girls are being blamed for public indecency, while men cannot be touched by anyone. Of course there are male sex workers. It is mainly they who are in Omonia Square, along with the circle of the girls, and my own clan, that of the internet sex industry. On the internet there are special sites where the customer finds you and then communicates with you by phone. The agreement about what the meeting will entail is discussed on the phone. Experience has shown us that it is very rare for men to work in a studio.
I started it very loosely for extra money and gradually it became my regular job. For the last five years I am making my living doing this, I earn my money and I pay my bills. The internet offers me security, but mainly as time passed I have learned how to set my limits on customers and how to ensure that whatever agreement was made will be respected. From experience, you learn how to protect yourself. If, for example, I'm going to some distant area, I'll notify a friend of mine exactly where I'm going.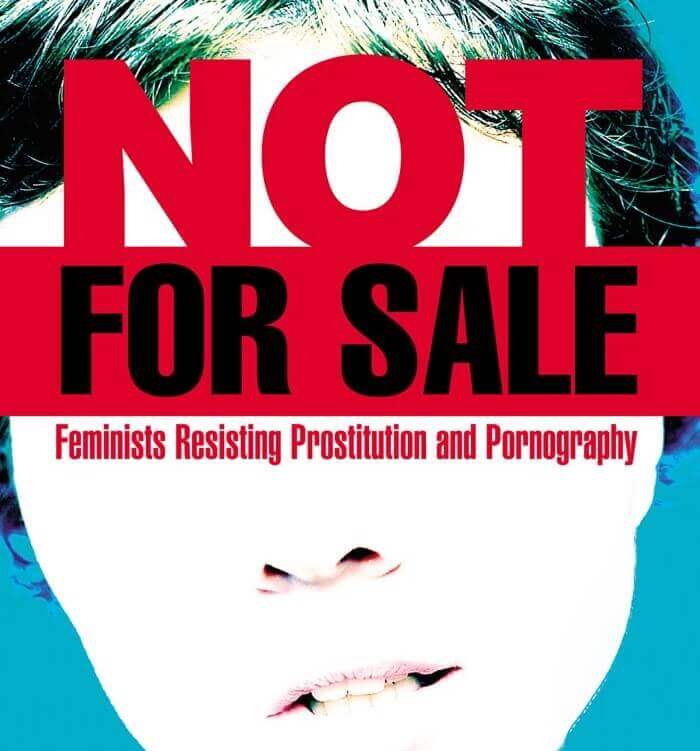 For some people in the feminist movement, work in sex is considered identical to abuse, patriarchy and insulting a woman and the female body. It is taken as a given that a woman would never choose to do this profession, and if a woman is soliciting, she is doing it only after violent coercion by an exploitation ring. Are they right based on what you have experienced? Does this logic hurt the rights of sex workers?
Irene: I completely disagree with this. Every woman respects and values herself even if she does work in prostitution. She works in this profession because she must raise her children, pay her rent, or if she is an immigrant she has somehow to make a living. The notion that there is always a pimp behind every woman is a myth. Surely, no girl says, "my first choice in my life was to go on the street". There are a number of situations that lead us to this, but it is the choice of most girls: instead of working in a supermarket they choose to work in sex. There are also many sex workers who are also feminists.  
For a transgender woman it is definitely very difficult to find a job in the broadest sense, and inevitably she ends up working in the street. But for me as a woman, and especially a transgender woman, why should I always be considered a victim? It is forced on me by society and the law, but it's not like a pimp held a knife up to my throat. I was looking for a job that was based on my major, but I could not find any, so I was driven into the night and into the streets.
Just like working with your own hands, you are free to work using your own vagina.
Maria Xanthaki: Where traditional feminism – because generally feminism has evolved so much – makes a mistake, is that instead of "throwing its weight" behind the social inclusion of all the persons working in sex and the creation of professional choices for those people, it considers them as victims who it must protect. By doing so, they invalidate this profession and consequently the rights of the people who practice it. In Greece, there are political bodies who are in favor of the abolition of prostitution and want to protect victims of trafficking. We certainly, as Red Umbrella, support the practices for the integration and protection of victims of trafficking. But what we are saying is that it is not just them, there are people who do this either part-time or on a permanent basis since there are no jobs or because they want to. They often tell us, "I'll do it for a limited time because I cannot find any other job right now due to high unemployment". They are people who do not have the luxury of joining the unemployment fund since they have no pension credits, they do not have the luxury of sending resumes and waiting for months without income. Also, working in sex does not mean that you cannot set your working terms. You can choose the hours, the places of your work, your customers, the money you will get, and this proves self-determination and self-motivation. Just like working with your own hands, you are free to work using your own vagina in the same way. But that's where the guilt of society and the incrimination of female sexuality is hidden. We do not want to romanticize it, but rather normalize it for people who do it.
Irene: The biggest problem is the legislation that views you as illegal, and in being illegal, you can hardly negotiate and feel protected. How can you report any violation against you? By not being able to legally do this profession it increases your risk and vulnerability. A long time ago, police used to come to the street where you were working, they arrested you, you had to spend your night in jail and in the morning you were taken to the prosecutor's office in handcuffs. This was happening three or four times a week. At some point I even had to serve a sentence. Finally, I forfeited my sentence by doing charitable work in some institution and I escaped imprisonment.
In being illegal, you can hardly negotiate and feel protected.
Irene, how did the police treat you?
Irene: Some acted fairly, however there were always comments and laughter about us. They never hit me, but I know girls who were violently treated or others who were asked for sex to avoid being locked up. Regarding the police officers' treatment, things have improved lately, they even run to our protection as soon as someone attempts to hurt us.
Law and prostitution
Is sex work legal in Greece?
Maria Xanthaki: Fortunately, in Greece there is legislation concerning prostitution that has been introduced to protect public health. Greece is one of the few European countries that have relevant legislation in Law 2734 of the year 1999 that refers to prostitution. The major problem, however, is the enforcement of the law. The criteria for getting a license of work are so strict and unreasonable that very few can even get the license.
It is important to clarify that there are three types of certification: one for the home (brothel), one for the sex workers themselves, and one for the service staff, which is the house cleaners. Just think, even for cleaners who only mop the floor and change the bed sheets, the law requires them to be over 55 years of age and to not have had any sexually transmitted diseases.
You're so young, why do you do this work? I want to get you out of this.
Concerning the sex workers, the law requires that they must be unmarried, a restriction that is against the European laws and the Greek Constitution which protects the right to family and marriage. But our experience shows us that most sex workers do have a family life. That's beyond any imagination. They have partners, children, families and a number of women are married. It is the law that forces you to become illegal.
Does their family know what kind of work they do?
Maria Xanthaki: Many people do not reveal it because of stigmatization since they are afraid of it, but there are some persons that their family is aware of it. Irene, and Manolis, what do you think?
Irene: My friends and my wider circle know what kind of work I do. My parents, however, do not know. I do not know how they would accept it and I am afraid that they will be deeply embarrassed. They think that I'm in show business and I also work in a hairdressing salon. I studied hairdressing and that's why I came to Athens. My parents live in a village.
Manolis: As a gay person, in my personal life I go on dates and sometimes things move ahead and evolve to something more serious. In that case I always go through the process of explaining and re-explaining that this thing I do is a job. But since the law considers me as an illegal person, how can I expect the other person to take me seriously? The law should be ahead of society, as was the case with the civil partnership agreement in Greece. It is like you work at a gas station and sometimes you are bored to go work in the morning when you wake up and other times you love it -it is the same thing with my job. I have to constantly defend my job to everyone. Even towards customer-"saviors" who come to get my services but at the same time they tell me, "you're so young, why do you do this work? I want to get you out of this".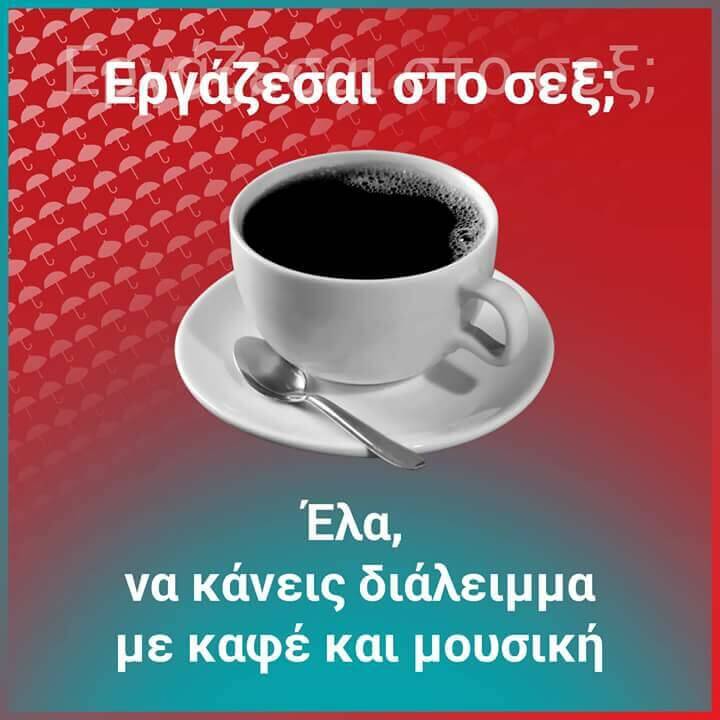 Maria Xanthaki: In order to not leave the legal issue unanswered, the state has made a law that in reality does not allow you to get a work license due to the very difficult criteria. They arrest you two or three times a day because you do not have the permit, it fines you regularly, which adds up and you must pay, but where can you find a job to pay it back? And it's a vicious cycle. Legislation also restricts brothels from opening.
Irene: I still remember one Maundy Thursday while I was leaving for the supermarket I saw two police officers in the front door of my apartment building. They were looking for a certain person. "That's me", I told them. They had come to stick the arraignment for prostitution charges on my front door. If I had not noticed it, all the people in the building would have seen it. In court, I heard for the first time that unauthorized prostitution is a criminal offense. I have never filed a tax statement and when I did it once, imagine the poor employee who was wondering, "Well, how come you have never worked in your life?" What should I tell him?
Why are some women choosing to work in the street while others at the "shop," the brothel?
Irene: The girls who work in brothels are certainly getting less money because the "first jazzes" belong to the brothel. Prices start at 10-15 euros and can reach 25 or even 50 and 100 euros, depending on the place and the program. I make 50 euros on the street and it's all mine while I would share it if I lived in the house. In the house a girl is perhaps more secure and more protected, since she does not have to face the cold weather and the invasive eyes of the passers-by.
Sex work is a job. End of story.
During the years of the economic crisis, did sex workers increase?
Irene: I would say that we are at the same levels as before, but perhaps there was a slight increase.
Do you think that it is possible that your work on sex would be destigmatized one day especially in a traditional society, like there we have in Greece?
Maria Xanthaki: There are even stereotypes for the cleaning ladies and the secretaries that still exist. I believe that stigmatization will never go away, but we can always improve the quality of life for the sex workers.
Manolis: It is important to talk about this issue because we have to show that we are not ashamed of this job, at least those of us who [are strong enough] to do it, because out there, there are many people who do this job and they are afraid and are constantly hiding, even from the ones they love. Sex work is a job. End of story.
***
The article was originally published in Greek. Translated by Konstantinos Karabetsos and published on ThePressProject.