Editor's note: By publishing 36 curricula in the Official Gazette last month, the Ministry of Science and Education formally carried out the task to reform education. However, this is not a story with a happy ending for school kids in Croatia. Even at first glance, it is clear that the curriculum is far from what was promised three years ago. With controversies around the new curriculum emerging everyday, Jose Miguel Calatayud delivers the story about the battle for educational reform in Croatia from its beginning. 
One day three years ago, Daniela Drandić was very surprised when she saw her 9-year-old daughter's notebook from school. The Croatian Language teacher had circled in red every 'r' her daughter had written. The letters were OK and legible, but in Croatian, the 'r' must be written in one specific way that wasn't how Daniela's daughter was doing it, the teacher said.
As her child continued to be chastised for her 'r', Daniela went to the school, in the town of Rovinj in the Istria region, and talked to the teacher and the principal. Both of them said the 'r' must be written that way according to regulations, period.
Upset about the whole story, Daniela shared an image of the notebook on Facebook, and then a friend of hers pointed out that, even though all the 'r' had been circled, the teacher had failed to correct a spelling mistake. "Not catching a mistake like that is a problem", says Daniela, who is Canadian-born and works at parents' association RODA.
"(Children) are learning all kinds of nonsense and of silly things by heart, but it's not something they are going to be able to use, and it's not going to give them functional skills, it just teaches them that form is more important than content", says Daniela, who complains about the Croatian education system not having changed substantially for decades and being out of sync with today's reality.
In fact, between 2013 and 2016 the proportion of Croatian 15-year-olds with underachievement increased and is above the European Union (EU) average, according to the latest PISA study, a worldwide evaluation of educational systems. "The quality of curricula and teaching appear to be the main driver of Croatia's poor performance", said in November 2017 the European Commission (EC) commenting on those results.
The need for education reform has been acknowledged in Croatia since it declared independence in 1991, but by the late 2000s, the successive governments had failed to achieve any substantive reform. "There was no clear way and nobody wanted to show this initiative from the political parties to change anything, because (with) this system you produce students that don't have any way of critical thinking, that does not question anything", says Daniel Martinović, 38, an IT consultant and activist based in Zagreb. "Without any civic education, you produce passive citizens".
The need for education reform has been acknowledged in Croatia since it declared independence in 1991, but by the late 2000s, the successive governments had failed to achieve any substantive reform.
Research conducted in 2009 by the country's Center for Human Rights had reached a similar conclusion: "Croatian schools do not offer sufficient educational content to develop children into responsible and self-aware citizens. The system of education does not function in an open and democratic way, and teachers and headmasters do not feel enough competent nor motivated to teach children about human rights subjects".
United for civic education
Daniel had studied to become a teacher himself, but after his teaching practice he got disappointed in the system and became an activist instead. One of the NGOs he ended up working for is GONG, which aims to encourage "active and responsible participation of citizens in political processes". Back in 2008, in the context of a rapidly modernising and newly democratic Croatia on its way to become a EU member, GONG, the Center for Peace Studies and the Croatian Youth Network launched the GOOD Initiative to push for the introduction of civic education as a separate subject in schools, with the aim of producing a more politically competent youth.
Instead of creating a new organisation, civil society actors preferred to join forces to form a wide movement in which everyone could participate according to their capacity and expertise. After a few years, GOOD encompassed more than 40 different organisations –including Daniela's RODA– dealing with human rights, democracy, gender issues, the youth, the media, Croatia's history… The outdated education system and the political incompetence it was producing provided a focal point for Croatian civil society to rally around.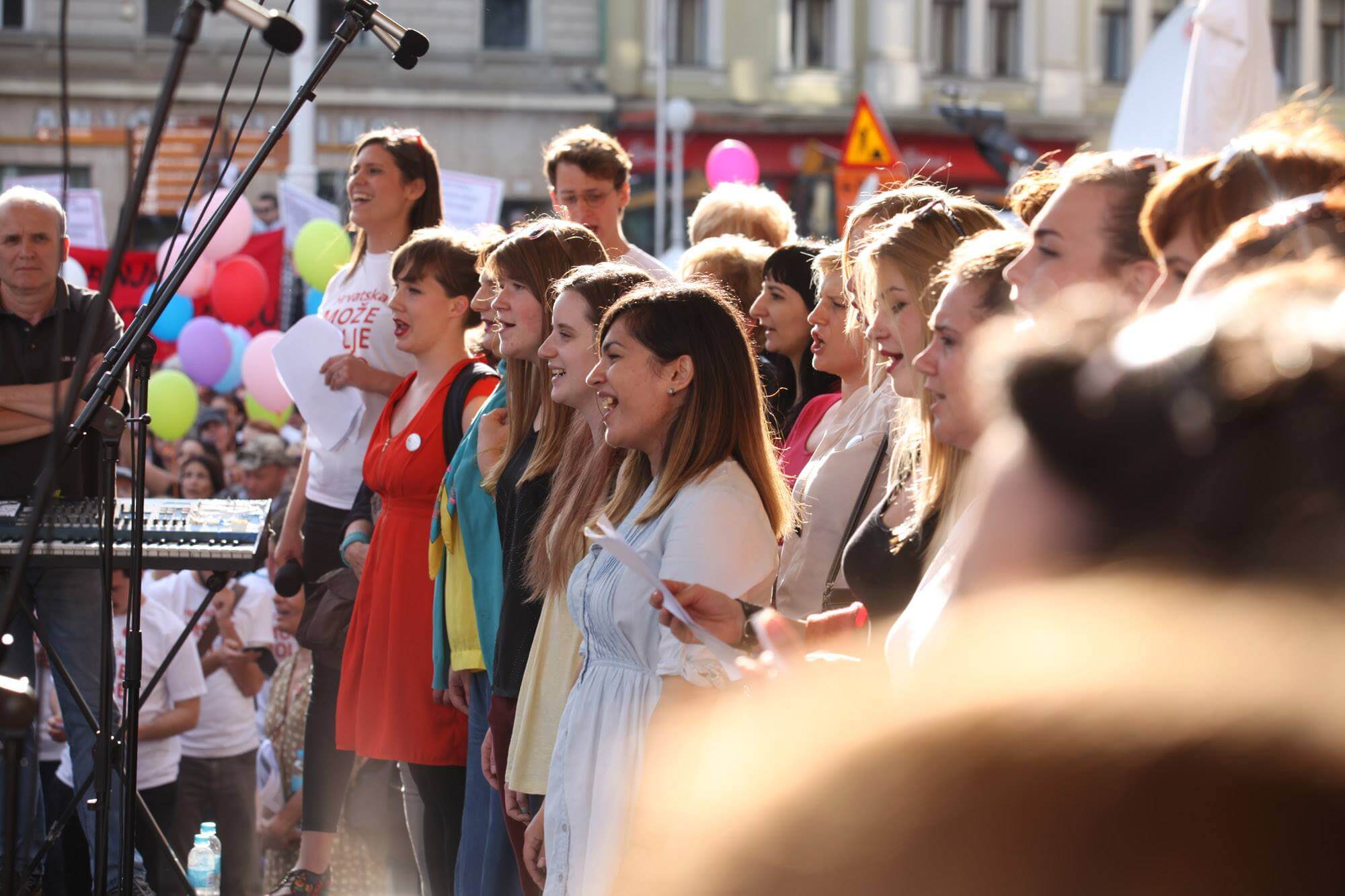 Thanks to European and national funds, between 2008 and 2011 GOOD members implemented more than 20 projects concerning democratic citizenship and human rights. "(We were) offering non-formal education in the field of civic education, working with schools, working with teachers, with principals, and trying to impact and influence government officials in order for civic education to part of the mandatory curricula in the way that we thought it should be", summarises Marko Kovačić, 31, who joined GOOD as the representative of the Croatian Debate Society in 2011, when he was a student.
That same year, research done by GONG showed again the low political competence of the Croatian youth. Then, 27.6% of high school students considered the parties in government as also in charge of doing opposition, and 31.7% said the possibility for the media and citizens to criticise the government is not one of the main features of democracy.
Delegates from the biggest GOOD partner organisations and highly engaged individuals formed a coordination team that included Daniel and Marko. They tried to meet regularly, at least once or twice every two months and stayed in touch through a mailing list and a WhatsApp group.
The work done by GOOD contributed to make civic education a political priority, and in 2012 a newly elected socio-democrat government approved a civic education curriculum to be experimentally implemented in schools in partnership with GONG and GOOD during the academic years 2012-13 and 2013-14.
The introduction of civic education was praised by progressive actors in Croatia and Europe, and harshly criticised by Croatian religious groups and conservative organisations like Grozd (Parents' Voices for Children) and political parties like Hrast (Croatian Growth), which called for a school curriculum that respected patriotic and traditional values.
The introduction of civic education was praised by progressive actors in Croatia and Europe, and harshly criticised by Croatian religious groups and conservative organisations
With the experimental implementation coming to an end in 2014, the government wasn't sure about making civic education compulsory. And when university professor Vedran Mornar was appointed a new minister of Education in June 2014, the curriculum was finally dropped. "This is a defeat of the new minister as well as this government, and subscribes Croatia to a low level of political competence", lamented GOOD in a public statement.
"When I came in conflict with GOOD, they were insisting to introduce this civic education in the system, which is basically okay. But the way they wanted to do (it) was completely against my view on that (…). Because they wanted to introduce a new subject and put it in an already overcrowded schedule", says Vedran, today back as a university professor. Back then, he had bigger ambitions for education in Croatia. "We said, 'Look, people, we are now making a total overhaul of the system'".
Changing the system
Even though civic education had been the rallying point, already within GOOD there had been talks of aiming for a bigger reform. "We started with some premises, it turned out it's not possible in the given conditions, therefore we need to change the conditions", says Marko, today a political scientist at the Institute for Social Research in Zagreb (IDIZ).
In line with the new Ministry of Education's ambition to change the education system, in October 2014 the Croatian parliament adopted a new Strategy for Education, Science and Technology, co-authored by more than 100 people from government officials to academic researchers and teachers. The Strategy, as it became simply known, aimed to modernise the school system and included a comprehensive curricular reform as one of its main objectives.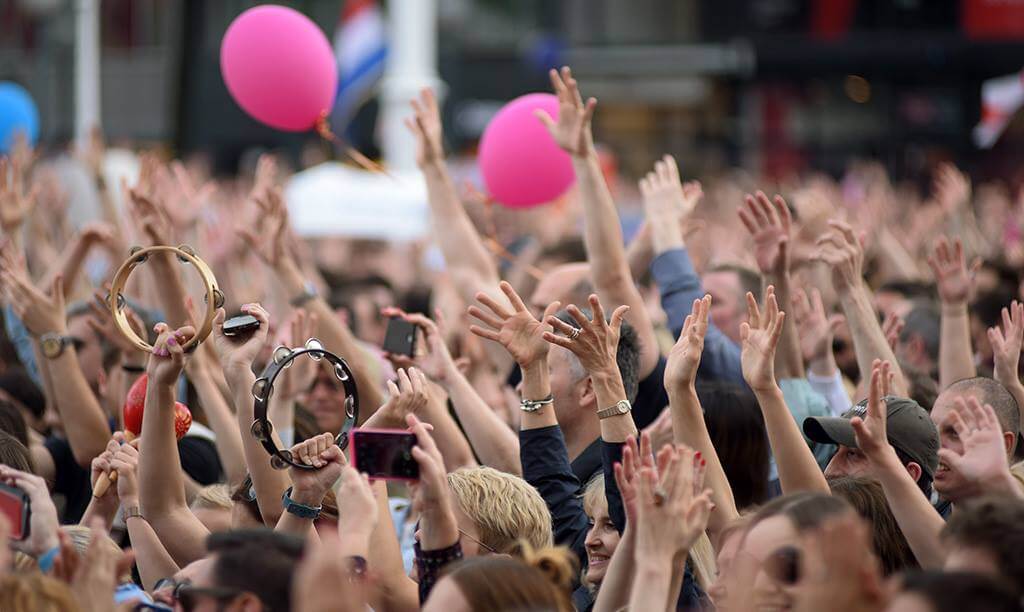 Boris Jokić, 42, an education expert and researcher at IDIZ, was in parliament when MPs were debating the Strategy, of which he was one of the co-authors. He says he was dismayed when MPs started arguing about World War 2 and insulting each other while they were supposed to be discussing the future of education in Croatia.
When later the Ministry of Education made an open call for the leader of an Expert Group to develop the curricular reform, Boris was the only person who applied for the job, and he became the leader of a group with three more researchers, a university teacher, a high school teacher, and the president of the Association of High School Principals. "We were left in a basement of a building, when we started to work, there were seven of us, we had four chairs, there was no flip-chart, no paper, nothing", Boris says. "I said, 'We can give our heads to it and give it to everyone; or we can just pretend, like many times in Croatia, that we do something and not do anything'. Luckily enough, all seven of us, almost in terms of spite, wanting to do something for this country, we said, 'We are going to do everything for it'".
The Expert Group designed the reform process, in which 52 working groups were to produce 52 documents outlining the new primary and secondary school curricula: from the general framework and methodology to the 29 individual subjects and interdisciplinary topics, one of which was civic education.
In line with the systems in other European countries, the reform aimed to increase children's functional literacy in today's world by introducing more active and participative learning methods and to give teachers more autonomy in the classroom.
By March 2015, the first working groups were active, and in all about 430 teachers, professors and academics and other experts would end up working on the documents. 
Where past reform attempts had been led by the academic elites, Boris decided at least half of the working group members would have to be school teachers. By March 2015, the first working groups were active, and in all about 430 teachers, professors and academics and other experts would end up working on the documents up to their release 11 months later.
GOOD approved this approach but was sceptical about the political parties' willingness to respect the process. "We were afraid about the political involvement because we thought this was the first time teachers were involved in the reform, (…) and from our experience (politicians) don't like when you change stuff in any way", Daniel says.
Driven by Boris's energy and charisma, the reform process received the support of most of civil society and the media. Principals, parents and the Employers' Association made positive statements about the reform. Some vocal members of academia were critical of the process, but there seemed to be a sense of common mission shared by large parts of society, and especially school teachers were among the biggest supporters of the process.
"(Boris) really made those teachers happy about what they were doing, happy about contributing, happy about doing something of national importance. And that was the first chance (they) could work on something and later on they could see that something is being implemented", says Mario Bajkuša, of the Forum for Freedom in Education and another member of the GOOD coordination.
GOOD let teachers and other education professionals take the lead as it watched the reform process from the margins, a pragmatic decision that also had to do with the activists' experience during the experimental implementation of civic education. "We didn't want to contaminate the process. Because if some forces in society saw that we were members of (the working groups), that would be a strong argument against the reform. (…) Association Grozd, Hrast, and everyone else (in the right-wing)", Mario says.
In January 2016, the parliament's website published the new government's programme, in which one of the points was to "stop immediately the curricular reform process".
As it happened, the working groups were nearing the end of their work when elections in November 2015 produced a conservative majority. Two months later, one day before the new coalition was to take office in January 2016, the parliament's website published the new government's programme, in which one of the points was to "stop immediately the curricular reform process".
This caused public outrage, and the new government quickly backtracked and the minister of Education insisted he supported the reform. But by then there wasn't much trust left between civil society and policy-makers, and on 29 February 2016, a downcast-looking Boris presented the 52 reform documents along with representatives from the new government.
The documents were to be reviewed by experts, mostly from academia, while working group members would travel across Croatia to discuss them at schools and other educational institutions. Then the government would be expected to introduce the curricular reform experimentally in some schools in September 2016.
But trouble started soon enough. In March, the new government reduced the money for training of teachers in the national budget, and the minister of Education implied the experimental implementation might be delayed. GOOD saw the writing on the wall. "Similarly, all previous initiatives to improve education have been delayed and deferred, which ultimately led to their complete stopping", it noted then.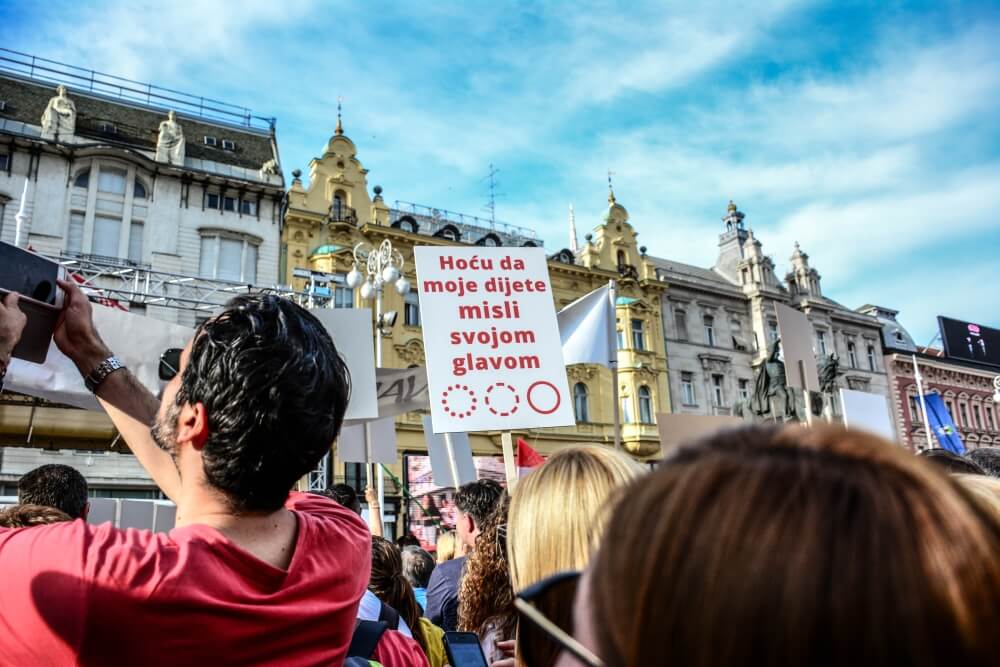 Next, the government failed to withdraw European funds allocated for the experimental implementation, and then Boris started receiving emails from working group members complaining that the government wasn't reimbursing their travel expenses from the trips to present the curricular reform at schools.
Despite all the hiccups and the fact that the experimental implementation was put on hold, by the end of the expert review the documents had been discussed over more than 700 events by more than 60,000 school principals, teachers, members of academia, people from civil society, and other experts and representatives from state institutions, most of whom generally approved of the reform.
On the other hand, some academics and religious and conservative civil society groups were again very critical of the whole process, mainly about subjects like History and Croatian Literature, and interdisciplinary topics like health and civic education. "This reform would have decreased the quality of education (…), because they advocated a very, very liberal form of education, and it is known that with a very liberal form of education you cannot have high quality of education", says today Vladimir Paar, chair of the Scientific Council for Education at the Croatian Academy of Arts and Sciences, and who back then oversaw the academic review of the documents.
On the other hand, some academics and religious and conservative civil society groups were again very critical of the whole process, mainly about subjects like History and Croatian Literature, and interdisciplinary topics like health and civic education
As a renowned theoretical physicist himself, Vladimir Paar also says the Expert Group and many of the working groups lacked researchers of international recognition from the natural sciences. "They had the idea that it is enough to engage school teachers, and that these teachers will know what are the developments in chemistry, in medicine and so on. But they don't. It's known they know how to teach children, but they don't know what's happening in science", he says.
During those first months of 2016, Boris had been making public appearances to defend the reform process and to call for political support and for respecting the original timeline. The whole curricular reform became identified with Boris's bold and outspoken public persona: for those supporting the process, he was a hero trying to modernise education and infuse it with liberal and European values; for those opposing it, Boris was a villain threatening traditional Croatian principles.
In May 2016, the parliamentary committee on Education called for the reform documents to be reworked to give more weight to the STEM disciplines (for Science, Technology, Engineering and Mathematics), and for Boris's Expert Group to be expanded with 10 more people coming from the STEM and Croatian Language and History fields.
Boris saw this as an attempt, influenced by conservative political party Hrast, to take ideological control of the process, and the whole Expert Group resigned when the minister of Education didn't reject the changes proposed by the parliamentary committee. "Was there space for compromise? The whole reform was a compromise, people undermined that idea. We (the Expert Group) were clearly secularists (and) we had the three main religious communities (Catholic, Orthodox and Muslim), their own people, to develop curricula under the same kind of framework", Boris says. "It was a place for talking, it was a democratic kind of place. I was willing, really willing to make space for different ideological views (…). What we were unwilling to compromise with, and me personally, particularly, was the political pressure".
Neither the then-minister of Education, nor political party Hrast and civil society group Grozd answered repeated requests for comments.
"Croatia Can Do Better!"
The news of the Expert Group's resignation on 25 May 2016 made members of the GOOD coordination meet at the Forum for Freedom in Education. "We just sat there and said, 'Okay, we have to do something, we can't let this go through'", describes Marko Kovačić. Then the president of RODA, the parents' association, texted Marko and his colleagues saying RODA wanted to organise a protest on 1 June in Zagreb's main square. "And we said, 'We want to do the same thing, let's start organising a protest'. And this was the first protest that we actually organised", Marko recalls.
Soon enough, the teachers were also onboard. "We got in touch with these organisations (in GOOD), they called us, we called them, I don't know, and we said, 'Okay, we had enough, let's do something', says Ana Tuškan, general secretary of the Teachers' Union (SHU), the biggest union in Croatia. "And it was good because (GOOD) had good managing possibilities and we had a lot of people".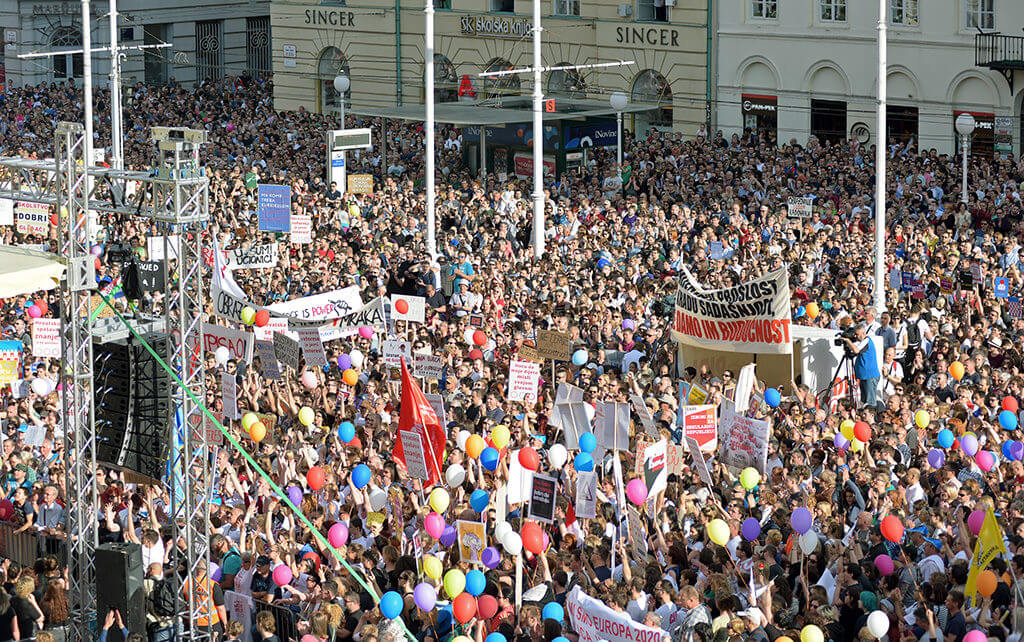 They only had seven days before 1 June, and Marko, Mario, Daniel and their colleagues of the GOOD coordination ended up spending 12-14 hours a day trying to put everything together: encouraging people and organisations from all parts of Croatia to join, coming up with a programme for the day, managing all the logistics, deciding who was going to host the event and who was going to say what, communicating with the media…
"Once everything started rolling, everybody wanted to help, everyone. They were just sending us constant emails, calling us, 'What can we do? Do you need anything?' Because for the first time in years, on these several days (…) there was such a nice contentious energy. Everyone was so eager just to see what was going to happen about this protest", recalls Marko, his eyes bright as he remembers those days.
Croatia is not known for having big demonstrations, though, and just minutes before the protest was supposed to start Zagreb's main square was almost empty. "I remember 10 minutes before the demonstration we thought, 'Where are the people…?' There weren't many people, there was almost no one. We were like, 'This is so terrible, why no one is there?'", says Ana Tuškan. "And then, in five minutes, it seemed to me like five minutes, everyone from everywhere started to come. And we were like, 'Wow'. We were very proud that people were beginning to talk, to raise their voice".
It was the second biggest protest ever recorded in Zagreb, and abroad Croats also demonstrated in cities like New York, London, Paris, Budapest and even Shanghai, bringing the total to about 50,000.
The square filled up very quickly, many people were carrying Croatian flags, and then protesters started to sing the national anthem. "This was like, wow. Because this is not something that you see as from the left, but we wanted actually to send the message that education is for all of us and that we like Croatia, we love Croatia, and just because we love Croatia we are doing this", Marko remembers. The organisers had tried to have a strictly non-partisan protest, and chosen the motto "Croatia Can Do Better!", which was something Boris Jokić himself had been repeating in his public appearances before resigning.
In the end, around 40,000 people crowded Zagreb's main square to protest against political meddling in the education reform, and to call for the government to commit to the original plan. It was the second biggest protest ever recorded in Zagreb, and abroad Croats also demonstrated in cities like New York, London, Paris, Budapest and even Shanghai, bringing the total to about 50,000. "In cases where governments don't do change, people rally around the members of society who are still pushing for this change. Why did we organise the protest? Why so many people came out to the protest? It is because people saw that we were the ones that really, truly believed and wanted and had been advocating for so many years for a change in education", Daniel says.
As it happened, on those days the Prime Minister was facing an unrelated no-confidence vote, the government fell two weeks later, and new elections were scheduled for 11 September 2016. During the campaign, education was one of the hottest topics and all parties said they would continue the curricular reform. GOOD intensified its public activities: it organised electoral debates, published an analysis of the parties' programmes, and made public statements calling for all actors to respect the Strategy adopted by parliament back in 2014 and the reform process as led by Boris.
Then the elections produced a very similar government coalition to the one before, with the same two main partners and just a change of the people leading them. The new minister of Education, the fourth in just over two years, was philosopher Pavo Barišić. Ten years earlier, he had been fired as assistant minister due to several scandals, and in the meantime had been accused of academic plagiarism and of praising the pro-Nazi regime in power in Croatia during World War II.
The year 2017 started with no Expert Group and the original reform process stopped and –according to all signs– having been co-opted by state institutions when it had first been driven by experts, teachers and the civil society. "After ambivalent stakeholder reactions, the curricular reform was revised, and implementation has been significantly delayed. The process now needs to continue in line with the original objectives", said the Council of the EU in recommendations to Croatia in May 2017.
This all prompted GOOD and the whole Croatia Can Do Better!, the movement to call for a new protest on 1 June 2017, to mark the anniversary of the demonstration the year before and to protest against the apparent lack of political will to continue the reform as originally intended. This year, the march would end at Zagreb's Central Station to send the message that irresponsible government policies about education and the youth were forcing many young Croats to emigrate.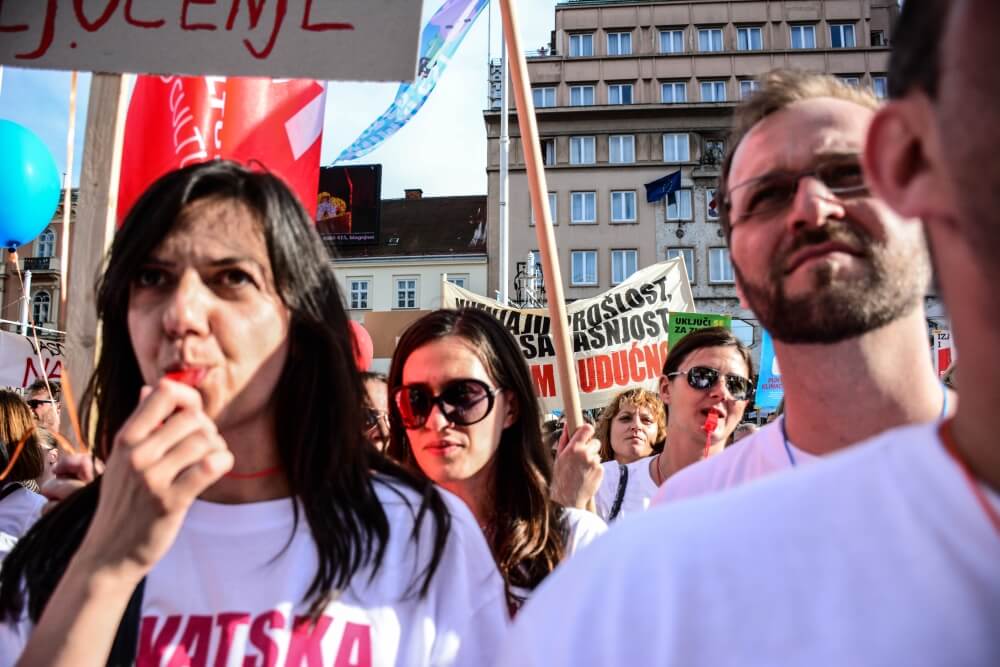 With a 27% youth unemployment rate, the fourth biggest in the EU and well above the 16.8% average, many young people are leaving Croatia; and it's been estimated that overall between 50,000 and 60,000 people have left the country annually since it joined the EU in 2013. Given the lack of prospects, these days more than half of the high school students, 53%, say they would rather live and work abroad, according to a report published in June 2018 by Croatia's Agency for Science and Higher Education.
This time there wasn't so much publicity, and people from GOOD thought the protest would be just a small action, and that the massive demonstration the year before had been a one-off. "We really wanted to organise a 300-people commemoration for the curricular reform, just a (mock) funeral", Marko says, "and when we reported to the police station, we said we were gonna have 300 people top, we were just gonna have an action of having a grave (marking the reform) and that's it".
However, on 1 June 2017, after a huge storm stopped just before the time of the protest, again suddenly thousands of people took to the main square and Zagreb had its second massive demonstration for education in 12 months, with around 25,000 people this time. Days after this second protest, the prime minister (PM) named university professor Blaženka Divjak new minister of Education, the fifth in three years.
Blaženka, a mathematician, had participated in the protest the week before, was one of the co-authors of the Strategy, and had publicly supported the curricular reform. GOOD and others backing the original reform process were hopeful this change in leadership would put back in track the reform.
Instead, the new minister opened yet another national and international review phase of all the curricular reform documents except the one on Informatics, which she announced would be introduced as a compulsory subject from the 2018-19 academic year. Later, the PM established a new Commission for the Implementation of the Strategy, with himself and Blaženka Divjak as co-chairs, when before this commission had been politically independent. It seemed the curricular reform process, whichever way it might take, would firmly remain in political hands. "(Blaženka) was protesting last year together with us, and she said, 'I will change everything'. And (then) nothing changes", Daniel says.
In February 2018, Blaženka said the curricular reform, now named School For Life, would start to be experimentally implemented in some schools in September. However, School For Life would ignore the working group documents that set up the whole framework and the interdisciplinary topics, and just include the work documents about particular school subjects.
Instead, the new minister opened yet another national and international review phase of all the curricular reform documents. 
Besides, when the budget for 2018 had been presented most of the money for the reform was allocated to buying IT equipment for Informatics, and it wasn't obvious how the government expected to pay for the teachers' training, or even what they would be trained about, as the curriculum documents were still undergoing national and international reviews and might get changes. By June 2018, it wasn't still clear what parts of the reform would be implemented and how.
"(The government) doesn't listen to people who work (in education), and that's the problem. Because people who work say, 'That's not so good, that's not a good idea'", says Ana Tuskan of the Teachers' Union. "Because they see it's messed up, (…) people are very sceptical about it, and those who entered in this programme are also unsatisfied". She says no school in Zagreb is in the experimental School For Life programme, and that some schools only applied to join because they lacked even solid floors and were expecting to receive money to fix this.
GOOD people aren't happy either with the direction the process has taken under the new minister of Education. They say the comprehensive curricular reform as underlined in the Strategy is all but dead because School For Life is not about substantial change but just about buying new computers.
However, in general public opinion seems content about the introduction of Informatics and the new IT equipment that should arrive in some schools. "These days the story is much more complicated, and it's very hard to explain that to the general public, what's going wrong, what are the issues, and there are very good public relations from the minister", says Mario. "We will see in 10 or 15 years if it was good or not. But I I don't think so, in two years those tablets (and computers the Ministry is giving to schools) will be obsolete".
In 2018, 1 June came and went almost unnoticed, and neither GOOD nor any other actor tried to organise a third protest. "We lost our motivation, (…), we the core, the centre of it, we just couldn't do it anymore", Marko says. "Because it seems that there's a peak, however this is a marathon. We were constantly, constantly running against the stream, we were constantly trying to achieve something. And when we really thought, 'Okay, so this is the final thing that we have to do', and then we do it, and it turns out to be perfectly organised, we couldn't even imagine, and then, bum! (he hits the table). And simply there's no sustainability of this energy".
"In the end, if you are here for that much long, I really understand how people get burnt out and why people move to other countries", says Daniel. "It's really, really hard to continue for so long (working) so hard while (State authorities) the only thing they have to do is nothing".
By 3 September 2018, when the school year began in Croatia with the new Informatics curriculum and the experimental implementation of School For Life in some schools, laptops and tablets and some textbooks were still missing from schools after problems with the public tenders; and teachers complained about lack of training and materials, as reported by mainstream and specialised Croatian media. On social media, some people were sharing an image of a child with an abacus as a joke about how the government had finally provided computers to all Croatian schoolchildren.
At a conference about education last November, teachers, trade unions, education experts and Ministry of Education representatives seemed to generally agree about School For Life being a limited programme that fell short of the original reform process. While Ministry delegates defended the first two and a half months of experimentation and said they were receiving positive feedback from participating schools, critical actors like the GOOD Initiative lamented School For Life might means better IT equipment in some schools but it just wasn't the kind of comprehensive reform the Croatian education needed.
Then, in mid-November the Ministry of Education launched yet another public consultation of the curricular documents, expected to last until mid-January 2019. New working groups were formed to follow up on the public's comments and to finalise the reformed curriculum documents during early 2019. In the case of History, already one of the most politically charged subjects along with civic education and health and sexual education, new working group members came from right-wing nationalistic political parties and backgrounds, which critics feared could result in a politically biased curriculum.
The Ministry of Education didn't answer repeated requests for comments on this story.
Boris Jokić, ever the optimist, wants to see the bright side of things. "(The reform process) changed completely the narrative of what this country focuses on, that's also something, it's really difficult to push one topic without clear political power. (…) The citizens proved not by elections but by actions a certain set of values that should be in this country's agenda for the 21st century", he says. "Two years ago we went public by saying that Croatia can do better. (…) Two years afterwards, I still do think the same, I think this country will do so much better in the future, and I think one of the elements is exactly the response of the people in the streets for this reform".
Back to basics
As the reform process wasn't going in the direction its supporters had envisioned, GOOD was also going back to refocusing part of its efforts to introducing civic education at the local level.
In 2016, GOOD had helped introduce civic education as an extracurricular activity at five schools in the city of Rijeka, in the traditionally most progressive part of Croatia. The experience was very positive and more and more schools in the country have since been signing up to what has become known as the "Rijeka model". "Some of the local governments were really looking forward to the change, they were really, 'Cool, finally we will get this change in education'. But when they saw that the government doesn't want to do anything, they saw GOOD as one of the forces in our society that wants still to push change forward. And then they reached out to us, and then this whole local thing started", Daniel Martinović says.
Disillusioned about the political establishment lack of willingness or capacity to achieve change, people from GOOD see in this local, grassroots and bottom-up approach the potential to improve things. "In the end, the system wouldn't change without some agents. (…) We see teachers as agents of change, we see principals as agents of change, we see parents who are willing to cooperate with the school as agents of change. Because from the top-down you are not going to get any kind of incentive", Mario says. "The only thing I can think of is to join different institutions. If you are a parent, join the parents' council at the school. If you want to make a difference in the local (area), run for elections! Why not? If you have a clear vision of what you want to do with your neighbourhood, run for elections. (…) And also civic vigilance: that's the only thing that keeps democracy alive". 
***
Jose Miguel Calatayud is a freelance journalist currently based in Barcelona. In 2017 and 2018, he researched citizen political engagement and democracy in Europe thanks to an Open Society Fellowship. Earlier, he has been based in East Africa and in Turkey as a foreign correspondent. He has reported from three continents and his work has appeared, among others, in El País (Spain), the New Statesman (UK), The Independent (UK), Agence France-Presse, Radio France Internationale, Deutsche Welle (Germany), GlobalPost (US), Al Jazeera (international), Internazionale (Italy), Information (Denmark) and Expresso (Portugal).