At the 2017 Venice Biennale, the Polish Pavilion is represented by the American artist Sharon Lockhart's Little Review, a project inspired by Janusz Korczak's approach to children's rights. Korczak was a Polish–Jewish pedagogue who initiated a newspaper created entirely by children and young people in the pre-war Warsaw. The title of Lockhart's project refers to this pre-war newspaper, which had the same title and was a weekly insert in the Jewish daily Our Review.
The artist first came to Poland in 2009 for her film Podwórka. During that time she met Milena, a nine year old girl who became an important figure in both Lockhart's personal life and artistic practice. When Milena was placed in the "Youth Centre for Socio-Therapy" in Rudzienko, the artist followed her there. The long-term partnership (over the period of the last 4 years, which included workshops and the production of the film Rudzienko and several photographic works) that Lockhart has undertaken with the girls of the Centre in Rudzienko resulted in this exhibition comprised of a new film, photographs and an English translation of the original Little Review newspapers all set within an installation designed by Lockhart in concert with the architectural firm of EscherGunewardena.
Jakub Gawkowski: What kind of workshops did you organize with the girls from Rudzienko?
Sharon Lockhart: The first ones I organized in 2014 with the educator and philosopher Bartosz Przybył-Ołowski addressed the exercise of their personal voice. I wanted the girls to realize that they have something interesting and important to say and that they have power through their ability to use speech as a tool. They are living in an institution where they have no say in where they live, in what time they wake up or other aspects of their daily activities – they live by the clock of the institution and are not in charge of their own lives. We wanted to encourage them to use their voices but also for them to learn how to listen to one another and respect where each other are coming from. After that first summer I realized there were many more skills and tools we could provide and so we organized instructors in movement therapy, mindfulness practices, feminism, comedy improvisation, and writing. Since the girls live in the countryside, each summer since that first year I have rented a farm nearby and organized workshops there, with each workshop focusing on some different aspect of their lives or tools for living.
What are you currently working on?
Right now we are focused on a set of workshops organized around knowing your body.  It is a ubiquitous fact of life that teenagers are really coming to terms with their bodies, how they function, and what the possibilities are. We are working on developing the power of inhabiting your body and the many ways your body can be a powerful tool for generating happiness. Of course, this has been  an aspect of what we have been doing for the last few years; dance, choreography, meditation, yoga, song, and theater are all avenues for this.  Yet, in these workshops we are really focusing their attention on this aspect of their lives.
On a wider front, I would love to try to establish some kind of internship program and other programming to help them as they age out of Rudzienko or get moved to other institutions.
How did the figure and work of Janusz Korczak influence your project for the Polish Pavilion?
The fact that he established a newspaper written entirely by children, issued weekly for thirteen years is something I don't think had ever happened anywhere before and hasn't happened since. Immediately when I found out about it in 2013 I knew I wanted to see it translated. The fact that he had a children's parliament in the orphanage is another thing that continues to be remarkable almost 100 years later.
This project is about giving voice to contemporary young women as well as young people who lived 80 years ago.
At the beginning of the project we wanted the girls to read the Little Review(Mały Przegląd). Everyone said that the girls would not be interested in reading the newspaper because it was 80 years old, had archaic language, and involved a form (journalism) that they never engaged with, and yet, when the girls did read it, they were inspired and found things described which are similar to what they are confronted with everyday today. The fact that Mały Przegląd had never been translated and was little-known even in Poland was startling to me and I thought it would be great to use the opportunity to make this important cultural artifact and forum for youth more widely known. So this project is also about giving voice to contemporary young women as well as young people who lived 80 years ago.
As a figure, Korczak is well-known among educators in Poland and Israel, but he is not really known elsewhere.  I first became aware of him through the story of his extraordinary commitment to the children under his care in the orphanage and his courageous decision to accompany them to Treblinka. His books, The Child's Right to Respect and How to Love a Child, led me into researching him further. I found he is very well-known in Poland for his book King Matt, which was widely read by young people. I identify with the non-hierarchical way he worked with young people and I emulate it in the way I teach. I wanted to celebrate the life he gave to children, to concentrate on some of his radical modes of teaching and the power of believing something is possible.
What did you want the girls to learn?
I wanted them to learn – and they have learned – how to debate, how to negotiate, and how to collaborate. Those are big things when you live in an institution where you are always on your own. You need to survive; you can be moved the next day to a new institution. You are always on your own, and these workshops gave them something to do together. A center for young women who are all working together can be a really powerful, positive place. It doesn't need to be negative.
A Polish critic wrote in reference to my project that, "anyone could have played those girls in the film," which shows a complete misunderstanding of the project. Conceptually, there is a specificity to who is depicted and what they do on camera.  Yes, it is possible for anyone to perform in this way, but it isn't anyone, it is somebody with a specific history who has developed that performance. They workshopped their ideas through writing, edited them for clarity and developed them through performance to come up with self-representations that were meaningful to them. They feel
misunderstood and ignored so it was important to all of us to give them the stage. And this is what the project is about: to tell them that you are unique, you are special, you have talent, you are generous, loving, a kind person, and you have power. You can do something. So it was important to me, and I think to the meaning of the work, that we believed in them and their power to create and perform at a world-class level representing their country.
We also wanted them to learn something about words and meaning and how gestures, both physical and conceptual, are communication tools. We taught these things in workshops but they were also part of the film production and construction.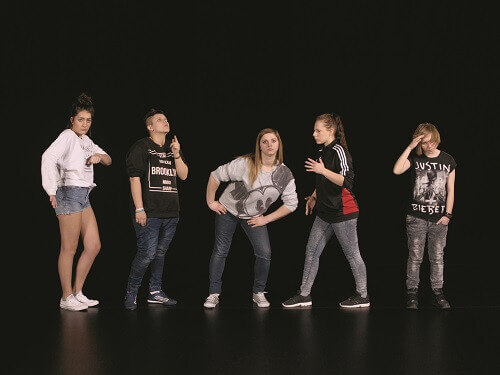 One example is the use of English in the opening scene. We worked with the girls to develop words that were important to them and then talked to them about reaching an international audience. They understood that it was important (as a gesture) that the words communicated came straight from them and were not mediated that those were their words.
You seem to be very positive, but it must have been hard in the beginning.
Doing the project was extremely difficult on so many levels but, at the same time, it was always also a cathartic experience for all. Many of these young women have experienced hardships but they all have inside of them a remarkable ability for connection. Being part of that is what has kept us all going and has made this project a joyful endeavor for everyone.
The viewer isn't able to get to know the stories of the girls, the reasons why they are in Rudzienko.
We didn't want to focus on hardships. We never did. We were always focused on moving forward, it was about being here, now, asking the girls what they need at the moment. They are acutely aware of how society sees them and much of that has to do with their hardships. One reason they loved taking part in all the work I've done in Rudzienko over the years is that we offered the opportunity for them to rebut the stereotypical view of who they are and, rather than live in the past, live in the present. As we constructed this project together, we talked about the film, and the entire project, as a kind of manifesto and an opportunity for them to say who they are much in the same way as Korczak's children were given a forum in Little Review. 
Adult prejudice or judgments are pushed all the time. I hope my work will make people question their judgments.
Over my entire career I have been trying to undermine viewers' preconceptions and get them to think past obvious questions and documentary approaches. While I have spent a lot of time working with ethnographic and documentary film ever since I first encountered them in graduate school over 25 years ago, and many of my films have been shown in that context, I have tried to question the underlying precepts of those practices. I didn't have any interest in labeling the girls the way other people do. Adult prejudice or judgments are pushed all the time. I hope my work will make people question their judgments.
You had an absolutely different position from the girls while doing this project, with you being a well-known American artist, and thus you were not on equal level to them. Yet you were still able to bond with the girls.
When I first came to Rudzienko it was just to visit a friend who was living there, so it really grew out of friendship. I didn't come there with the intention to make a project for the Venice Biennale. In the beginning many of them just knew me as the friend of Milena. We were able to develop a great bond. Maybe they perceived me as different from the adults in their lives, and in many ways they see their difference as the reason they have wound up in this center that no one really knows about or thinks about. In a way we share an outsider status.  They immediately understood that I did not have any of the preconceptions they saw other people brought to their interactions with them. And from my end, I really didn't know anything about them other than that they lived with Milena, so I took them at face value. Our bond was forged on our ability to not bring any baggage to our relationship.
I am not hierarchical in my approach and, although I talk a lot about teaching and education, I don't think of myself as the bearer of knowledge that must be communicated. I am as interested in what I can learn from them as what they can learn from me. I felt Korczak was a kindred spirit in this respect and that's why I think I identified so much with him.
You emphasize the fact that the project is the result of a collaborative effort, but all in all it is your name that will be recognized for this project, not theirs.
Ultimately, I am responsible for the look, construction of, and meaning of this work. If it fails as artwork, that is on me and I've worked very hard in everything I've done at Rudzienko to produce artworks that are accomplished and relevant. The final objects are not inconsequential. Nevertheless, the girls, and everyone else who worked on this project, brought their own voices to it. I wanted the girls to own and form their own representation of themselves, and for them to be in control of it. Many of the prompts and instructions we provided were intentionally open-ended to allow for them to construct something that was personal to them. There is one scene in the film that's 12 minutes long – the girls determined this duration, I didn't. They stare at the audience in this scene, making gestures that they chose, saying very powerful words, words that they chose and that have meaning for them.  They were proud of their performance and they should be.  I think it is something remarkable and something I never could have come up with on my own.  I think it is important to acknowledge their contributions and that's why I emphasize the collaborative nature of the project.
The project speaks about the girls from Rudzienko, but also raises the question of what does it mean to be a girl.
Yes, I feel there is a certain universalism to these representations.  Women face shared challenges and approaches to the world around them. Many of our discussions over the years have involved questions of gender and the girls have been drivers of that conversation. When you walk into the Polish Pavilion, the first image you see is an androgynous one. It was something very important to the girl in those photographs.  She was aware of the construction and wanted to make a statement. In the image, Ola, "TODAY IN POLITICS," Our Review no. 167 (8863), June 16, 1939, National Library of Poland, Warsaw, February 3, 2017, that same girl engages the gaze of the viewer. The question of women's role in Polish society is at a point of conflict and the girls are just now learning about its context and women's struggles in history.
Feminism is slowly filtering in through many talented Polish partners; it is women who are representing Poland in Venice this year, and this is very important.
Did the struggle of women in today's Poland and protests against the abortion ban influence your collaboration?
Yes, but, like many people their age, they were fairly unaware of the wider political situation. I would have loved to take them to the protests, but I can't do that. So I really play a fine line; I am working with an institution so I have to respect that institution's rules and procedures. However, feminism and it's political role is slowly filtering in through the many talented Polish partners I've been fortunate to work with, people likeMałgorzata Wiśniewska, Marta Ziółek and Joanna Pawluśkiewicz among others. I have found the girls to be natural feminists who really respond to strong women and the challenging ideas they bring about women's place in the world. It is women who are representing Poland in Venice this year, and this is something very important.
What have you learned from the girls in Rudzienko?
Among the many things I've learned from them is that we can all do much more than we think we can for each other. The selfishness of modern culture, the "me, me, me!" of contemporary capitalism, is so hurtful. Life can be very cruel and difficult, and everyone needs some help at times. These young women really look out for each other and they've extended that welcoming, loving kindness to me. It's a great reminder of our responsibility for one another and the power of trust and respect. I've learned a lot from these girls, they are powerful young women who have seen a lot. They are wiser than  many adults.
Was there anything you wanted to accomplish during the project that you were unable to accomplish?
Failures are very easy for me to talk about, because I always wish I could do so much more. As I mentioned previously, I am trying to use the Polish Pavilion and Zachęta (National Gallery of Art) to create awareness in Poland, develop internship programs, and start helping these girls with the issue of housing they will face once they leave the institution. I am faced with my own limitations to accomplish that. I can find talented people to inspire the girls, but I don't know how to get them housing and job security. A lot of times they are told they are only capable of work in retail or food service, but I know they are capable of much more than that. There is a certain fatalism that I wish I could overcome.
How would you like to see this project continue into the future?
One immediate goal I have is the wider translation and distribution of Korczak's Little Review.  Zacheta and I are both working on expanding our translations from the 29 we did for the Biennale to the entire run of 677 issues.  I would love to see more scholarship on Korczak worldwide. In addition, the girls of Rudzienko are in the process of creating their own editorial room and launching their own publication inspired by Korczak.
Because of the education reform though, the Youth Socio-therapy Center in Rudzienko, in its current form, will likely cease to exist in two years. My hopes for this project are that the next few years can be devoted to developing a support structure for their post-Rudzienko lives. Before it was always about now, and now I am worried about the
girls when they leave. Many of them are eighteen and, if they haven't already, will leave the Center soon. I can't do workshops with many of them anymore – they are spread all over Poland – but I am still in contact with them. I am trying to develop some kind of foundation, but this is very hard when you don't have a lot of money and are working halfway around the world. On the other hand, I have been very fortunate to be able to develop partnerships with individuals and institutions in Poland that I hope can step in and take over some of the social aspects of what I've been doing.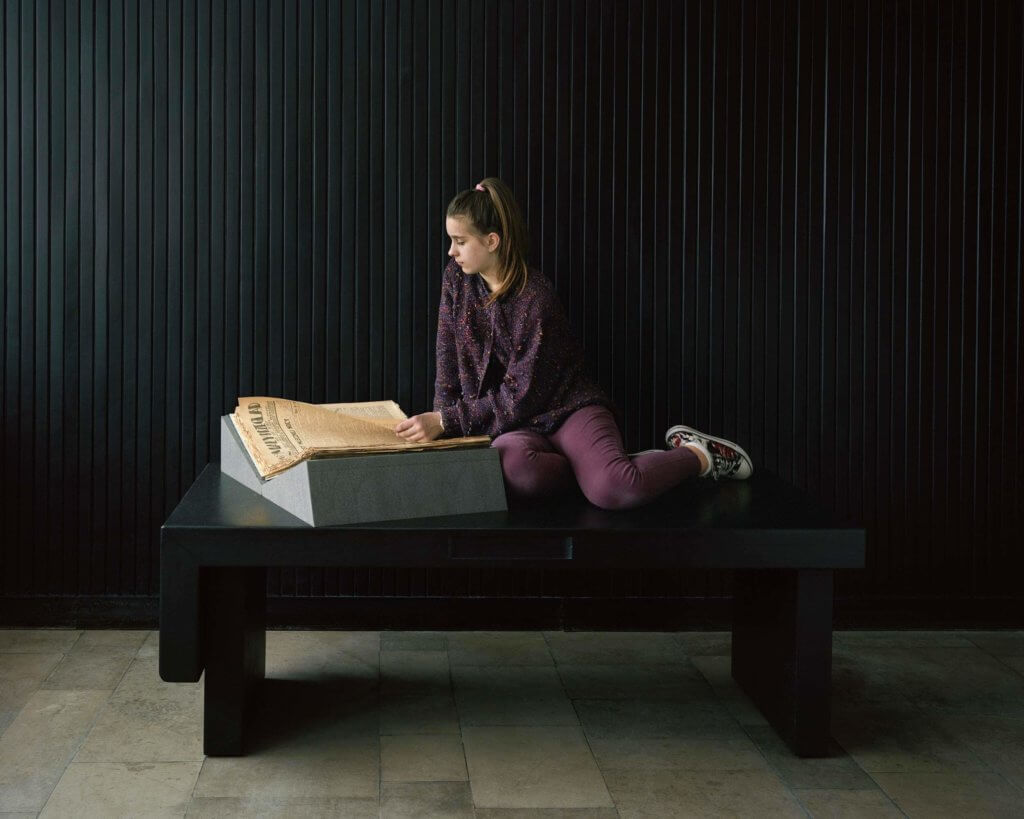 Due to their participation in the Pavilion, the girls have been invited to the Baltic Arts Center in Sweden next summer. Soon they are going to Venice, and hopefully will visit Vienna next year. They are going to see the world and experience it; it doesn't have to be with me all the time.
In a way I think about this Pavilion as a culmination of everything I've done in Poland.  It has a sense of finality to it but the girls are threads that keep pulling me back to Poland.  I will always be in touch with them.
Do you think of your work as a type of social practice?
That is interesting because Mark Bradford – the artist representing the United States – said, "Scratch the word 'social practice and insert in place of it "need and access." My work is not a social practice, it is art to be viewed and contemplated. I don't like this label in part because I have always been resistant to labels in general. I see in them limits to how the work (or a person) is perceived. I also am resistant to this term because I think it tells viewers that the work is to be judged on qualities outside of the ones there in the exhibition space – not that there aren't tendrils that lead out from the artwork to the structures and narratives that formed it. But I want viewers to take the time in the exhibition to look at each work and the installation itself and take the time to consider them. I see this work as visual, spatial and durational. I think "social practice" focuses attention on the story, or narrative, over many of the qualities that are actually present in the work. For example, I put a lot of work into the installation and architectural alteration of the space. I wanted separation of the space into black and white elements to be palpable and relate back to the black and white of ink on a page. I brought in the black modernist benches from the National Library in Warsaw (the location of the archive of Mały Przegląd) to break up the space and give people a place to sit and read the newspaper. The large black volume that separates the two parts of the Pavilion somewhat mirrors those benches and acts as yet another sculptural form. In the film as well, I had to think about the duration of shots and the total length in light of the Biennale and exhibition context. All of these things were constructed to give viewers the physical and mental space to engage with the content. In the film and photographs, I wanted viewers to consider the history of portraiture, to think about the discourses of dance and theater and performance art.
How did you use the institution to make your work more widespread outside of the gallery space?
My initial idea was simply to continue our work with the girls, but, as I mentioned, I also wanted to use the power of an institution to translate all 677 issues of Little Review. In the end, we are only able to translate the selected 29 and we have limited funds set in the budget for the number of copies we can print for each issue. Still, I am very happy with the increased awareness of Korczak the Pavilion has fostered. I wanted to foreground a history that is unknown to many people and empower the girls. Zacheta is now sponsoring conferences on Korczak and looking for partnerships with government and private agencies to expand the translation of Little Review and publish more copies of existing translations.
Thanks to the exhibition, I was able to develop a program of workshops. Before that, I was doing it by myself with the help of some great people, but with an institution's assistance it was much easier. Now all these institutions, including Zachęta and Polin (Museum of the History of Polish Jews), the Museum of Modern Art in Warsaw, the Center for Contemporary Art at Ujazdowski Castle, and the Nowy Theater will continue with a workshop program and I am lobbying for their help in developing my internship idea.
This article was created as part of the Network 4 Debate project, supported by the International Visegrad Fund.