For more than ten days, huge demonstrations were taking place in the streets of Warsaw as well as in other Polish cities. An estimated 50,000 people were present all together in front of the Presidential Palace, Sejm and Senat (Parliament), as well as the Supreme Court demanding the president to veto judiciary reform.
Since the Solidarity strikes in the late '80s, the Parliament's building has not been secured to such an extent. Despite the peaceful character of the demonstrations, several police interventions were made – more than 30 protesters were forcefully removed from the barriers and most of them were fined. Hundreds of people gathered in front of the presidential summer residence at the seaside where the President, Andrzej Duda, spent the weekend fleeing from the confusion in Warsaw.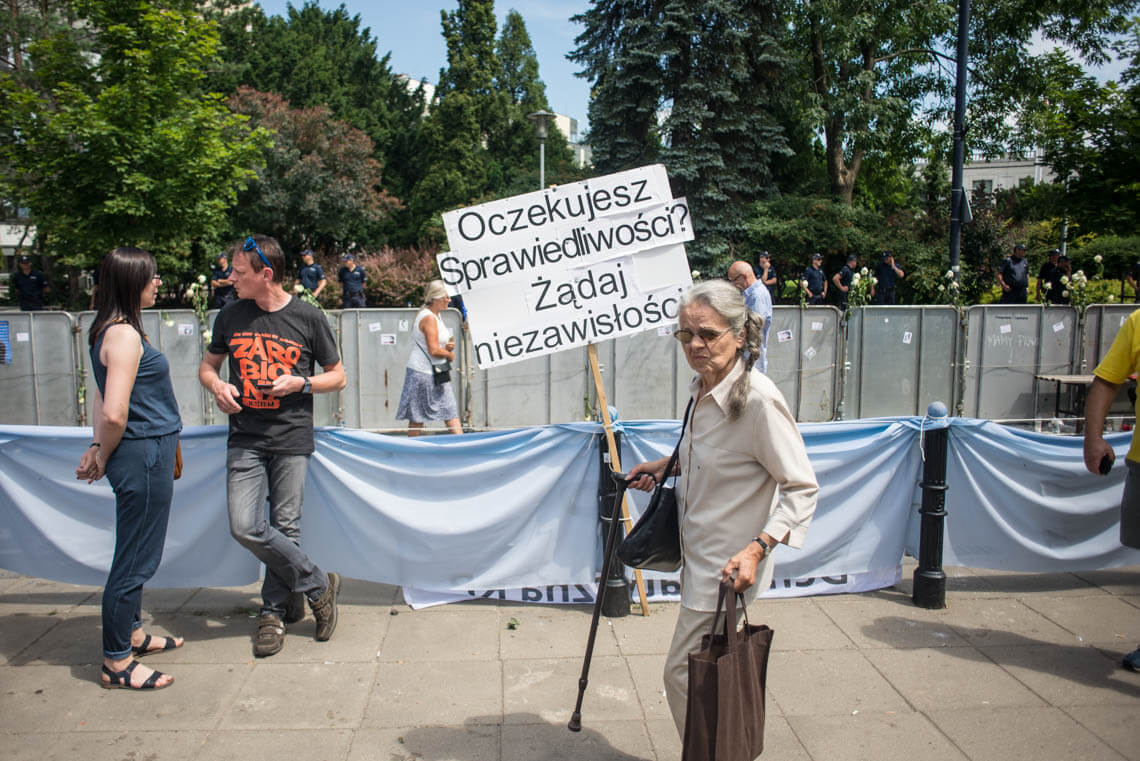 But Monday's morning came with a highly unexpected surprise. At 10.00 a.m. the President called a press conference where – after giving quite a worthwhile speech – he announced his decision to veto two out of the three controversial bills. The President has declared that he will personally submit a new bill which will reform the judiciary in a rightful manner; however, details are not yet known.
If anything is certain from this moment, is the fact that the presidential veto was achieved thanks to a firm sign of public discontent.
People were coming to the demonstrations with candles, chanting, and singing. Since Saturday – the 15th of July – thousands of them have been gathering every day in front of Sejm in Warsaw. Most of them came for two or three hours and then went back home. Only several dozen stayed up all night – they were the most persevering and the ones  who set up a camp near the Parliament building. Sophie Rebmann interviewed them at the peak of the protests, on July 20th. This is what they said:
Brunon, 18, Warsaw
"I've been at the camp since Sunday. I go back home every day around 3 or 4 am to take a quick nap, clean myself up, and then I get back to the camp. This Sunday was an amazing day – lots of young and old people as well as some members of the LGBTQ community. We, the youth, want to do something and we can do it. The citizens are terribly concerned with what's happening and that's why their engagement is this clearly visible.
We, the youth, want to do something and we can do it.
But today I feel powerless. And this powerlessness makes us somehow more motivated. Fatigue causes anger. What's happening right now in the Parliament is a circus and also a disgrace. When a MP approaches the podium, makes a speech violating the official rules, shouts and insults others – this is a disgrace. This kind of incident shouldn't take place in the Parliament or anywhere else."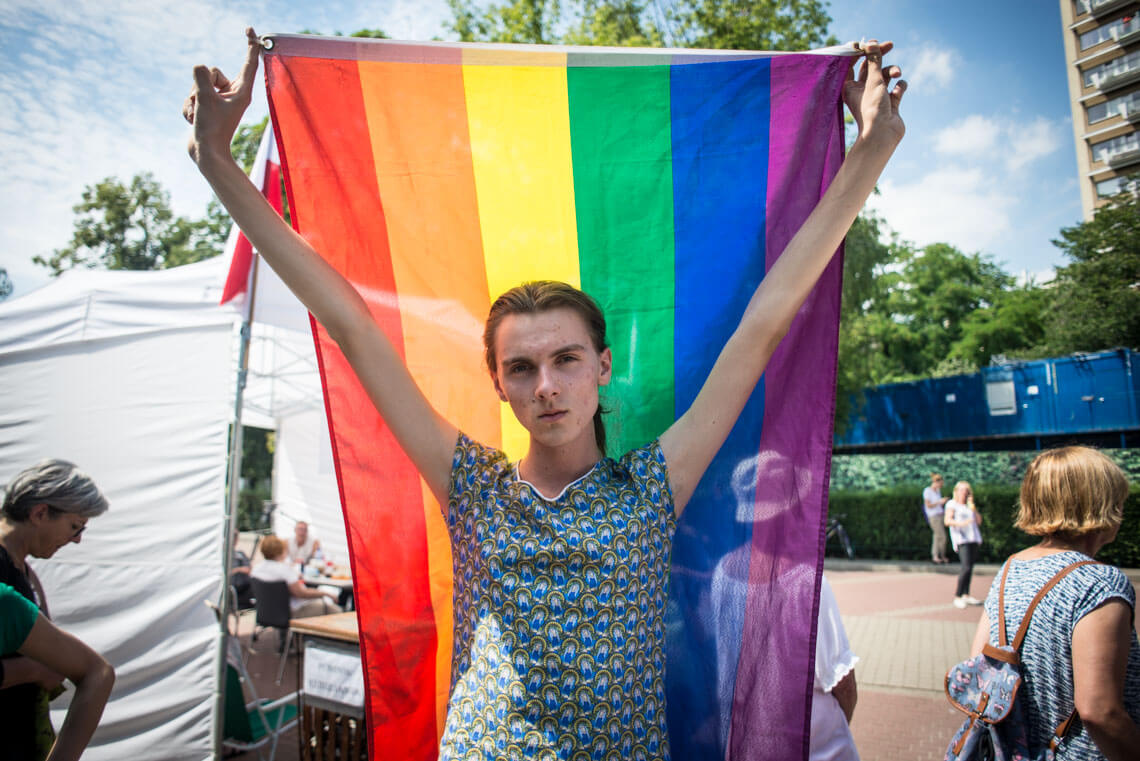 Renata, 57, Poznan
She made a decision to come to Warsaw on Thursday, around 11 am: "It was a rapid decision: we got into the car, we had to go. There was nothing to think about. Also there is no other place in which we should be right now. Maybe it's the last – or the first – day which can make a change. Perhaps, the change won't come as soon as we think but we can't just let it go. The young also came so we can't leave them here alone."
It's a historical moment, something unique which happens once in a generation.
"These masses of young people on Tuesday night – speaking with a power in their voices – were just beautiful. I can feel this energy: everybody going out on the streets and to just say "NO!". This was visible yesterday! The MPs from the opposition were also with us – they were leaving the building, talking with us, and what they told was very meaningful. It was clear that we need one another."
She had taken a tent with her but left it in the car. During the night she didn't sleep at all, she spent it on the chair: "It's a tiring but eye-opening experience – lots of people and lots of interesting conversations. It's a historical moment, something unique which happens once in a generation. Up until today, the older ones who remember the 80s were out on the streets, they were trying to warn the rest and change something. The youth listened to this but it was a pure fiction for them – now, it's changing."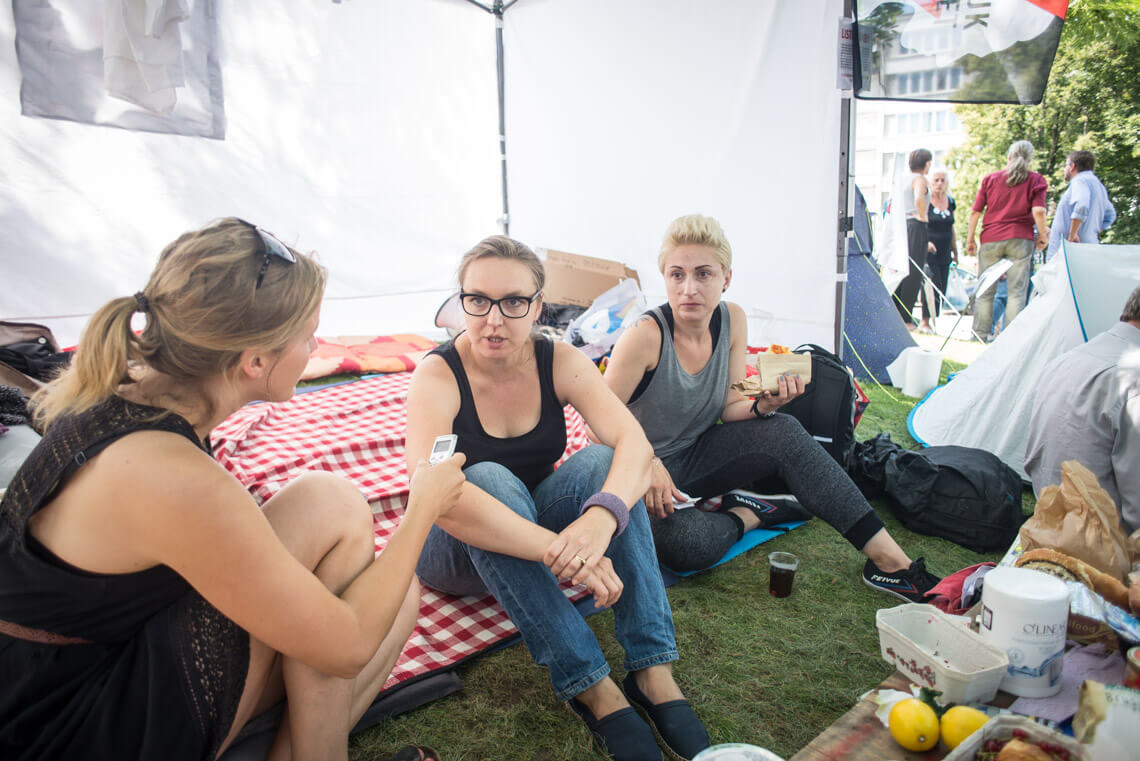 Katarzyna, 37, Warsaw
"We sit by the barriers. In the crowd, we recognise the faces of friends which we have known before PiS came to power. They wave to us or take a selfie with us in the background. All those protests also verify the friendship – who can go through fire and water for you, with whom you can simply talk and with whom you can't."
She has been at the camp since Sunday "with short technical breaks for showers, changing clothes, and a nap." But she was here also in December. "Compared to the winter time it's much better right now", she says recalling the winter snows, cold, and heated insoles: "For those who spent time here in December, it's basically a pleasure now. It's warm, no snow, our toes don't freeze. Also there is many more people and the weather is far better. Now, one may sit and sleep wherever one wants."
Some were crying because of being powerless.
She lives in the female campsite set up by feminist organisations: "It's great in here. On the first day, there were candles and flowers on the tables. We have fun here, tampons lie on the table. We were here also in December, and we had Christmas Eve at the camp. One of the most beautiful Christmas Eves in my life. I believe that the friendships made here will be lifelong."
"Yesterday, there were people authentically crying here. Of course not everybody – but some were crying because of being powerless. Because of being powerless over the politics and also because of helplessness. We don't know how to reach the people who aren't here – the people who don't have an idea what is happening here."
"Yesterday we tried to block the cars coming out of Senat. But there weren't any reporters or cameras. We were left alone with the police. I encourage those reporters to come here, to be with us, instead of spending their time next to the stage. A couple of people were hit by the police officers but we couldn't take photos because we tried to secure ourselves."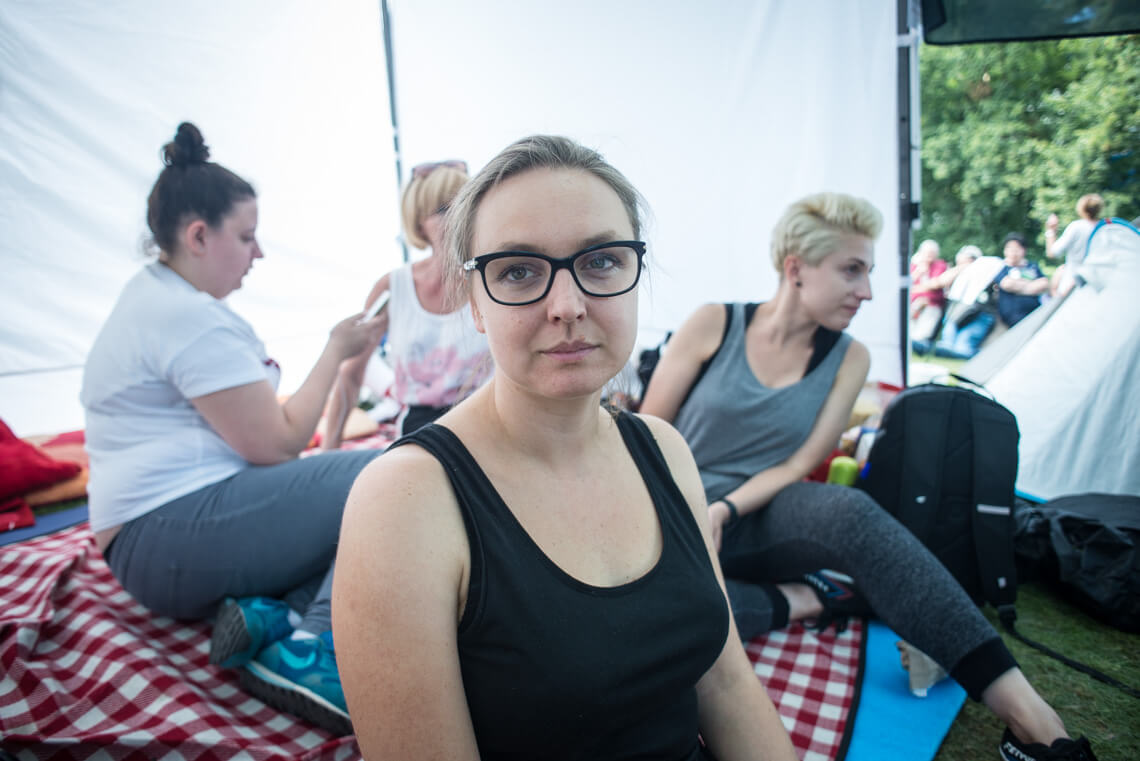 Jarek, 50, Wroclaw
"I decided to come here just after the Tuesday's reports from Sejm. I did it because I think that being here makes sense and I'm here to support the MPs. When I was here last time, they said that the public support is crucial. Unfortunately, that's all we can do for now. I wasn't really into politics and I wasn't engaged in public affairs but it has changed a bit. Maybe it's still too little but I do what I can."
He hasn't bought the return ticket yet. "I will make the decision to come back depending on the situation here" he says.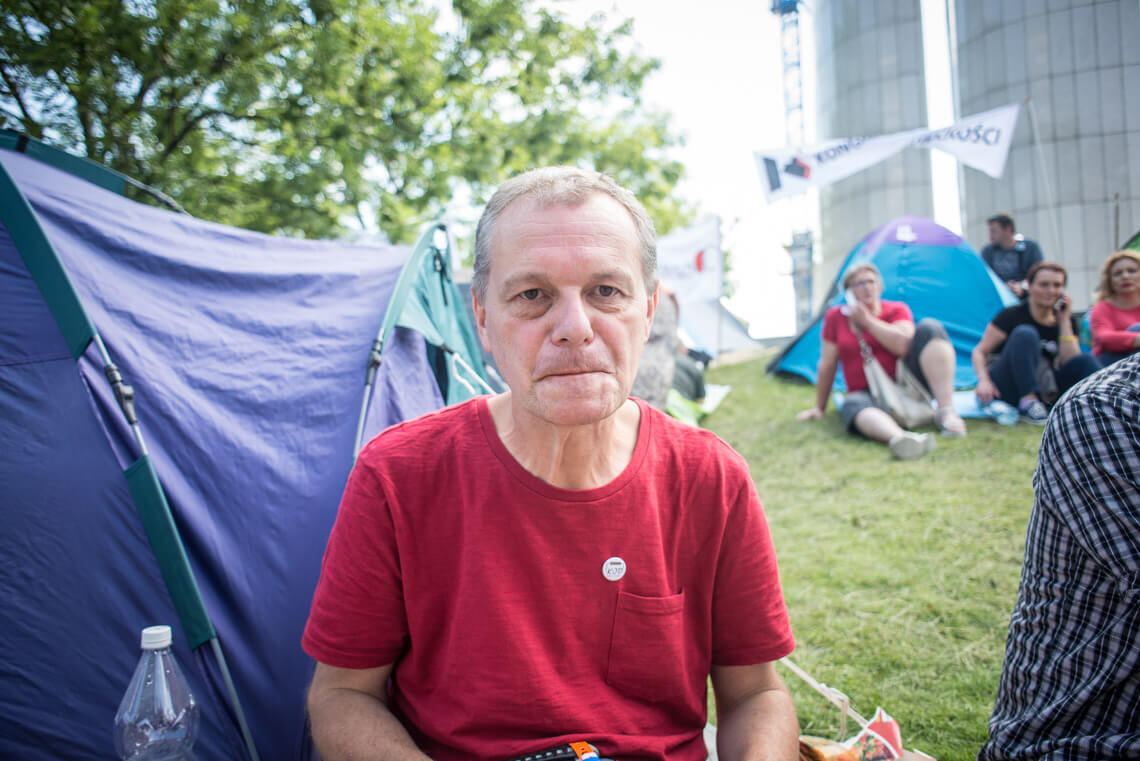 Małgorzata, 31, Warsaw
"We're from the Green Party. Regrettably, we aren't present in the Parliament so this is why we're here. On Monday morning we set up the tent to be present, keep an eye on the situation, encourage people to join us and do what they can to stop Kaczyński and his party. These are the key days for Polish democracy and for maintaining checks and balances."
These are the key days for Polish democracy.
"The atmosphere at the camp is great. Obywatele RP (Citizens RP) have the most developed infrastructure so they help us. There are also KOD (The Committee for the Defence of Democracy) and the women's strike – we all stay in touch and help one another."
"The passer-by's reactions are as well very positive. In the morning, there came some people who brought us cookies with hearts. Yesterday, a lady gave us comforters, pillows, and water – so we won't die here."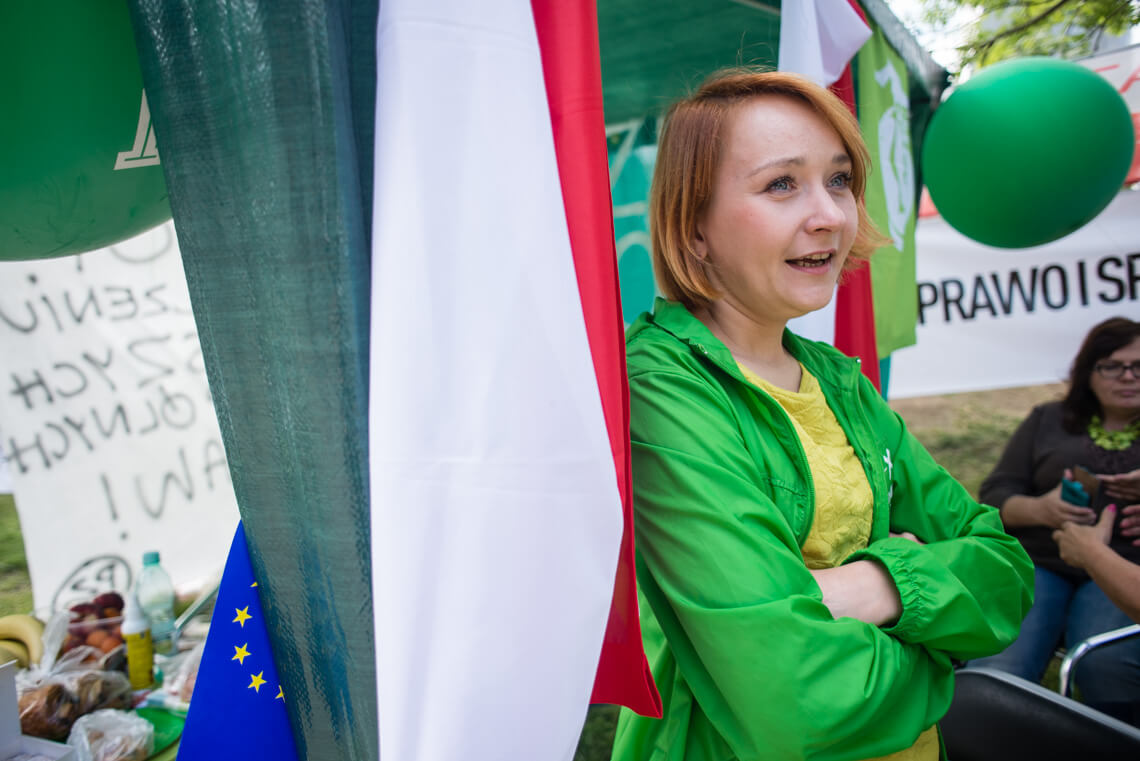 Borys, 40, Gdynia
"I'm here since Sunday morning, my tent was one of the first. Since that time I haven't left the camp and I'll stay here till Sunday. Also I'll spend my 41st birthday in this place – I hope the police will carry me because of my birthday!"
Together with other members of OSA they provide the technical facilities – they have power generators, make tea or coffee, and make a soup for the protesters. "We're a group of people really upset about reality and we want to change it in a peaceful as well as inspiring way" Borys tells us.
We're a group of people really upset about reality and we want to change it in a peaceful as well as inspiring way.
"I'm sad and angry because with such a weather I could be somewhere in my city, taking care of my life, work, and having fun – instead I have to sleep in a tent, stay up the majority of the night, and organise meetings. I have to think again and again about the method to make the people on the other side realise that they simply can't take away our rights. I'm bored with protesting but I attend every demonstration. I'm sick and tired that I still have to do it."
"Throughout the last couple of years I agreed with what the politicians were doing. It has rebounded on me. I wasn't building the society and now I'm paying for it."
Borys had taken part in protests before but after spine surgery he had to take a year off. "I spent a year on rehabilitations which I stopped and then came here."