Anonymous perpetrators attacked Davyd Chychkan's exhibition "The Lost Opportunity" organised by Visual Culture Research Centre in Kiev. More than 15 masked men stormed into the building and terrorised a security guard – beating him and spraying tear gas. They destroyed the exhibition, smashed the art pieces and demolished the walls with hammers. While some of them were intimidating the guard, others sprayed the walls with "Hail Ukraine" and "Moscow's minions" graffiti.
"Focusing on war and the post-Maidan situation in Ukraine, The Lost Opportunity poses the questions that have been in the air for more than three years: what was this event, and what it could have become. According to Davyd Chychkan, Maidan is a lost opportunity for the Ukrainian society to accomplish a social revolution, which would mean not only to defend dignity, but rather finally gain dignified living conditions," writes VCRC in the exhibition catalogue.
For Davyd Chychkan, his political activism is inseparable from the artistic practice. As an anarchist, with his artistic works (from street art, to graphic series) he politicises the discourse of contemporary Ukrainian art, turning it into an instrument for political transformation of society.
The Visual Culture Research Center was founded in the Ukraine capital of Kiev in 2008 as a platform for collaboration between academics, artists and activists. The centre is an interdisciplinary meeting ground for social activism and progressive artistic programming that is making an unprecedented contribution to the shaping of cultural production and debate in Kiev and across the Ukraine and the region.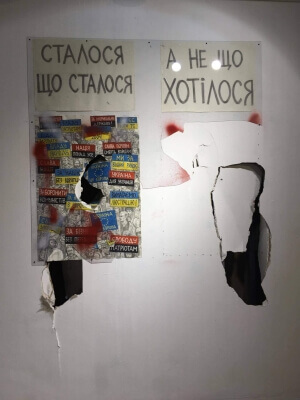 We want to express our solidarity with our friends from Kiev. Cultural centre being run by VCRC is a place we admire and esteem. Krytyka Polityczna has been supporting and cooperating with VCRC for years. The centre was a place where Political Critique editorial team met with contributors from the Czech Republic, Slovakia, Ukraine, Russia, Poland, and Belarus. In 2015 VCRC was granted the Princess Margriet Award by the European Cultural Foundation. "Their commitment to nurturing a vibrant and inclusive environment involves a broader public in cultural participation and underscores the pivotal role that culture plays in the democratic development of Europe's communities," said Katherine Watson, ECF Director.
We meet with our friends of VCRC every year in Central and Eastern Europe meeting in Cieszyn and coproduce exhibitions. We act together, support each other, and our friendship inspires us in everyday work.
Today, when our comrades of VCRC have been attacked, we express our solidarity and we assure that we are ready to support the centre in Kiev in every possible way.
We stand against aggression! We stand against violence!