British columnist and author Owen Jones speaks with best-selling author and professor of economics at Cambridge University, Ha-Joon Chang about austerity. The Conservative party introduced austerity measures with the justification that it didn't want Britain to become "another Greece". Jones questions Chang as to whether austerity is necessary, whether taxation is theft, whether welfare in fact encourages laziness and whether neoliberalism can be overcome.
Ha-Joon Chang puts forward his views that austerity is a "self-defeating strategy" which attempts to undermine the British welfare system. Chang and Jones also discuss inequality and attempt to answer the question as to whether the UK is governed by the idea of "socialism for the rich and capitalism for the poor".
Watch the discussion here: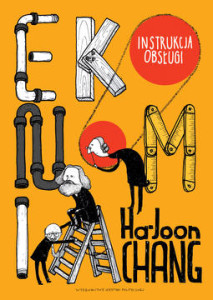 The Political Critique Publishing House has published Polish translations of Ha-Joon Chang's Economics: The User's Guide (Ekonomia: Instrukcja Obsługi) and 23 things they don't tell you about capitalism (23 rzeczy, których nie mówią ci o kapitalizmie).