We park the car at a service station. From here we go by foot, along a path that seems to head towards the motorway. Behind a large bush we find ourselves in front of a four-story building, surrounded by heaps of rubbish. We make our way through the garbage and a mass of duvets. The past week's rain hasn't completely washed away the summer stink from that open-air mound, overlooked by balconies without railings or parapets. Two African women sit on the terraces looking down. Looking up is dangerous: the risk of putting your feet in the wrong place is too high. We meet a six-year old boy, D, onboard a yellow toy bike. He smiles and waves.
The children call and they run, stopping between a burnt mattress and the scrap of what was once a car.
Federica, a young activist with the association AlterEgo, accompanies us towards what for four years has served as D's 'house'. He lives with his Mum and Dad in this occupation made up of Italian, Roma, Romanian and Nigerian families. Unlike the many other squats that have provided a roof for the homeless, this really seems like a slum. Among the mountains of waste there is a shed, and a caravan that seems to have been there for an eternity. I look at Federica: she gestures to make me understand that now is not the moment to explore. She smiles at everyone and they smile back. She shakes hands with a Nigerian boy who is, at most, 18 years old, while we continue to look around, among the sound of rubble that crumbles beneath our feet and that of the cars that speed along the motorway, just tens of metres away and yet unreachable. Between the building and the nearby guard-rail the mountain of waste is impassable. Two dogs jump up and down on the heaps. The children shout and the animals run, stopping between a burnt mattress and the scrap of what was once a car.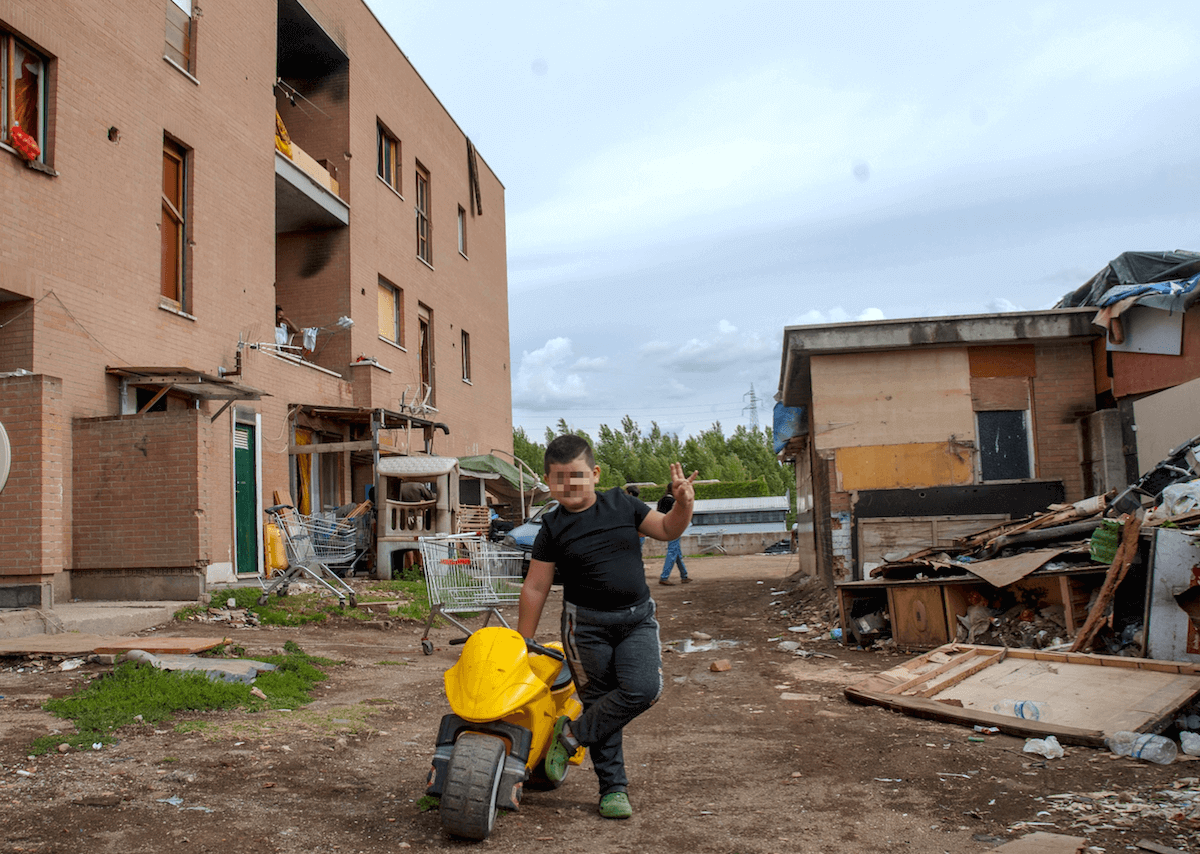 The first problem or at least the most urgent facing this 'non-place' is the waste itself: on 30 August a fire surrounded the building and the flames reached as high as the third floor. On the outer walls there are still black marks where the curtains literally exploded, stripping the building of its outer coating. Inside, however, despite the fact that the building was declared uninhabitable, life went on as if nothing had happened.
"As if nothing." This is precisely the problem of the occupation at via Raffaele Costi, in the district of Tor Cervara, without doubt the worst ever seen in Rome. Aside from a few desperate attempts from the authorities of Municipio V (the city's zone 5) to take the situation in hand, it is the disinterest of institutions that reigns sovereign in places like this. Countless TV shows have covered this story but with only one objective: to take home a 'scoop' about the "poor Italians" who live in an occupation together with Roma, Romanians and Nigerians.
Here we don't make a distinction between races and skin colours. We are a big family.
The reality is totally different as we discover at Enrico and Emanuela's 'house': "Our place is a supermarket, a restaurant, a bar, a meeting place." Their door is always open. Children, including very small babies, come in and out. "Here we don't make a distinction between races and skin colours. We are a big family. In difficulty of course. But always a big family. And that's what family members do: they help each other in moments of difficulty", says Enrico. Instead of recounting her own story Emanuela tells us "there's a baby living here, born by Romanian parents just fifteen days ago. You tell me if this is normal. If a civilised country can accept a situation like this."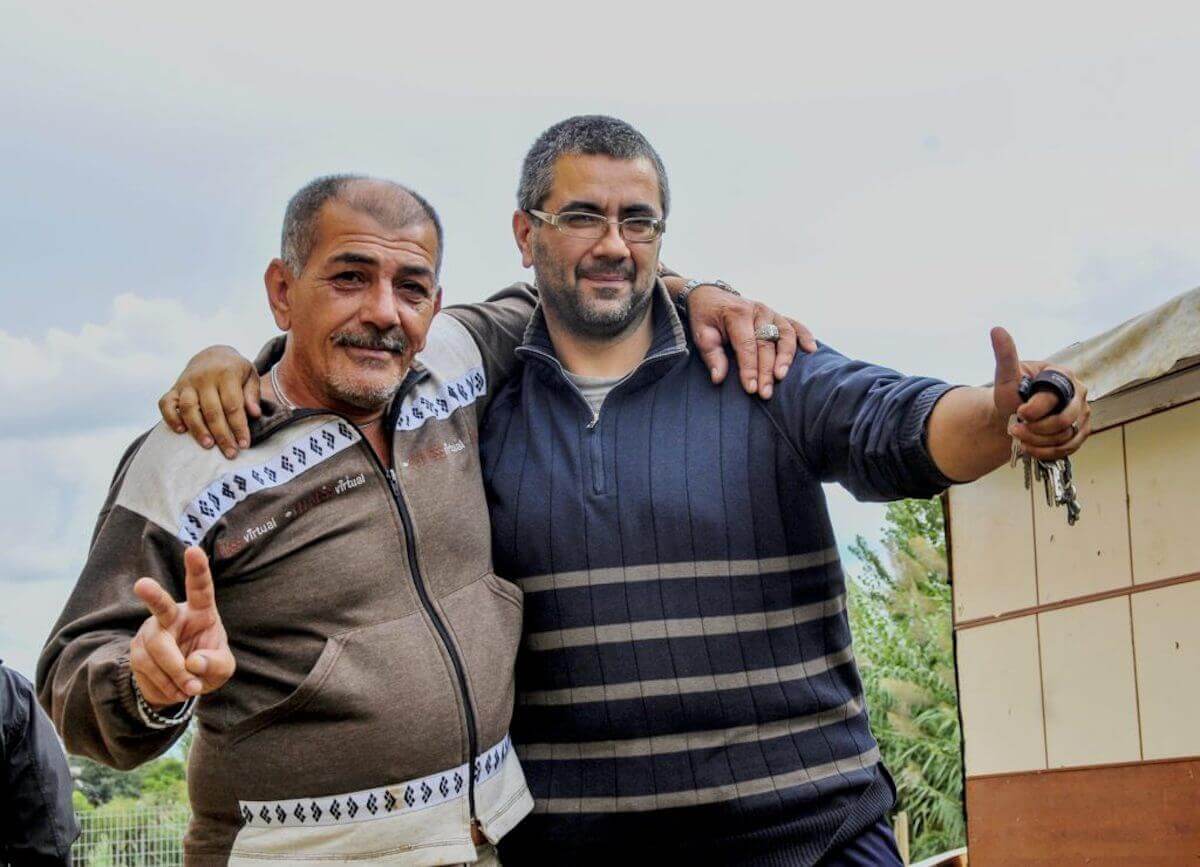 A man approaches with an uncut beard, open hoodie and a disarming smile. A vigorous handshake breaks the ice. "Where are you from?" Vincenzo asks me, "I was born in Cinecittà Est, then grew up in Spinaceto" I respond. After a brief pause I get the all clear: "Ok, so you're from the suburbs. You're one of us. Come, have a coffee." The machine is enormous. Here "when you put a coffee on, you do it for everyone." Vincenzo is "the oldest person in this place", he laughs. He lives together with Enrico and Emanuela in the same "apartment." A common area and three other "rooms" in which – like the entire building – there is no running water and the lights come on only thanks to generators. "I've been living, well surviving, here for four years, but for the Comune (local government) of Rome I don't exist. I don't even come up in their census. And do you know why? Because the only time they came to do it I wasn't here. On that exact day they came." That was in February. After that nobody visited until the fire on 30 August.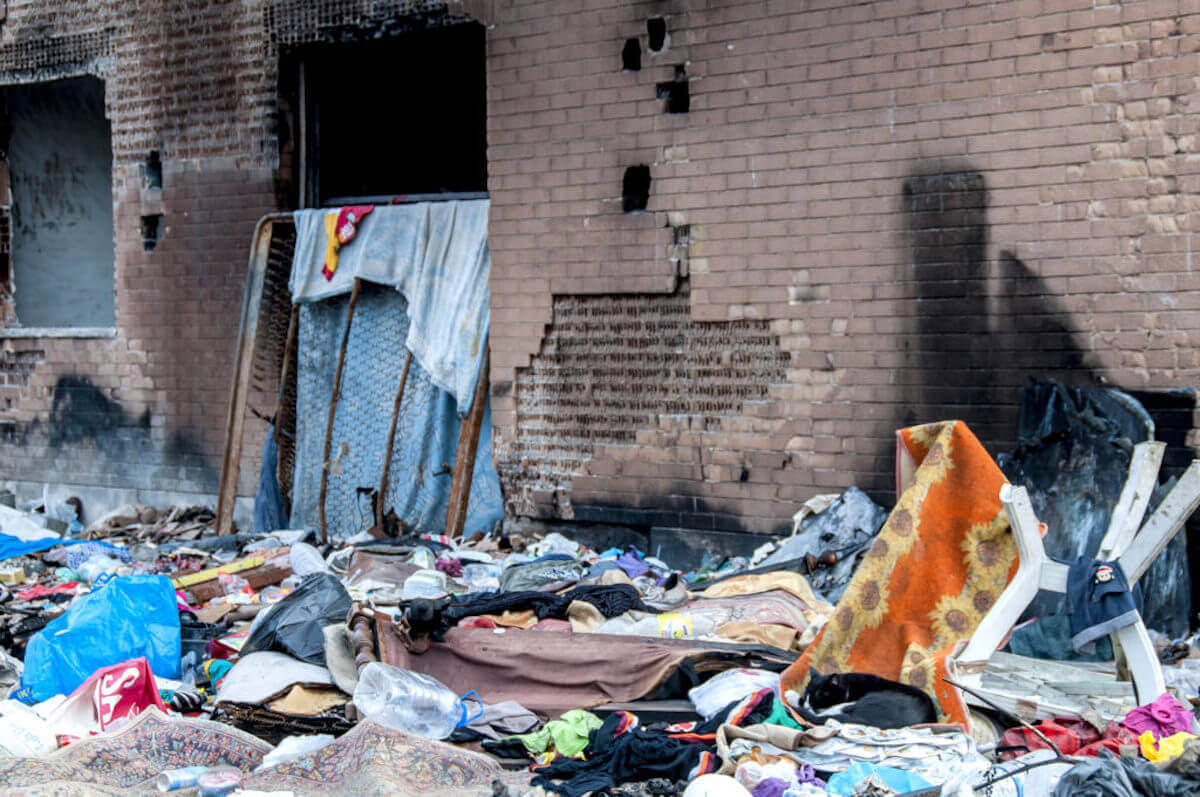 Sharing coffees with Vincenzo, Enrico and Emanuela we try to make our first 'journalistic' questions. They tell us their stories: a bad investment, a job lost, a difficult moment in private life. Everything that has happened to this "extended" family could have happened to anyone. It doesn't take much to end up on the street. "So there's nothing left but to occupy a building, fix up a house, look for shelter. You think it will only be for a moment, for a little bit" confesses Enrico. "Then that moment becomes 4 years. And today you're still here, waiting for a solution that it seems will never come." While he talks Enrico empties a can of water into the sink to wash the mugs. "Sugar?" Vincenzo puts two spoons in his. "Life is already too bitter. At least in coffee…" It's a tired joke. "But there you go…"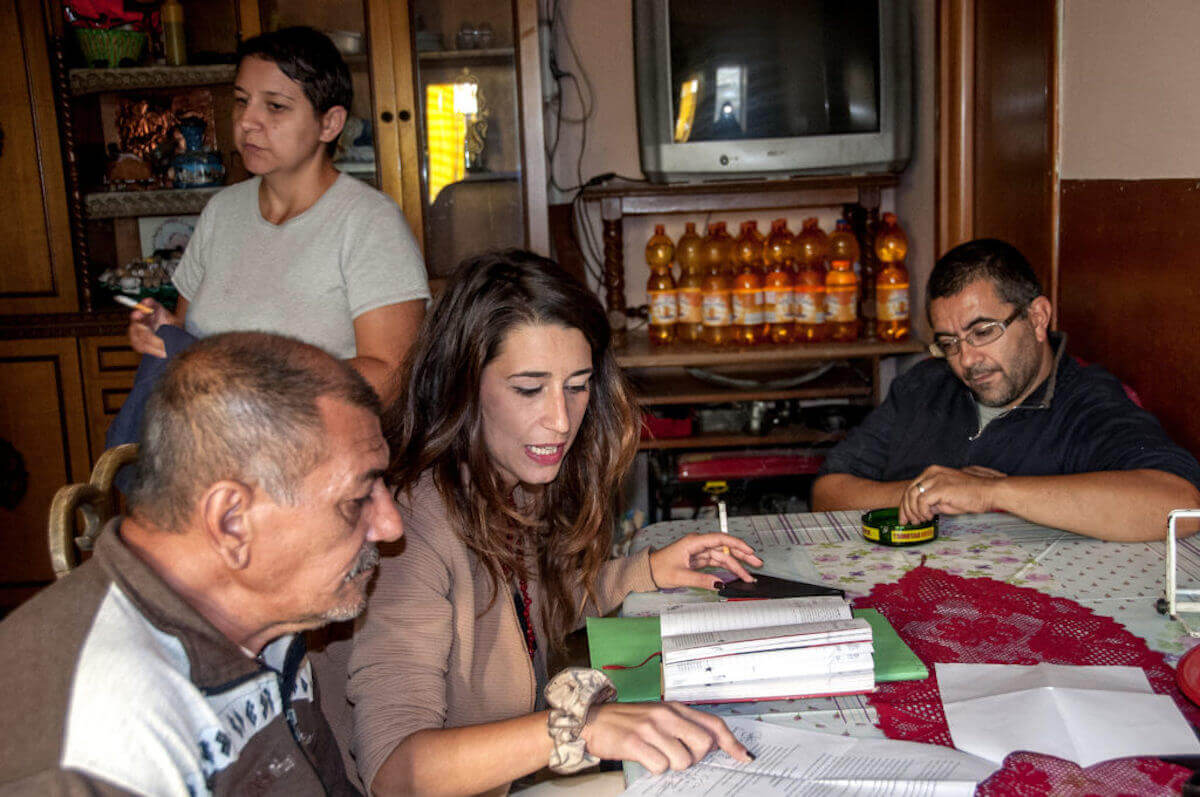 The little boy D bursts into the common room with half a chocolate bar in his hand. Enrico and Emanuela burst into tears. "The only proposal they made us was a council house for me and D," says Emanuela. Then Enrico blurts: "I won't ever leave my family, it's all that I have. Damiano can't sleep if I'm not lying near to him with my hand leaning on his chest. He needs physical contact to get to sleep. And I need him."
"We're always there for the fragile." This has become the mantra of Virginia Raggi's administration, who inaugurated this new social category after the evictions in via Curtatone and piazza Indipendenza: to give assistance to "the fragile", to women and children. What does it matter if these women and these children live with a man, a father, a husband, a partner? It's unthinkable, apparently, that a man might be fragile.
While the only proposal regarding via Costi from the Comune regards women and children who are "fragile", the declared objective of Municipio V is to "resolve the social and environmental emergency of Raffaele Costi." Last September the local group of the Five Star Movement presented an urgent motion – that we managed to obtain through the office of the assessor Mario Podeschi and which you can download here (Italian only) – that recounts the history of the occupation and "calls on the mayor, in accordance with the Department of Social Politics, to resolve the situation of the Italian families present, as well as all the people there who are in a state of social emergency; to provide the eviction of the structure with the forces of security and control; to undertake all the necessary legal actions to reclaim the concerned environmental area." These are precisely the kind of 'political words' that despite good intentions "show the incapacity of the administration."
Federica opens the red diary in which, week after week, she makes notes about the occupation. "We have confirmed the presence of not one – as was reported in the resolution – but three Italian families, ten Romanian families, three Nigerian families and sixty or so asylum seekers of various sorts. This was reiterated to Il Salto in a telephone meeting with Podeschi "it is the sad effect of the eviction in via Vannina. Forced out of that building, many came to via Costi for refuge." The total number, therefore, is not around 80 people, as the Municipio officially recognises, "but almost 200 people including…" Federica pauses to flick through the notebook and find the right page "'two pregnant women, ten ailing elderly, two new-borns of less than twenty days old and around fifteen children. I challenge the administration to say who, among them, is not in a 'condition of fragility.' This new category, created by the mayor's administration, is simply ridiculous: all of the people that find themselves in this occupation are in a condition of vulnerability. And all need to see the guarantee of their fundamental rights: a dignified housing solution and protection for the family." In other words, more than temporary 'council housing'.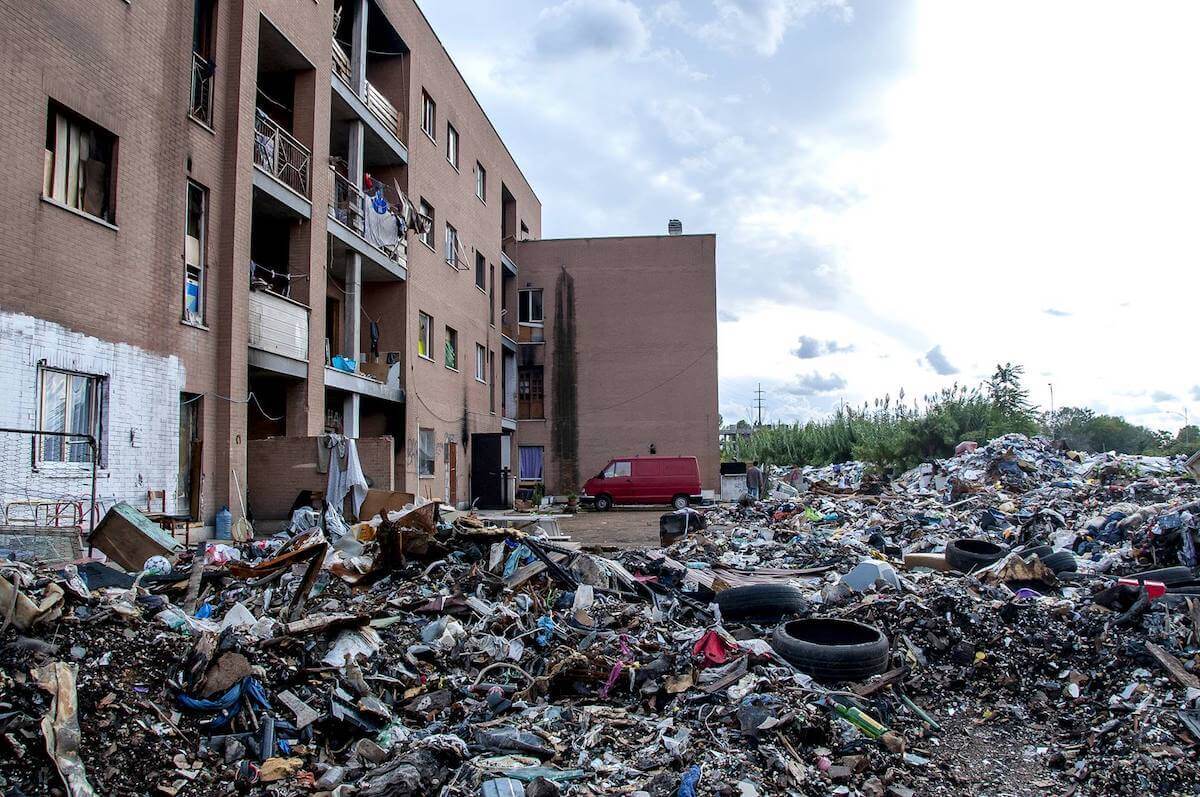 The language used to describe the dramatic social situation in via Costi is significant: everywhere, including the official documents, priority is given to "the presence of an Italian family", fuelling the "media distain" perpetuated by television services. Yet it is precisely Italian families who forget, everyday, the need to bring forward a collective political struggle.
The Five Star Movement is at war with housing activists in Rome
"This is the battle that we are trying to give substance to through a network of associations that intends to help the residents of via Costi. For a few weeks, in fact, we've been trying to bring not only material goods but also sanitary and legal services. We're trying to register the children for school some of who – despite having been in Italy for several years – have never seen a classroom. We're doing all of this with the support of residents in Tor Sapienza who have demonstrated solidarity with the occupants. This is not simply an aid mission but work designed to give force to the legitimate claims of these people: that their fundamental rights are respected."
***
This article was first published on il Salto. It was translated from Italian by Jamie Mackay.