A great British classic sounds from big speakers in London's Trafalgar square as hundreds of European protesters assemble on a windy Wednesday evening in September – All You Need Is Love. "This is our home, Share the love," chants the crowd. Light tunes to brighten up dark days. Later that evening, they will sing Beethoven's 'Ode to Joy' conducted by a pan-European choir. The protesters' joyous songs provide momentary relief from the nightmarish reality to which many of them woke up just over a year ago. Brexit felt like being "kicked in the stomach," one of them puts it vividly. "Coming together like this is important to support each other instead of having a nervous breakdown" adds another protester.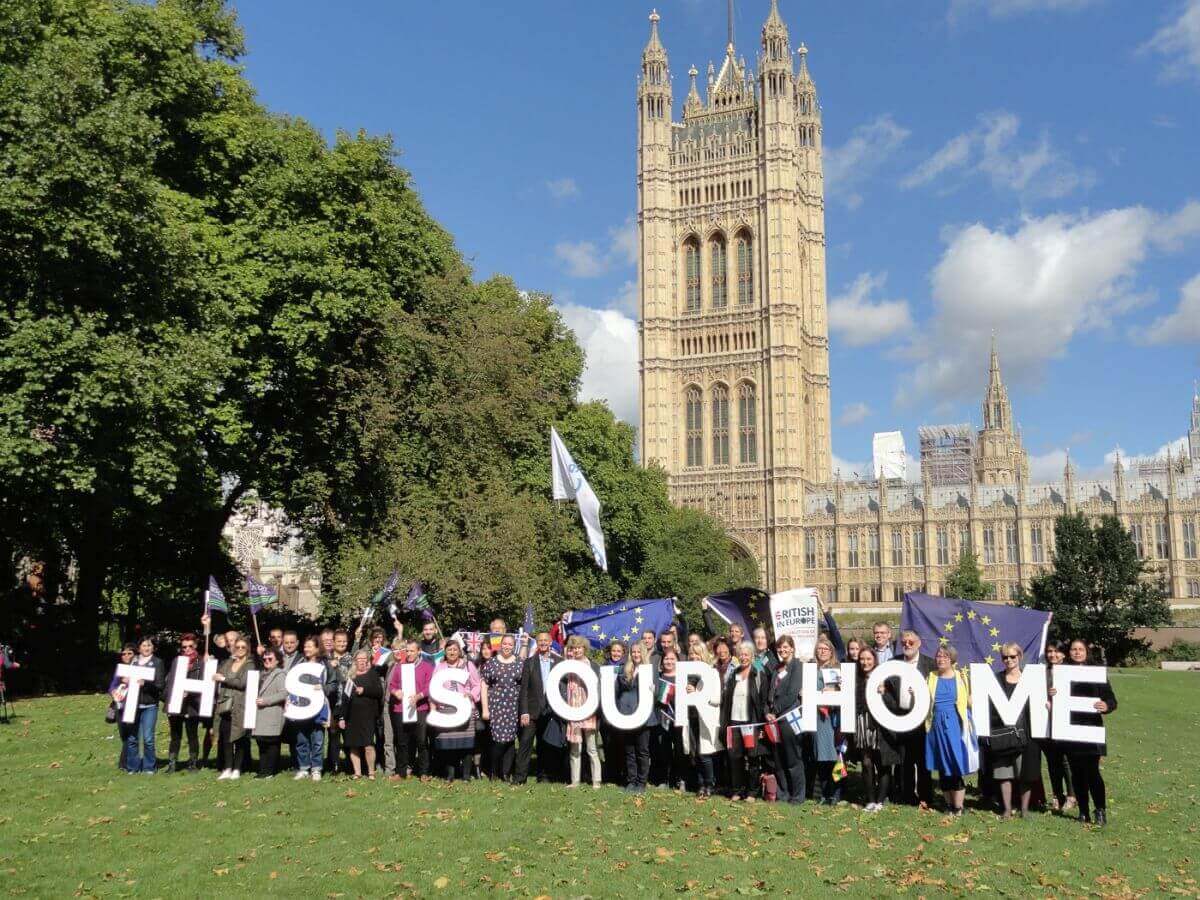 We don't have to wait for Brexit, Brexit has already happened for us.
447 days after a slight majority voted to leave the European Union in the UK's EU referendum, the gloomy reality of Brexit is daunting for many of those directly affected. Deportation letters were mistakenly sent to dozens of EU citizens earlier this year. Xenophobia, hate crime and discrimination against EU nationals in their everyday lives and in workplaces has increased. The3million, the group which called for this day of action alongside other partners, has collected evidence of such instances, which was published in The Guardian the previous day. Nicolas Hatton, founder of the3million and a French citizen who has been living in the UK for many years, says the Home Office's agenda to create a 'hostile environment' for immigrants is felt among many EU nationals. "It is real, it is affecting us already now. We don't have to wait for Brexit, Brexit has already happened for us."
Besides such formal and informal cases of discrimination, it is the feeling that their lives are being used as 'bargaining chips', which torments many. "Since the referendum, all of us, EU citizens in the UK and UK citizens in the EU, have been living in great uncertainty," adds German-based Jane Golding, chair of British in Europe, in her speech. "Unable to make decisions, unable to get on with our lives, essentially we've been living in limbo."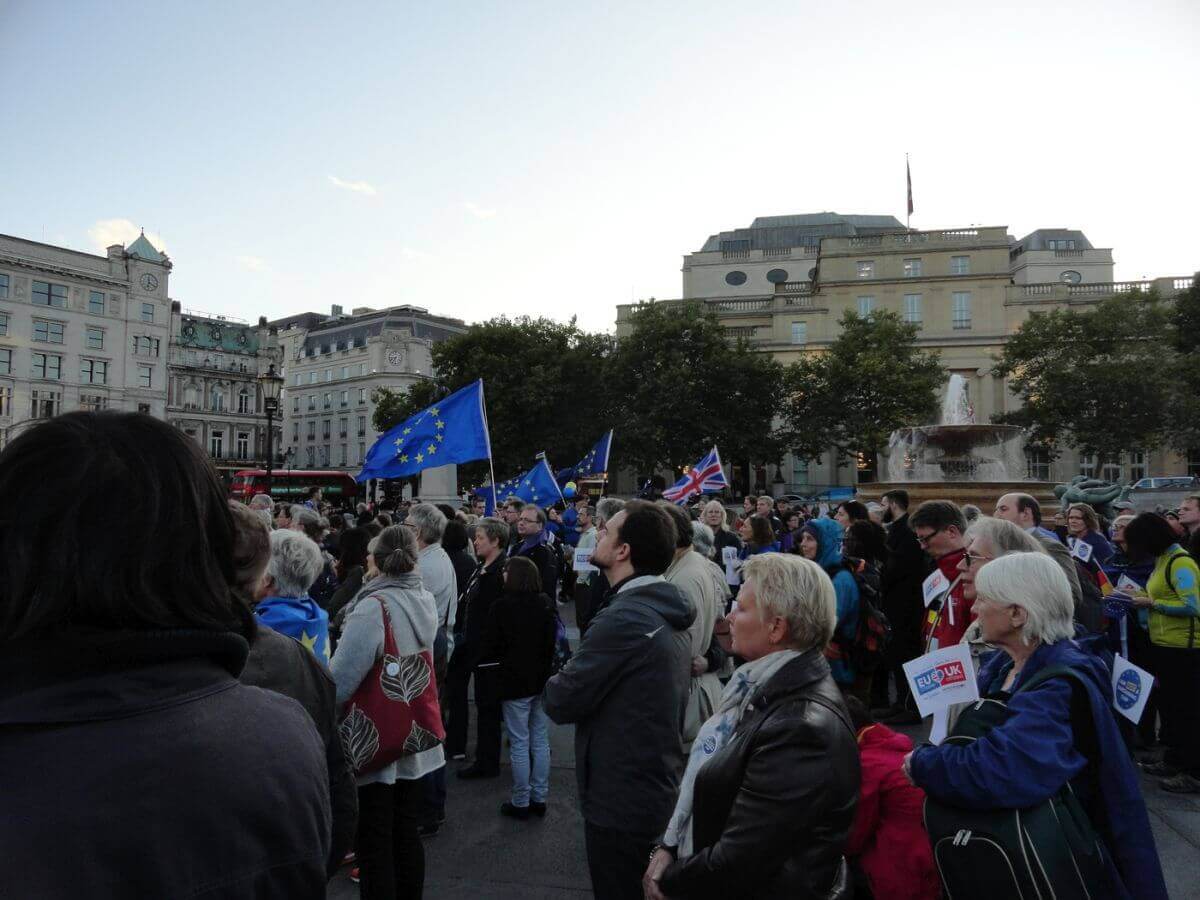 Marijke, a campaigner from the Netherlands who has been living in the UK since she came over as a student for an NHS trust placement twenty years ago, expresses a similar concern. "We didn't think that 15 months on, we would still be in this. We are still in limbo and if anything, the government has doubled up the negative rhetoric around migration." Marijke mans one of the campaigners' stands at the Emmanuel Centre, where citizens, activists and trade unionists have gathered for a mass lobby of Parliament, only a few hundred meters away from the Home Office building. Her group has come together to collect and share some of the experiences and stories of EU citizens living in the UK. "We want to show how people live here and how they felt because of the referendum," she explains.
Ahmed, a French citizen who lives in the UK with his British wife and six-year-old daughter says it is like he is being "held hostage" by the government. "So much anxiety, it's an awful experience," he says, describing how his daughter now lives in everyday fear of her family being forced to split up. The sign he holds up at today's rally reads, "Europe is My Identity, Britain is My Existence".
The government is attempting to make EU nationals second class citizens in their own home.
Trade unionists from Unison are handing out flyers informing citizens about workers' rights in the UK in six different languages, while the list of speakers includes cross-party contributions from Dominic Grieve MP, Chair of the Conservative Group for Europe, the Labour MP Paul Blomfield, Shadow Minister for Exiting the European Union, as well as speeches from the Liberal Democrats and the SNP. Amelia Womack, Deputy Leader of the Green Party and co-founder of Another Europe is Possible finds clear words: "the three million are our friends, our families, our colleagues, our neighbours, and our lovers." However, "the government is attempting to make EU nationals second class citizens in their own home."
What fundamentally holds these different participants together on this day then is the urgent awareness that what is being negotiated in the Brexit discussions is, essentially, people's lives. Lives that have been made around certain rights, which are now threatened to retrospectively be taken away, as some of the speakers highlight. Lives like Ana's, who is originally from Romania and is now based in Cambridge. One of the several hundred lobbyists, Ana came to London to raise her concerns with her local MP. She is particularly worried about the fact that the government's June proposal to make EU citizens apply for settled status does not guarantee all of their current rights. For example, it doesn't assure the possibility of return to the UK after temporarily working abroad for longer than two years. Ana thinks "this will define the career choices of very many individuals."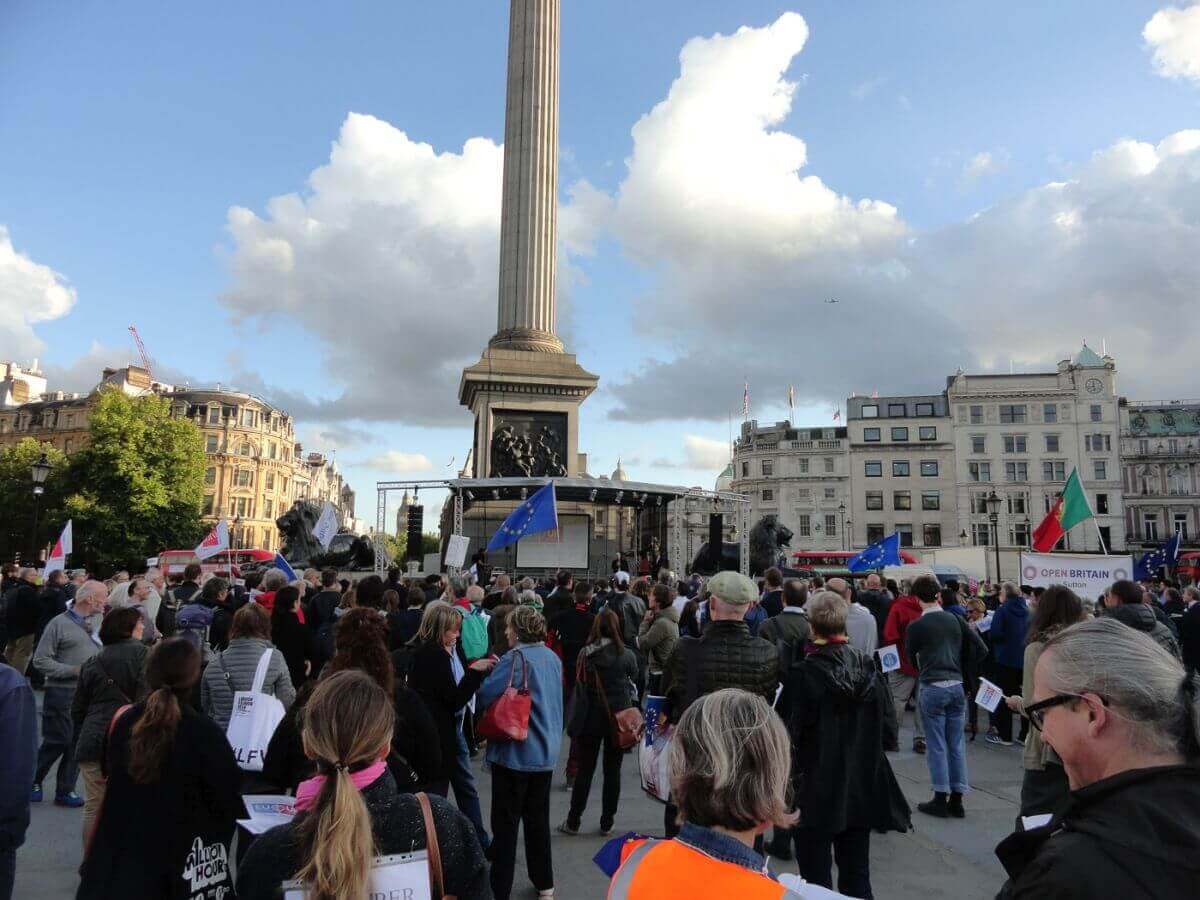 Besides giving an opportunity to EU and UK citizens to collectively lobby MPs, the3million and partners also want to provide a platform for groups who are often unable to make their voices heard via such paths. "Some of the groups that you don't really see represented in the context of Brexit are Roma, people with disabilities, and those who won't be able to prove they've exercised treaty rights," says a spokesperson from the Migrants' Rights Network. This includes amongst others people who are working without formal contracts such as sex workers and people caring for relatives. The campaigner also flags that proving evidence of their full history of residence and employment in the UK "is going to be near impossible for a lot of people, not just for vulnerable groups."
Other protesters are concerned about the bureaucratic challenges ahead. Tom, a Brit wrapped in a Slovakian flag to represent his wife's country of origin at the rally, says: "I don't understand why you have to go through an 85 page form to get something you already have."
The campaigners demand a ring-fenced agreement for all of current citizens'rights to be recognized.
The campaigners' core demand is clear: settled status – for which EU citizens would have to provide their fingerprints "like criminals" as one of the speakers puts it – is not enough. In order to be able to sleep at night, Jane Golding from British in Europe demands a ring-fenced agreement "for all of our current citizens' rights to be recognized. It's not just a matter of rights of residence, it's a complex bundle of interlinked rights that allow us to go and live in another country, make our lives there. We want all of those guaranteed as soon as possible." Golding, a lawyer, also highlights that if this is not achieved, it could set a bad precedent for the future.
For this day is not just about the more than three million EU citizens in the UK and the 1.2 million UK citizens in other EU countries. "It is about everybody's rights", explains Niccolò Milanese from European Alternatives. The London-born grandson of a Sicilian who now lives in Paris with his French family says he chooses his words carefully when stating, "taking away citizens' rights is a despotic thing to do." "Citizens rights," he argues, "are amongst other things our protection against the government. If we allow the government to take away these rights, we are undermining everybody's rights to citizenship. Today is the day we have to say stop, enough."
More than highlighting the personal experiences and concerns of those directly affected by Brexit, it is people's unwillingness to be victims, to act and fight for their rights that is the key message. "Si, se puede," "Yes, we can," chants the crowd as a long day of action comes to an end. Despite anxiety and scepticism many are also determined to keep going. After lobbying UK MPs, some campaigners are getting ready for a trip to Brussels the following day to continue their conversations with the EU's Brexit negotiators. "We're all just normal citizens, who were just getting on with our lives until that fateful day of the referendum when everything changed for us," says one of the campaigners from the3million. As she also makes clear, "we're not going away, we're here till the end."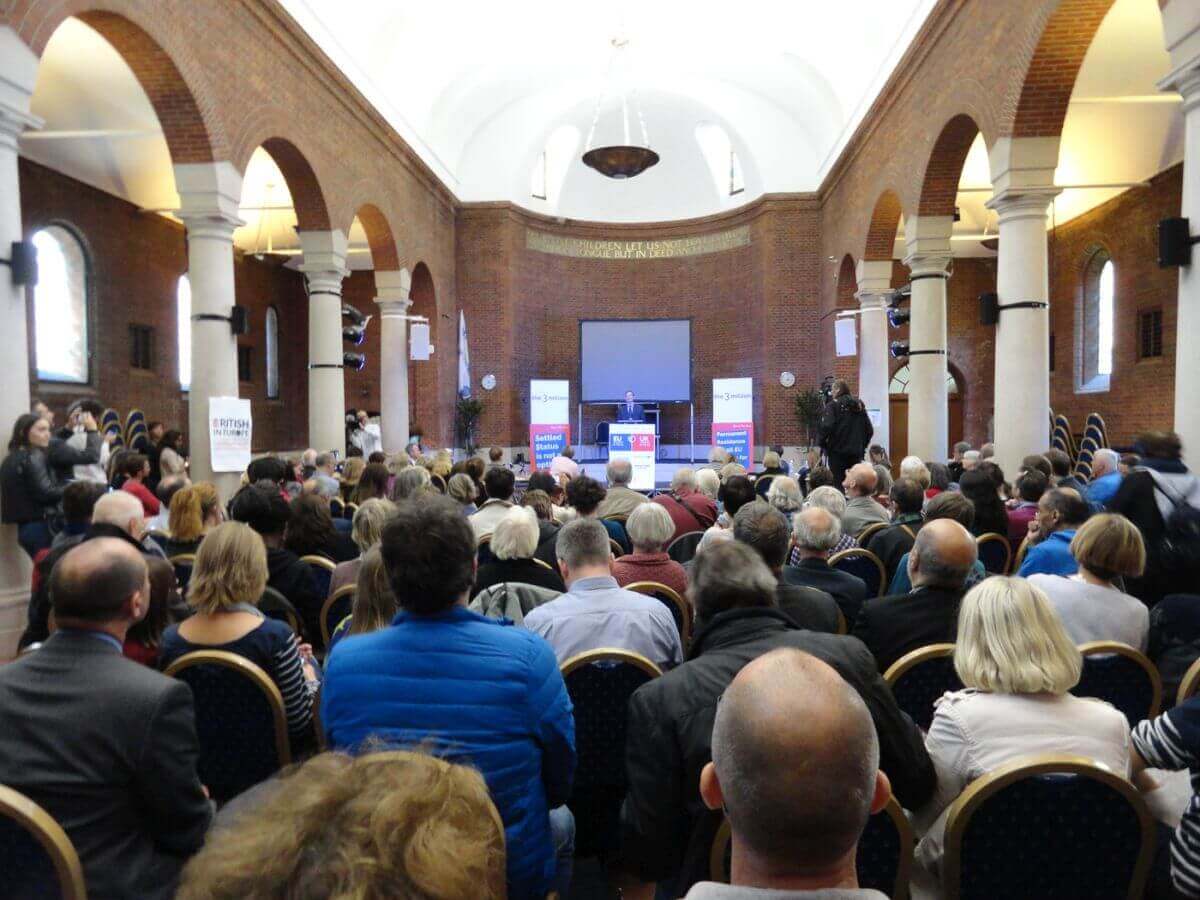 ***
Featured image courtesy of Anastos Kol.