"Today my heart feels open, because the baton of Italian feminism has passed to young and well-prepared women: it is one of those cases in which daughters had no need to destroy their mothers."
With this intervention, Paola Mastrangeli, from the Alma Sabatini Center for the Non-Sexist Use of Language, closed the presentation of the First Plan Against Male Violence and Gender Violence, presented by the Non una di meno movement at the International House of Women of Rome on the 21 November, and praised the capacity for dialogue and cohesion that different generations of Italian feminists have been able to express.
It's the intergenerational character of the proposal formulated by the Italian feminist movement that most catches the eye, as well as the pluralism of the positions and organisations that gave birth to the project. "I don't even know how many hands have written this booklet," explains Marina Montanelli, one of the speakers, as the Carla Lonzi Room at the International Women's House bursts out in applause.
What does the plan look like?
"Starting from their differences, but also from the relationships they have been able to build, these young women have done a tremendous job. And they rediscovered the passion and constructive anger of the struggle for self-determination. But I had no doubt that this would happen", adds Mastrangeli as the women in the room wave the 57-page booklet containing the proposal to be presented to the institutions after a long, one-year process.
The plan was presented simultaneously in Rome and Milan. The proposal was drafted in dozens of assemblies that took place throughout the country and is based on the assumption that "male violence against women cannot be overcome in the light of the emergency" because it is structural: "Everyday (this violence) is exercised on the bodies and lives of millions of women."
The accusations against Harvey Weinstein and the follow-up campaign, including #metoo, have shown the extent of sexual and physical harassment suffered by women around the world, in the workplace and every moment of life. But according to the feminists of Non una di meno, it has also opened up a political space of denunciation and solidarity. The anti-violence plan includes twelve chapters and articulates proposals to overcome discrimination and gender-based violence in all areas of work from the labor market, to language and education and areas such as health.
Here are the main points of the plan:
– Autonomous income for women who decide to quit violent relationships.
– No obligation to report in hospital emergency rooms without the consent of the woman.
– More funds for anti-violence centers.
– Guarantee of independence and secularism of anti-violence centers.
– Shared parenting policies such as extending paternity leave to all forms of contracted work, not just subordinate work, and not just in the presence of a work contract.
– Investments in education and training courses in schools and universities that both question and surpass "gender binarism" and gender stereotypes.
– Education in the world of journalism and information to stop representing gender violence as an "emergency" or "security and public order problem", narrating women as "victims" and abusive men as "taken over by rapture."
– The elimination of conscientious objection to voluntary interruption of pregnancy in public hospitals, which allows 35% of Italian hospitals with a gynecology and obstetrics department not to undertake interventions.
– Support for pharmacological abortion in health centers.
– Opening up of public maternity homes to prevent obstetrical violence.
– Funding to health centers to ensure access to contraception, information and prevention of sexually transmitted diseases.
– The recognition of international protection for women of foreign origin who are subject to all forms of violence, such as human trafficking.
– Create a database of harassment in the workplace.
– Create a database to monitor pay gaps.
– Create a database on the application of Law 194/78 regulating the voluntary interruption of pregnancy.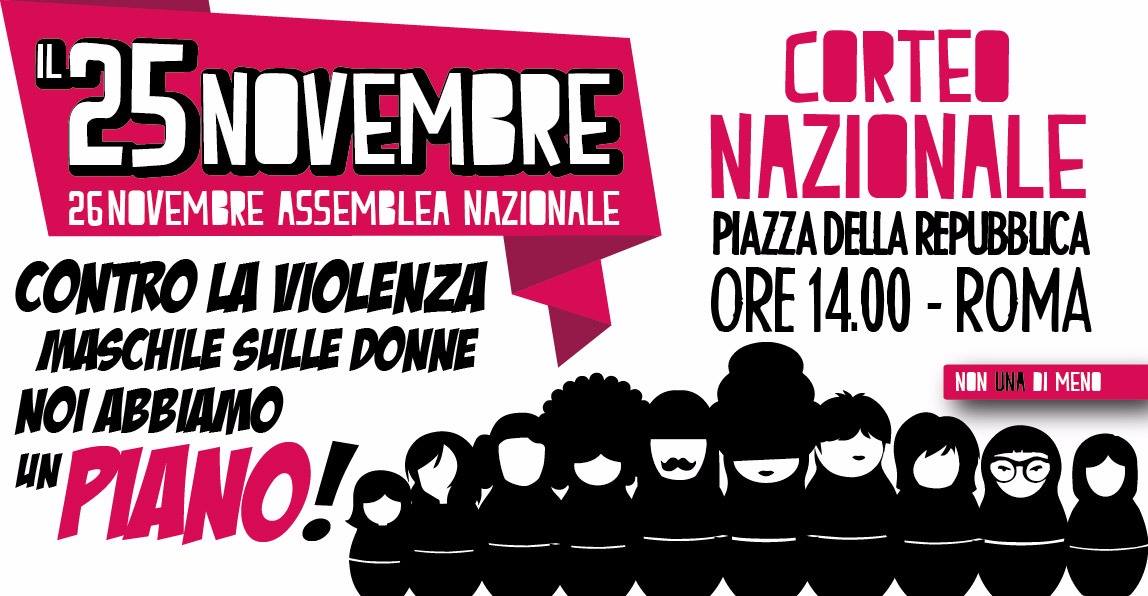 An economic issue
In the anti-violence plan, workplace and social policies play a fundamental role. "Domestic violence and workplace violence can be prevented only if we question a model that is also economically based on exploitation and insecurity  – a weight that is mainly carried by women," says Marina Montanelli of Non una di meno.
"Women are the ones most likely to find themselves in situations of unemployment or job insecurity that force them to go back to housework and carework to cope with cuts in welfare in recent years," continues Montanelli. Other proposals articulated by Non una di meno include a European minimum universal wage, as a response to social cuts that weigh heavily on women, but also to address the wage gap between men and women which in Italy is very high.
Non una di meno demands that welfare be rethought starting from women
The feminists also propose economic measures to support women who denounce violence: "Women who are subjected to harassment, threats and violence in the workplace often face the material difficulty of reporting because they are afraid of being fired. In the case of unemployed or precarious women who are subjected to violence by their husbands and partners, the same problem exists." Last but not least, Non una di meno demands that welfare be rethought, starting from women.
"We are opposed to the newly introduced reddito d'inserimento [heavily condition-based welfare for those in absolute poverty] because, in addition to being a ridiculous measure that will affect few beneficiaries, it is based on the family model, i.e. only families can access this type of measure, but this entails problems just for women and their autonomy" concludes Montanelli. The feminists of the network Non una di meno will present the anti-violence plan on the World Day against Women's Violence on November 25, when the national demonstration of the movement is scheduled in Rome.
* This piece was first published in Internazionale. It was translated from Italian by Elena Silvestrini
** Lead image: Non una di meno