STEPHANIE WILLIAMSON
Almost a month has passed since Ireland's historic abortion referendum was won by a groundswell of grassroots feminist activism. A large majority (66.4%) voted to repeal the country's eighth constitutional amendment, opening the door to proposed legislation to allow abortions up to 12 weeks.
Huge numbers of repeal campaigners and voters were young women – with a staggering 94% increase in the turnout of women aged 18-24, compared to the 2016 general election. The result reflected a frank rejection of decades of misogyny and the suffocating grip of church and state on women's rights.
Though my heart burst with solidarity with my southern sisters, as a Northern Irish woman, whose rights are ignored by both my own (non-existent) devolved government and Westminster, I was left feeling dejected and a little numb.
New abortion legislation is expected in Ireland before the end of the year. Apart from Malta (where there is a total ban on abortion) Northern Ireland will have the strictest abortion laws in Europe. Though these restrictions don't stop abortions, they just force women to travel for healthcare.
Last week, the UK Supreme Court dismissed an appeal on Northern Ireland's abortion law on a technicality, ruling that the Northern Ireland Human Rights Commission did not have the required standing to bring the case as it was not claiming to have been a victim of the law itself.
The court's judgement did acknowledge, however, that Northern Ireland is in breach of the European Convention of Human Rights, by denying women abortions in cases of fatal fetal abnormality and sexual crimes.
"This is hugely significant and makes it clear there is nowhere left for the government to hide on this issue," Amnesty International's Grainne Taggart told openDemocracy 50.50 outside the court. "This must be the final nail in the coffin for Northern Ireland's abortion ban."
"This must be the final nail in the coffin for Northern Ireland's abortion ban."
Last year, 919 women from Northern Ireland travelled to England and Wales for terminations in 2017. This was a 25% increase on 2016 numbers, and could be related to high profile cases of women being reported to Northern Ireland policefor using abortion pills in the past few years.
Northern Ireland remains a blind spot for equality in the UK and was often left out of the conversation leading up to the Irish abortion referendum – a stark reminder of a historical lack of solidarity from our so-called-feminist allies that Northern Irish grassroots organisations such as Alliance for Choice have long endured.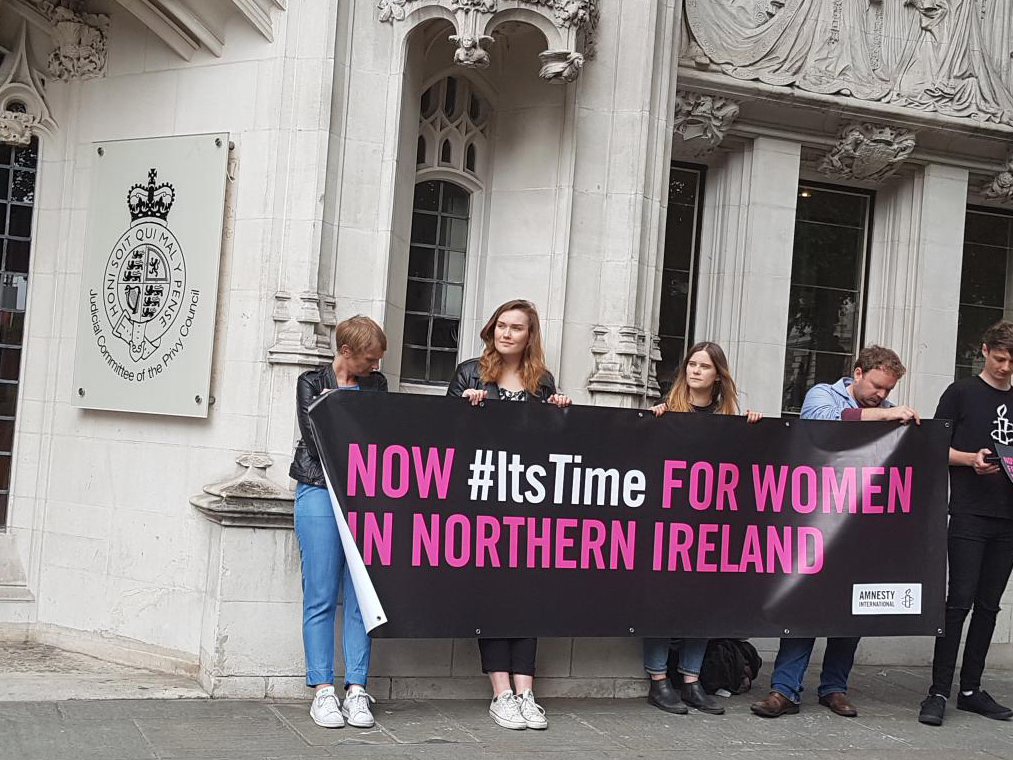 While #TheNorthisNext, #NowForNI and #TrustAllWomen began trending, there were calls for a similar referendum on abortion in Northern Ireland – though this is entirely unnecessary.
Our laws can be reformed using normal legislative measures; in the prolonged absence of a functioning government in Northern Ireland, they should be passed at Westminster. There's no need to pass the buck any longer.
Continued anti-choice and anti-LGBTIQ sentiment across prominent political parties in Northern Ireland is not, and has never been, representative of what the people want; it is instead one of the more regressive symptoms of our post-conflict politics – sadly still overwhelmingly concerned by sectarian divides and the past.
Since January 2017, those divides have toppled the power sharing agreement between the DUP and the main republican party, Sinn Fein, leaving the country with no running government.
On Saturday 2 June, thousands of people rallied in Belfast city centre for marriage equality for gay and lesbian couples amidst a sea of colourful, witty placards.
"I make no apology putting the safety and dignity of women first as part of equality between the sexes," Creasy said.
Northern Ireland is also the only part of the UK where same-sex marriage is not legal, and where the clients of sex workers are criminalised – a measure that has been loudly criticised by sex workers themselves for putting them at greater risk by making their working conditions more dangerous.
The 1861 Offences Against the Person Act criminalised abortion in the UK. Women in England, Wales and Scotland were exempted from this law by the 1967 Abortion Act exempted women, which does not apply to Northern Ireland.
An emergency House of Commons debate was held on Tuesday 5 June about proposals to change this. Stella Creasy, a London MP, opened the debate with an impassioned call for the dignity of Northern Irish women to finally be respected.
These proposed legislative changes are very significant, especially in the current absence of functioning devolution – which is the most common excuse for inaction. "It seems as though the rights of women in Northern Ireland were traded as part of the devolution settlement," said Maria Miller MP said, during last week's debate.
Heidi Allen was one of two MPs who spoke of their own experiences of abortion in the House of Commons – a first for the British parliament.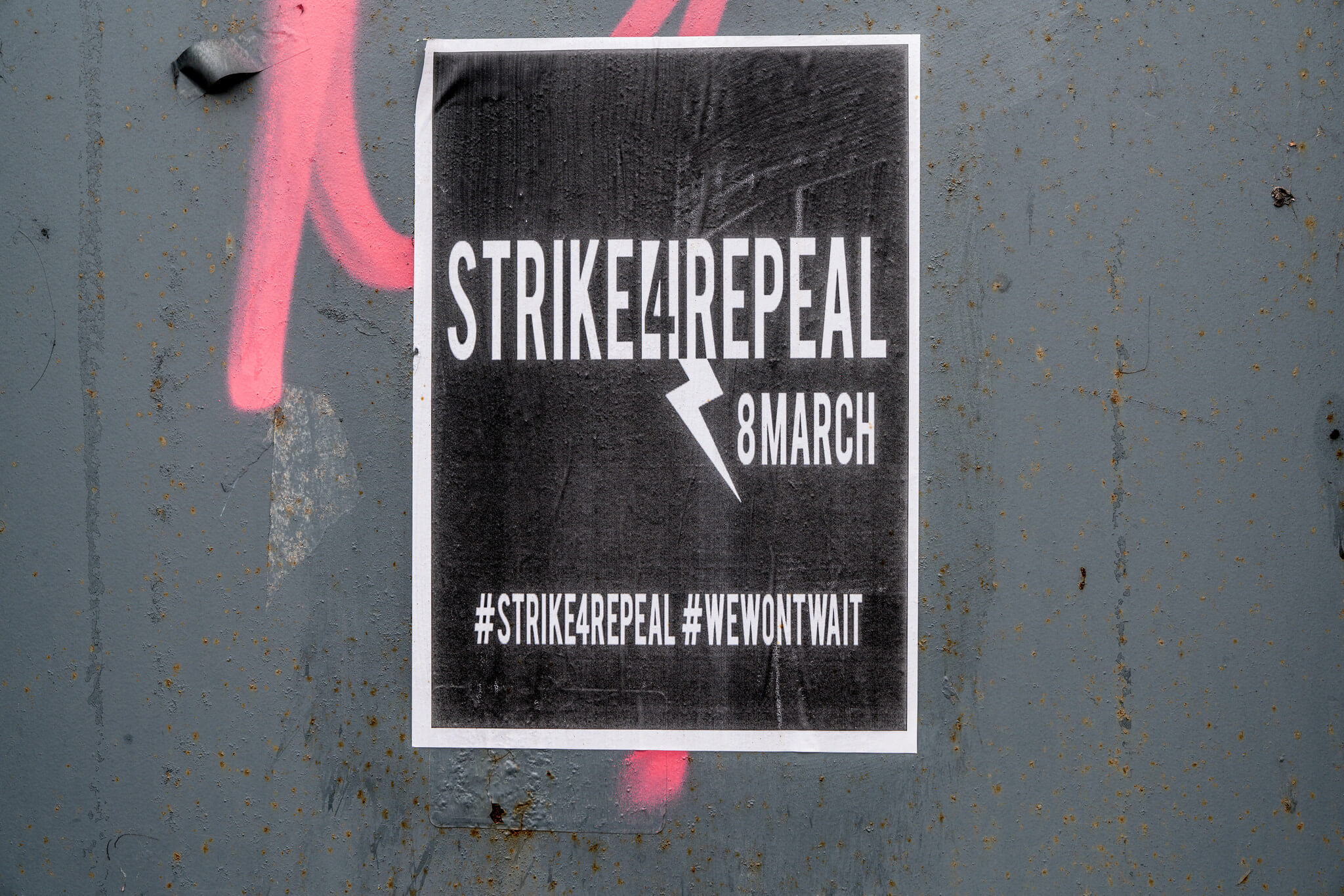 She spoke about her "incredibly hard decision" to have an termination – only to followed by abusive, anti-choice rhetoric from Sammy Wilson, a DUP MP who made erroneous claims of fetuses being "discarded and thrown in the bin" across the UK.
Another DUP MP, Ian Paisley, added that terminations were being used as 'contraception' in the rest of the UK, and that MPs were acting in haste by trying to do repeal with the Victorian-era laws that still apply in Northern Ireland.
Several of the DUP's statements seemed to have been lifted directly from leaflets and posters by the anti-choice campaigns including Both Lives Matter.
After the debate, for example, the DUP's Jim Wells, a former Health Minister in Northern Ireland's devolved assembly, compared abortion to the Holocaust.
This comparison has also been made by US anti-abortion campaigners, including The Radiance Foundation – among the many foreign advertisers who targeted Irish voters on Facebook in the run up to the referendum.
A majority of the Supreme Court found that the current law's prohibition on abortion in Northern Ireland, even in cases of fatal fetal abnormality and sexual crimes, is incompatible with Article 8 (right to private and family life) of the European human rights convention, though it ultimately dismissed the case.
The result has been seized upon by both sides as a victory – yet more evidence of how polarised this debate has become.
Theresa May, the UK's prime minister, is facing increasing pressure to address women's restricted access to reproductive rights in Northern Ireland, once and for all – putting her controversial coalition with the DUP at risk in the process.
While increasing numbers of Conservative MPs rally behind Northern Irish women, in the seemingly never-ending battle for agency over their own bodies, the UK's anti-rights 'ghetto' has become impossible to ignore.
***
This article was first published in openDemocracy. It has been published here with permission. About the author: Stephanie Williamson is a journalist from Belfast with a strong interest in women's rights. She is currently based near London.