Solstar is a left-wing, anti-fascist and women-led martial arts gym in North London. I'm the boxing coach, and one of the founders of the club. Myself and Paula started Solstar in February 2016, so we've been going about 18 months. It was born from our mutual frustration at the macho nonsense of most traditional gyms (boxing, Muay Thai, tae kwon do, or any other discipline) and the lack of places where women can go to train without feeling like they have to be better than men just to be considered competent. We've both been doing martial arts for long enough to have experienced some serious sexism in our respective sports, and were, quite frankly, bored of it.
Although the participation of women in many sports is on the up, martial arts are well behind the curve. From our experience, that's because of their image. Boxing gyms are not welcoming places to walk into as a solo woman with no experience. Even if you make it over the threshold, the (at best) macho culture and (at worst) overt sexism would be enough to turn all but the most lionhearted women away. That's to the detriment of the sport. I've never felt more welcomed and at home than at my amateur boxing club, but convincing other women of this is no easy task.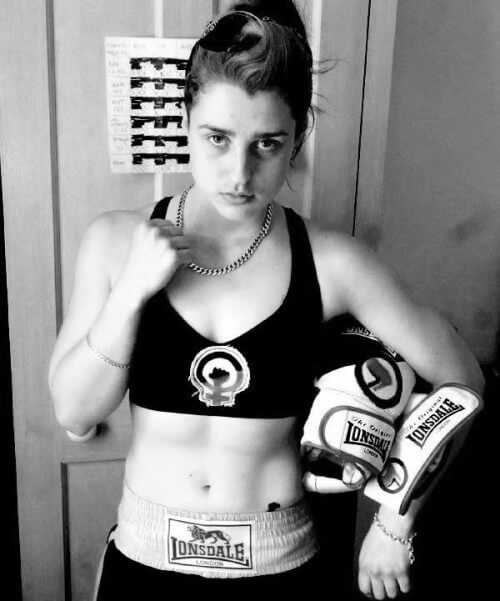 We wanted to start a gym that had all the wonderful team spirit and community of martial arts, without any of the ego. We also wanted to try and bring together activists from the local Turkish and Kurdish community with other London-based activists. Martial arts are amazing – they can make you strong, fit, and confident in any situation. The skills you learn from martial arts can be vital to get you out of nasty situations in one piece if you experience street harassment or violence. Those skills are especially useful to people who encounter those scenarios – such as women, particularly in the migrant community; LGBT+ people; and activists. More importantly though, we realised how much potential this had to bring together groups that otherwise might not work together. We thought – what if we can turn the sports that we love into a vehicle for political organising?
Sport is unifying – it builds solidarity, it builds movements, it builds relationships – and this couldn't be more important than in the fractious political left. There's too much in-fighting on 'The Left'. I've always thought it's ridiculous, and petty, and quite frankly childish to focus on the things we disagree on, when there is so much at stake, and so much that we can accept as common ground. Sure, your comrade may be an anarchist, or a communist, or a Corbynista, and sure, you might disagree on the relative merits of the first international or whether workplaces should be organised by industry trade unions or workers' councils, but just accept that those are fruitful discussions to be had, and get on with the actual task of actively challenging capitalism and building a more progressive alternative. The details can be ironed out later.
At Solstar, we try to encourage that. A left wing outlook is assumed of everyone who comes through our doors, and we try to make sure of that before people come. Beyond that though, we leave our politics at the door. We have fun, we sweat, we fight – and we build a community. It's using grassroots sport for grassroots political organising.
Being able to handle yourself under pressure, in stressful and often violent situations, is essential for anti-fascist activism.
Boxing is a working class sport, and always has been. It therefore doesn't present the same kinds of barriers to inclusion that others do. Boxing has been used to curb gang violence and increase the attainment and engagement of kids and young people in areas with few other opportunities. Its merit is so well established that it is even recognised and promoted by the police. Anti-fascism is also a working class form of organising, and there are a lot of parallels. Being able to handle yourself under pressure, in stressful and often violent situations, is essential for anti-fascist activism. We're teaching people skills that are directly relevant to those situations – how to stay calm when faced with aggression, how to defend yourself, and critically, how to get out of there without getting hurt.
I'm not exaggerating when I say that boxing changed my life. In fact, a lot of boxers will tell you the same. Whether it's to overcome an eating disorder, as an alternative to gang culture on the estate where they grew up, or to regain confidence after an abusive relationship, boxing is a catalyst for serious personal growth. Throw into that mix the benefits to fitness, self-discipline and confidence in a multitude of different contexts, and it's hard to see why someone wouldn't take up martial arts.
At Solstar, we believe martial arts can make a huge difference. We want to challenge capitalism and be part of a progressive socialist future. To achieve that, our aims are threefold. First, we want to get more women involved in sport by making our gym open and unintimidating. Second, we want to build a stronger, more capable left, bringing together leftists from across the political spectrum and from migrant communities. Lastly, we want to use that to create a network for radical organising – using the solidarity and camaraderie generated by training together to have a positive practical influence and achieve our shared political aims.
Already we're seeing results. The gender balance of our classes is generally 50/50 – something that is unheard of in traditional gyms. We also now have the brilliant ex-pro champion fighter Anna Zucchelli taking our MMA/Jiu Jitsu and Muay Thai classes, who brings a wealth of skill and experience to our sessions. Some of our attendees have told us how vital Solstar has been for rebuilding their confidence after assault, or for dealing with traumatic incidents in their lives. We're forging links nationally and internationally, travelling to interclubs and seminars all over. It's clear that the model is working, all that's left is to keep growing.
***
Featured im age courtesy of John Graham.