It's night in Brest. At this hour there isn't a soul on the streets of this small Belarusian town just a few kilometers from the Polish border. Two men silently exchange glances and cross the bridge over the railway tracks, braving the strong wind. Down there, from the immense Stalin-era railway station, they look like two black dots.
They stop in the hall of the railway station. At first glance, it seems like the place is empty, but wait a moment and you'll distinguish the figures of women in hijabs, surrounded by a flock of children, among the slender rows of benches in the waiting room. They're trying to sleep, but every few hours the security guard wakes them. It'll be a long night.
Every day, roughly one hundred people fleeing the repressive rule of Ramzan Kadyrov in Chechnya.
European attention to the ongoing humanitarian crisis of migration is mostly focused on the Mediterranean. The situation on the European Union's eastern border barely gets a look-in. Every day, roughly one hundred people fleeing the repressive rule of Ramzan Kadyrov in Chechnya try their luck here, hoping to enter the EU along the so-called Eastern Route through Belarus. Most of them are turned back by Polish border guards and have to stay in Belarus.
At the crack of dawn, a woman in her early sixties approaches one of the families, gives them train tickets from Brest to the Polish border town of Terespol and explains how to behave at the border crossing point. The children listen attentively. Early in the morning they will head for Poland again, hoping never to return to Chechnya. This isn't their first attempt, and it probably won't be their last.
The Chechen Watcher
Whenever Viachaslau Panasiuk enters Brest railway station, people take notice. The human rights defender is well known here; some Chechens are always on the lookout for him.
Panasiuk, 22, is coordinator of the legal department of the Refugees Rescue Mission in Brest, established by a human rights organisation Human Constanta. He hasn't left Brest since his arrival in September 2016. Back then, he didn't know whether he was up to the task. Now one could call him The Chechen Watcher.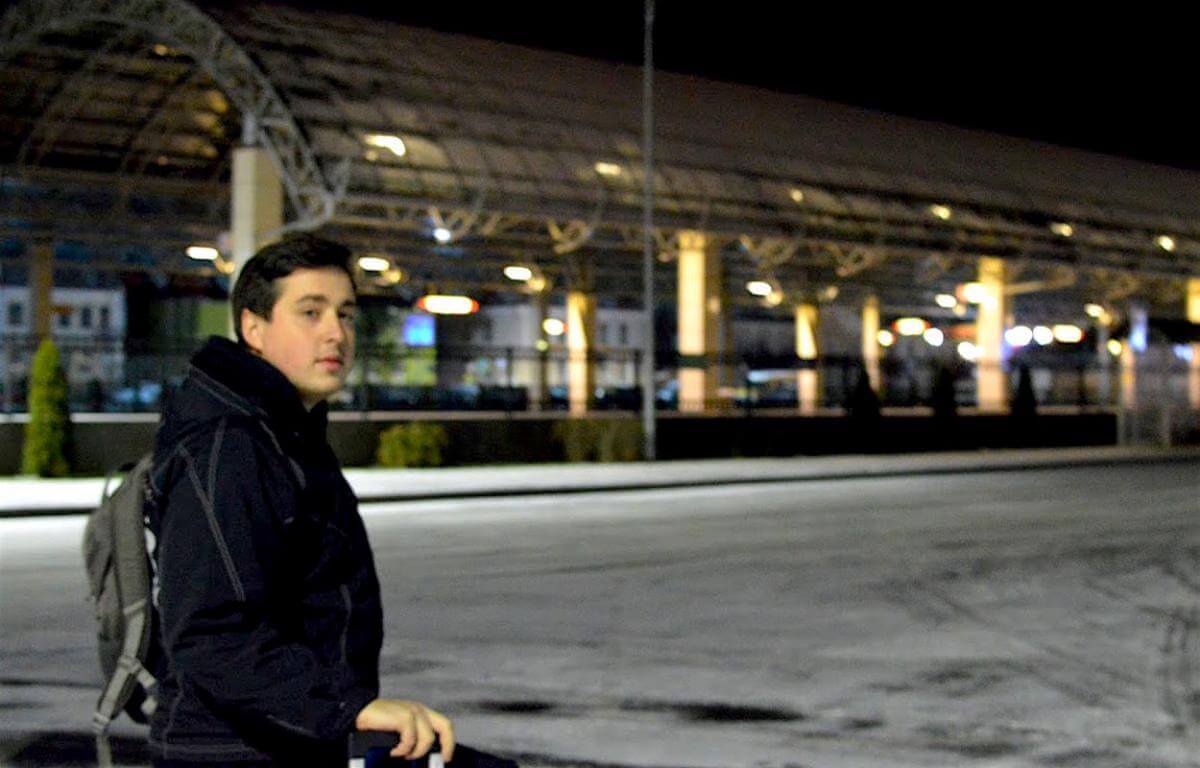 Viachaslau and I are sitting in a cafe near the station. He points at a waitress: "You see her? When the station was totally packed, the refugees asked her for hot water, but she wouldn't give them any. I spent the whole night carrying thermos flasks for them."
"As for the security guards," he adds, "they're usually okay with Chechen refugees. At least they don't throw them out. Well, not always. Once a Chechen prayed right in the station building. I had to distract the guards while he was praying."
Viachaslau admits he knew nothing about Chechens when he first arrived here. Two years ago, he was a third-year student of the University of Minsk. However, he wasn't able to receive his bachelor's degree: he was expelled from the university for political reasons. As a "political undesirable" of sorts himself, it may be no surprise that Viachaslau found common cause with the Chechens.
"Seventy years ago, they defended Brest against the Nazis — the city is now in their debt."
He's developed a taste for the songs of Chechen militant and bard Timur Mutsurayev, a phenomenon of the Chechen war. Viachaslau sings along to "Welcome to Hell", and tells me he's become slightly Chechen himself.
So, why did Panasiuk decide to help these Chechens?
"Seventy years ago, they defended Brest against the Nazis — the city is now in their debt," he responds. "But now that the city doesn't protect them now, we do instead."
Invisible refugees
Panasiuk buys a ticket for the earliest train from Brest to Terespol. Chechen refugees use this commuter train to enter the EU and apply for refugee status. Bearded men, women in headscarves and little children gather at the platform at around 8 AM. None of them have Schengen visas.
Two carriages are allocated specially for the refugees, but cashiers at the station refuse to sell them tickets. They try to explain: "No! It's for your own good. Why on Earth do you want to travel with them?"
As of this month, Human Constanta estimates that up to 100 people attempt to cross the Polish border to seek asylum every day. Panasiuk adds that if six months ago, two to four families succeeded, now only one family is not turned away by border police.
With every attempt to cross, resources dwindle. Most refugees in Brest live in rented apartments; however, they run out of money slowly, so they are eventually forced to leave for the train station.
As of this month, up to 100 people attempt to cross the Polish border to seek asylum every day.
When commenting on the situation on the border, the Head of the Ministry of Internal Affairs of Poland Mariusz Blaszczak said he would not let the influx of Muslims happen and Poland would not surrender to those prompting the migration crisis.
Many refugees told us that while on the border, guards drew attention to their being Muslims (which in today's political atmosphere in Poland means a security threat). Others said some guards even drew a pair of horns in someone's passport.
"We helped one refugee whom the border guards said that they could tell by his face that he was a bad person," sighs Panasiuk.
In June 2017, Polish and Belarusian lawyers and activists sent complaints to the European Court of Human Rights about the actions of Polish border guards against asylum seekers.
After this, the ECHR decided that Poland should not return a refugee who wanted to submit an application for international protection at the Poland-Belarus border. However, Polish authorities ignored the binding European Court of Human Rights interim orders and put him on a train back to Belarus.
Earlier this year, Mariusz Blaszczak proposed amendments to the Law on Foreigners that would allow rejected asylum seekers to be deported without the possibility to appeal their deportation decisions.
The new amendments proposed by Blaszczak in January also introduced the possibility for the government to establish a list of safe countries of origin and safe third countries. In its report, Human Rights Watch dismissed the idea that Belarus, Ukraine and Russia could be designated as such. "Such possible designations could result in the authorities ruling all asylum claims inadmissible without considering the merits of the claims", concluded the document.
Yesterday, a court in Warsaw ruled that Polish border guards must now allow those in the Chechens' position full access to the formal asylum seeking procedure. A small relief, given what they're fleeing from.
A distant dictatorship
The capital of Chechnya, Grozny, appears on Russian TV channels as a well-developed city with a beautiful avenue named after Putin, one of the largest mosques in Europe, and a sophisticated modus vivendi. They don't mention that people in Chechnya live in constant fear.
"A terrorist underground in Chechnya is practically non-existent. Nonetheless, the human rights system which is being established in the republic now aims at the cultivation of terrorists." explains Oleg Khabibrakhmanov, a member of the Committee for the Prevention of Torture. "In one sense, the North Caucasus is peaceful these days, but only because of an indiscriminate anti-terror policy." Two years ago the committee's office in Chechnya was burnt down and now human rights activists are afraid to hang around there for long. The head of Chechnya, Ramzan Kadyrov, accused the organisation of "stoking fear and trying to trigger civil unrest in Grozny."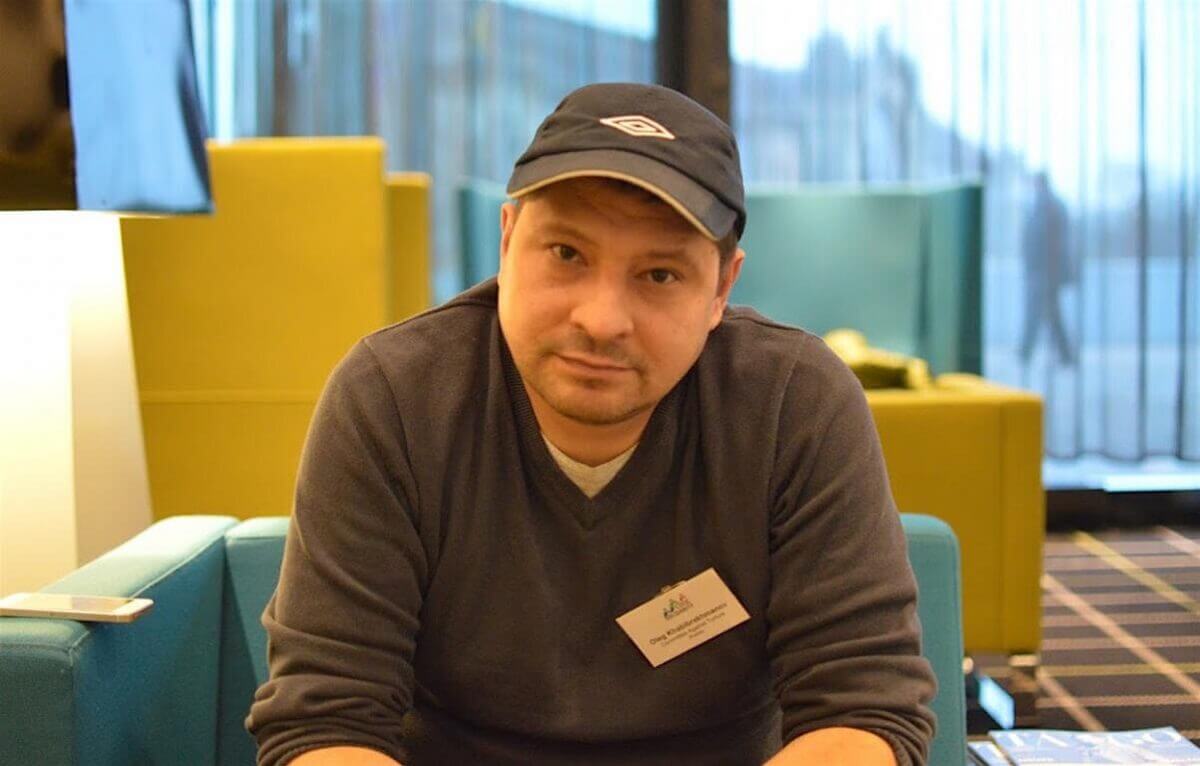 Currently, Russia is among the top ten countries by number of applicants for refugee status in Europe, and 80% of Russian asylum-seekers are from Chechnya. According to EASO, during the first nine months of 2017, 16,245 Russian citizens applied for international protection in the EU.
"Chechens cherish their homeland more than any other nation", Svetlana Gannushkina, head of the Civic Assistance Committee, an NGO which aids migrants. "If they leave, there surely are solid reasons. Because there's corruption everywhere. Because you have to surrender part of your salary to your superiors. Because the level of fear in Chechnya today is like back in the Stalin era."
City of love and hate
Many people call Belarus "the last corner of the Soviet Union". President Alexander Lukashenka's rule certainly reminds one of late Soviet "stability", and consciously romanticises the Soviet past in this manner.
So, too, do a pair of elderly women killing time by the station doors, talking about good people and good deeds. I cautiously listen in on the conversation, with Viachaslau's example on my mind. Other Brest citizens also help the refugees: giving them shelter, warm clothes, and food. Panasiuk also told me about a priest in Brest who helps Chechen refugees, and is criticised for helping non-Christians.
These two women are just as sceptical. "I don't understand those who help these Chechens. If they really were refugees, they would find jobs in Belarus," one of the elderly women says to me. "We have plenty of decrepit villages here in Belarus, so come here to work and live from hand to mouth. They go to Europe not to work but to get better welfare payments. Smart alecs! Besides, their country and religion are very dangerous" — she whispers.
"I know many of them have tried to live in Belarus — even in China and Kazakhstan — but Kadyrov's men found them even there."
"I know many of them have tried to live in Belarus — even in China and Kazakhstan — but Kadyrov's men found them even there", I respond.
"Yeah, yeah, Trotsky was killed with an axe in Mexico" she snaps. "I get itnobody's beyond their reach!"
"You think they'd better stay in Chechnya and wait until a mother finds her son killed after yet another torture session?" I exclaim, but she interrupts me.
"Maybe I could go abroad. But I don't want to leave my homeland. Back in USSR, we were all poor, but we were all friends. Now all anybody thinks about is money" — she responds, waving her hands in the air to signal an end to this unpleasant conversation. A handful of people are sleeping in the bus station nearby, and she's still turning the clock back to times past.
Meanwhile, the marble waiting room of the Brest railway station begins coming to life. In a few hours, classes of the so-called democratic school will begin. On weekends Marina Hulia, a teacher from Poland, visits the Chechen children with a bag of presents and a portion of new knowledge.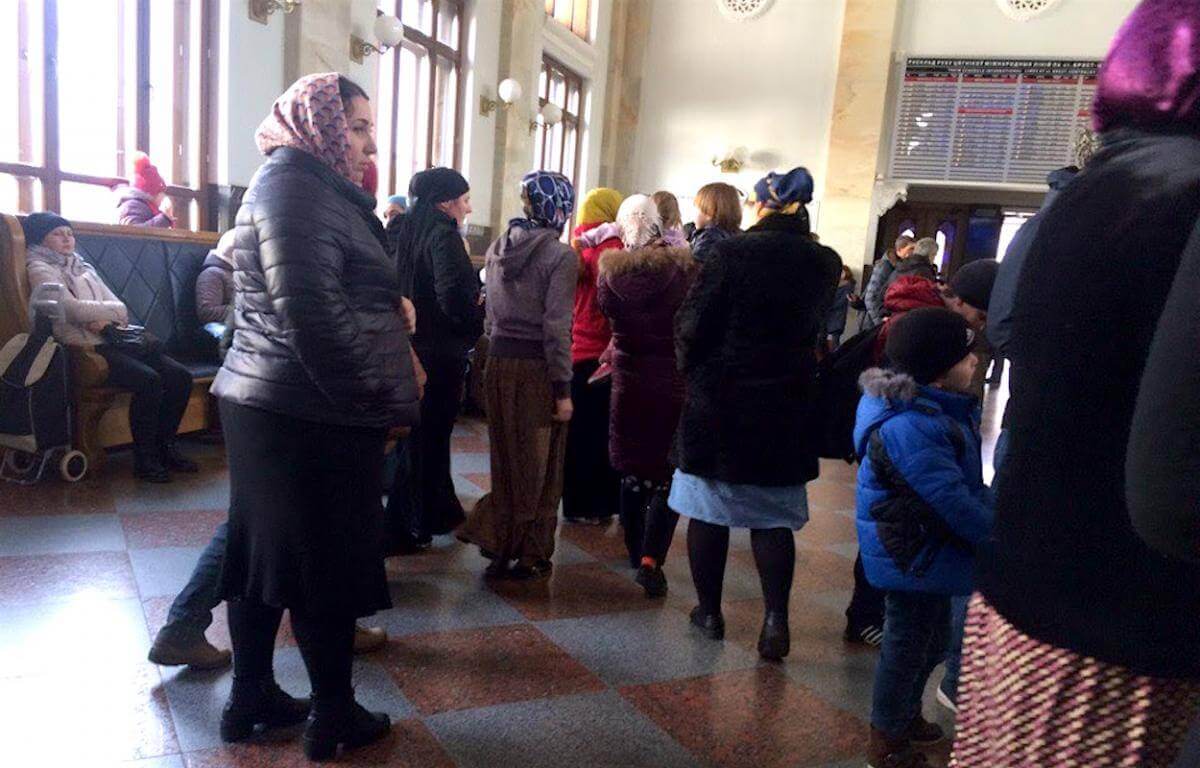 "I begin every morning with a prayer; I open the Quran, children stand in a circle with me and we pray. We sing the unofficial anthem of Chechnya in Сhechen, then we have Russian and Polish language classes. I teach children that being cheerful isn't shameful. A place of schooling is irrelevant; if it happens to be a train station, alright, let's do our best to make it lively," says Hulia.
"Unlike others, these Chechen children want to go to school. They want to go to Poland, so their mothers would stop crying, so their fathers wouldn't feel helpless, so they wouldn't live off porridge and potatoes."
But over time, the lessons are getting smaller. As more refugees are turned away by the border police, more families return to Chechnya in despair. Yet Marina is determined to hold her classes, come what may.
Beehive Nation
Outside the central market in Chechnya's capital of Grozny stands a minibus advertising trips to Brest. Four women sit nearby with huge bags. They don't answer questions. A little further is the so-called "taxi to Europe." To see Paris, a Chechen needs to pay 400 Euros.
They fear not for their lives, but for those of their relatives who remain in the republic.
Even after leaving Chechnya, refugees still live in fear. They fear not for their lives, but for those of their relatives who remain in the republic. Refugees in Brest say their relatives are interrogated for information on their whereabouts. They don't feel safe in Brest either.
Saida sits in a café near the Brest train station. Due to their fear of persecution by the Chechen authorities, refugees hide their real names, and some even wear masks. Saida wears a black headscarf. Before speaking, she anxiously glances around her and suggests we go to her home. "They're looking for us," she says, as she shuts the front door of her small apartment.
A year ago, her son went missing in Chechnya. Saida found him three days later— lying at her doorstep, bloodstained and unconscious.
"When my son was a small boy during the Second Chechen War, a bomb went off in our yard and he was severely burnt. When we revived him after his torture, he said they had beat his scars, asking him where they were from, and where he made and stored explosives."
After torture sessions, Kadyrov's men send their victims photos to remind them of the or deal.
Her son later told her that he would kill himself so that the military would leave his family alone.
Saida's son has attempted to obtain a refugee status in Poland 65 times. All his attempts have come to nothing, and the family is running out of money. Soon, they won't be able to pay their rent. Saida's husband has liver cancer.
According to Panasiuk, after torture sessions Kadyrov's men send their victims photos to emind them of the ordeal. "In 70% of all cases, the tortured men were sexually assaulted. Not a single Chechen will tell anyone he has been assaulted this way", adds Viachaslau.
As a former soldier, Mahmud says he finds it shameful to complain. During the Ukrainian crisis he, along with his platoon, went to fight in the Donbas. "The conditions were as follows: we were fired from our jobs, so that we could go as volunteers and then we would come back a find jobs again. We were promised $100 per day." Mahmud recalls.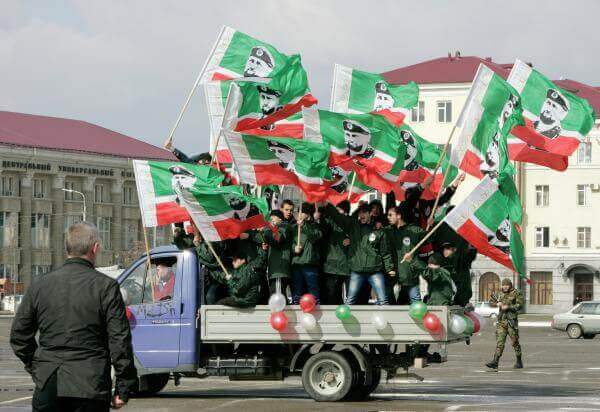 After he refused to go and fight in Ukraine, Mahmud was accused of anti-Russian sentiments and demoted.
"I was then ordered to eliminate a family, the father of which was an armed gang member. His name was Sheikh Buryatsky, we liquidated him six years ago. I knew this family and I knew they weren't involved in any radical activity, so I refused. I understood that the family's land was in a good location — at the crossroads, where a hotel could be built. I knew the bureaucrats wanted it in their hands."
Mahmud was taken to the Internal Investigations Division where he was warned and accused of being an armed gang member. A criminal case was opened. Then the tortures began.
"I was taken to a basement, where they sort of crucified me — there were four metal rings, two on the ceiling, two on the floor. Two masked men came in and told me that if I didn't confess, they would beat these confessions out of me. They beat me with rubber batons," Mahmud recalls. Then he unzips his hoodie and shows the scars.
"They began to pull out my toenails with pliers. I can show them as well, I have no nails on my little toes. At that moment I was ready to confess to Lincoln's assassination, to say the least."
When I last spoke to Mahmud in March, he and his wife had made thirteen attempts to cross the border, but every time they were stopped by the border guards and sent back where they came from. The Chechen authorities are searching for him; he shows me a text message which reads: "I will find you and shoot you like a dog."
"I'm ashamed to admit this, but I'm very scared," he says.
Chechnya can be described as a dictatorship under a splendid disguise.
"Chechnya can be described as a dictatorship under a splendid disguise. People won't let his [Kadyrov's] henchmen live for long, because they have brought too much pain and suffering in our land. Right after Putin resigns, our people will eliminate Kadyrov. They're waiting for it. They have gathered together like bees in a beehive and they are at the limit of their patience," a refugee currently hiding in Brest tells me.
Shadows, but not forgotten
"Every day when I help another family, I make a choice. If I send a volunteer, I tell him "You decide who'll get killed last." You always assess families according to certain criteria; you have to decide who is in a greater need of help," Viachaslau says. Every evening he talks to dozens of Chechen families. He tries to keep his emotions under control and refrain himself from giving them too much hope. Sometimes, he fails.
If I send a volunteer, I tell him "You decide who'll get killed last."
"I remember one family that lived on the border between Chechnya and Dagestan. The brother went to a Wahhabi camp in the mountains, and came back home for food twice a day. It was unthinkable for the family not to feed him, he was a family member, after all. So the family was tortured. They fled, spent four months in Brest, and made 67 unsuccessful attempts to cross the border. They gave up, and returned to Chechnya, where the father killed. The mother with her children fled to Brest again. This time, they let her cross the border pretty quickly. The children still think their father is alive, that he's just still in Brest. Does somebody in a family have to die before the rest can cross the border?" asks Panasiuk.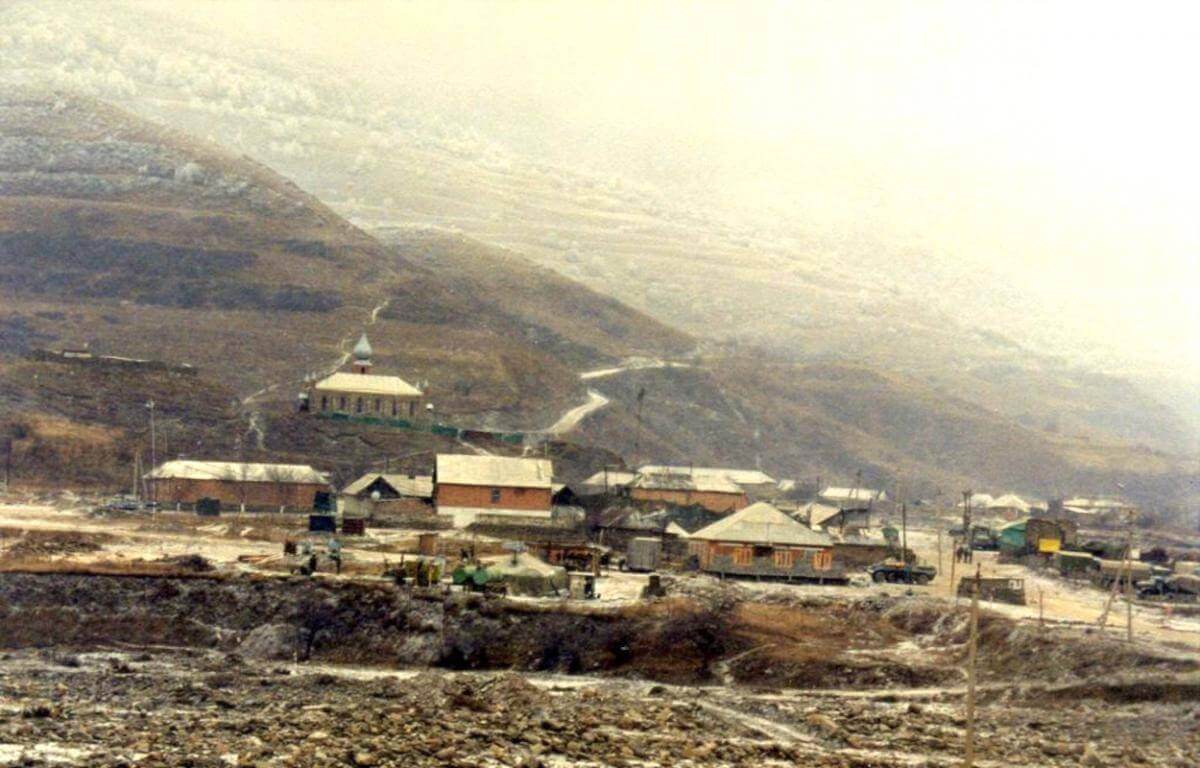 He frequently goes to the balcony for a smoke. A dim light is visible in the house opposite, where a Chechen refugee family lives. In the evening, one can usually see silhouettes of the children, sitting at the window, waiting. When Viachaslau appears on the balcony, the whole family gathers at the window and they greet each other. They don't know each other personally, but this ritual takes place every evening.
"One family fled to Moscow. We kept in touch via WhatsApp for two days. Then they messaged me and said, "They've found us, we are finished, thank you for everything you've done for us." They attempted to flee to Poland 50 times. When they fail they don't know where to go anymore and are ready to die. I know of at least two families whom we couldn't help and the members of which got killed upon arrival back in Chechnya.
I know of more than twenty families who came back to Chechnya, from whom I haven't received a single message.
I know of more than twenty families who came back to Chechnya, from whom I haven't received a single message. They swore to me they would establish contact with me when they are there. I can think of a reason for all this – the whole family was eliminated at once," he says, then keeps silent for about a minute and pulls out another cigarette.
Viachaslau says goodbye to one more Chechen family, his last for today. He switches off his phone and closes the balcony door – a gust of the sharp wind finds its way into the room; in a matter of several minutes it's completely dispersed in the warmth. The children's silhouettes in the opposite window fade away, absorbed by darkness.
Editor's note: Viachaslau Panasiuk has now left Belarus, and his relatives have been interrogated. Affected by his work with Chechen refugees in Brest, Panasiuk has undergone a rehabilitation course for human rights defenders, and hopes to continue helping the asylum seekers. Since his departure from the country, the situation at Brest station has deteriorated significantly.
This story was originally published by openDemocracy. It is published under a Creative Commons Attribution-NonCommercial 4.0 International licence. If you have any queries about republishing please contact openDemocracy. Please check individual images for licensing details.