I wasn't there, but I can still smell the smoke. The chants ring in my ears and when I picture the banners, my blood steams. 60,000 nationalists and fascists marched in central Warsaw and no one blinked. They were happy. It was a celebration of Polish history! It is not a crime to love your country.
I am tired. These events eat at me. I'm worried that I hate myself, that I too am guilty of anti-Semitism. See, I am Jewish and I am Polish. My Catholic father was born here, in Poland, and met my Sephardic Jewish mother while she was studying in New York. Regardless, I am just as Polish as any of those fascists, so why do I feel more unwelcome than they do?
My grandparents told me stories of Polish heroism. About efforts to save Jews and sabotage against fascists. They left out Kielce and Jedwabne and the fact that housing blocks in Krakow have Jewish stars crossed out on walls. To them none of this is proof of anti-Semitism, just miscommunication. Polish elders always made excuses and expected that I would defend them to other Jews. And I did, for years. I was taught to be adamant about Poland's innocence. I failed to imagine Polish Jew hatred. Youthful naivety. That's what bothered me most about the march. It was everything I had said could never happen in Poland.
This march showed a rift that I didn't know was there. My mom emailed me expressing her fears. My dad defended it as a hijacked gathering of nationalists. They marched with signs calling for a white Europe. For a second holocaust. For the removal of ethnic minorities. This wasn't hijacked, it was meant to be this way.
The day after, we Poles had to condemn the march. Anything less would be a tacit acceptance of its message. I was confident that Catholic cousins would stand up for me. None of them did.  I asked my grandmother about the march. She felt that it was overblown and it would be unfair to categorize everyone there as fascist. I was stunned. And now I'm angry.
Today, I stand between two identities, unsure how to move on. The march showed that Poland has never really dealt with systemic antisemitism and I feel like people are minimizing how far reaching it actually is. They call fascists ridiculous and of marginal importance. The problem is that they're not silly; they're deadly serious. I want to go back to feeling I can be both Polish and Jewish, but Poland is making that increasingly difficult.
The main obstacle for me aren't the fascists themselves. It's Poles who watched the march and did nothing. It's my relatives who insist that those who march behind racist banners and shout anti-Semitic slogans are actually just guilty of being tricked. It's the political cover granted to fascists marching with children. It's people who don't want to recognize that Poland has a problem with racism.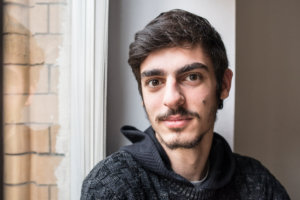 I can't pretend that I saw the march like everyone else. Unlike foreign Jews, I didn't think that this march represented Poles or even the vast majority of Poles. And unlike Catholic Poles, I couldn't see this as a small, irrelevant nationalist demonstration. Both of my identities saw it as fascists staking their claim in the heart of Poland. They wanted to define what Polish patriotism looked like and both groups, Jews and Poles, let them. By reacting with fear and derision, Jews abroad are fuelling fascist ideas of an isolated Poland. Similarly by providing them with excuses and cover, Poles are letting fascists operate with impunity.
I refuse to be treated like a guest in my homeland and fascists do not get a monopoly on patriotism. More Poles need to call out racism when it appears in our society. I was raised believing that I would always have a place in Poland. The march questions that. Now it's up to Poles to answer what they prefer.