"What are you snorting, guys?" I asked with genuine curiosity, as I always do when I visit my party-going friends on the brink between late night and early morning. While the first rays of sunlight were filling the room, four guys were bustling nervously about a coffee table stacked with stuffed ashtrays. They poured it, crushed it, and hastily lined it. Each of them fidgeting with a rolled bank note in hand.
"C'mon, you could grab clean straws at least, couldn't you?"
I just couldn't help myself. After a night spent clubbing they wouldn't think much about hygiene. Asound like a blend of a murmur and a sigh was all I got as an answer. I spared them a lecture on the risk of contracting hepatitis C, which is real by the way.
A credit card was shaken off, and the rest of the powder floated down onto the table. The next lines went straight up their nostrils, and the coffee table was clean, at least for a while. "So, what you got here?" I reminded them of my presence. Now they were relaxed, nothing bothered them any more. "Mephedrone, Meow Meow," a mate spat in a distressed manner.
I don't think so. Mephedrone (4-MMC) has been illegal in Poland since 2010, so the dealer would probably have pushed them 3-CMC or some cheaper and legal (at that time) substitute (let me remind you that the Polish Minister of Health criminalized 3-CMC and 4-CMC on September 17th this year).
Walking down the streets of Warsaw, it's hard to miss the ads for legal highs. Everyone who uses psychoactive substances knows that old school drugs are as rare as hen's teeth.
"It was cheap, hits pretty strong, and a smoking hot chick brought it at 4 am," my friend from high school added a while later. I'm not really sure if it was supposed to help me to identify what they were taking, or if he just felt the urge to explain himself. "Give me some of it, and I'll run some tests on it," I proposed.
In a few days I was due to go to the Bieszczady Mountains for a psytrance festival, where activists from the Studencka Inicjatywa Narkopolityki (Students' Drug Policy Initiative), myself included, were giving out drug-checking sets. My friends were happy to give me a sample of their drugs, as I assured them that I really just needed a pinch of the stuff, even the empty tinfoil, not licked, would do. That's probably the only good thing about legal highs, you can run tests on them without fear of breaking the law.
These drug-checking sets we were giving out at the festival are called colorimetric reagents – a set of simple tests for the presence of drugs. We didn't look for drugs in users' blood, urine, nor saliva. We checked the content of their stuff before consumption – for their comfort and well-being. This method is no good for checking the composition of a mixture of substances, or purity of the drug, but it gives a reliable warning if the drug is something we don't expect it to be.
On the very first night, we were approached by anxious couple with a delicate matter: they weren't sure if they had meph or meth (mephedrone or methamphetamine). It's better to know, isn't it? We gave out the reagents for free at the parties. But now you can buy them on our website, cheaper than a pint of beer (or from Bunk Police).
With the 'meow meow' in Bieszczady
"Wow! I'm spun the fuck out!" I heard a guy yell.
We hadn't even parked our car, and the party was already on. I went to the Bieszczady Mountains with the mysterious 'meow meow' in my pocket, and as it turned out, I wasn't the only one.
"What are you on, my friend?," I ask, and learn that it's "Meow meow, plant food". "I traded it for pot with some hot chick," he adds. Sounds familiar. We were due to meet in the evening under a huge, colourful hallucinogenic mushroom in the copse behind the main stage.
Right behind the main stage, a few meters into the woods, there was an oversized, colourful, woven mushroom cap stretched between the trees. We were sitting under it, on the stumps painted with patterns of various psychoactive molecules, with our research task, armed with boxes full of plastic vials. Each vial was marked with a different colour and contained two or three drops of a different chemical agent. The set comes with an instruction on how to read the results. One test won't tell you much, but if you have a set, you should be able to eliminate unwanted surprises.
Generally, MDMA (but not only MDMA) gives a black colour, other amphetamines brown, and most legal highs and cathinone derivatives – mephedrone, for instance – yellow. It gets tricky when the substance doesn't react with the reagent, but definitely makes you high. Bingo! That was the case. So, we still didn't know what our 'meow meow' really was.
We were sure, though, that it's not any of the substances we knew. So, what the hell was it, then?
I accepted the challenge. If someone is pushing this stuff, I would at least find out what it actually was. After we came back from the mountains, I repacked and took off with the 'meow meow' for an even bigger psytrance party – Boom Festival in Portugal.
The 'meow meow' journey goes on
It is one of the biggest events of alternative culture in Europe. And for more than a decade a group of wonderful people have been working on its site, called Check!n. I was about to join them with PINS volunteers for a few days. We checked drug samples from party-goers completely legally (thanks to the decriminalization of drug possession in Portugal) every single day, right next to the Dance Temple, the main stage.
They use a more complex method in their mobile lab – thin-layer chromatography, or TLC. It's practically impossible to run those checks without professional equipment. It is used primarily to separate the mixtures, and was introduced for the first time at parties in France more than 20 years ago! TLC analysis lets you define how many different substances you have in your sample, and by checking it against formulas, you can deduce what they are. Additionally, Check!n checks the results with colorimetric reagents, and even with UV light – liquid LSD would vividly glow. I left this treasure from Warsaw for analysis, took my ticket and went dancing. It should be done in about three hours.
After a few hours, an amazing Ace Ventura performance, and several hard-to-describe sensations I returned to the lab. I stood in the line right after a group of some French guys. Their faces turned paler every second, and I struggled hard to focus on them.
"You gave us LSD, ketamine, and cocaine, right?" a tall guy in rubber gloves was making sure.
They nodded and then it sounded out, as a jury's verdict. "DOx, lidocaine with paracetamol, and lidocaine, respectively." The lab tech looked at them pitifully. "I can give you some condoms, at least. You want some?"
"If the psychedelic worked for twelve hours," he explained, "they would know it's just normal DOxes. Nothing to worry about. Even though LSD would have much subtler effect."
The authentic acid is, for sure, way harder to get and more expensive for a dealer. As for lidocaine and paracetamol – well, they are used in medicine, but there isn't  much use for them under a vibrating loudspeaker.
My turn. I didn't expect anything, so I couldn't be disappointed, as I was at the beginning of my journey. "It's Flakka, meaning Alfa-PVP. You bought it here?" I heard.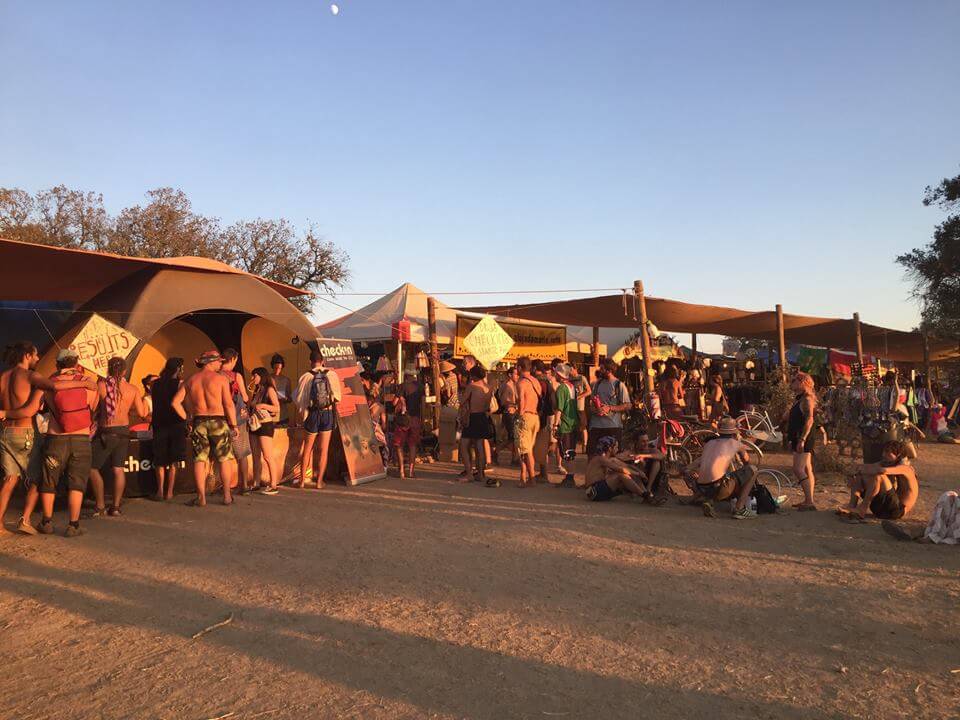 According to the SWPS University of Social Sciences and Humanities, it's one of the most popular stimulants in Poland. Elsewhere, its reputation is quite similar to the Russian krokodil. If I bought it at a party where 9 out of 10 MDMA pills consist of only MDMA, it would be disturbing, at least. I denied buying it at the festival, and the laboratory technician sighed with relief. It seems like there was nothing else in my sample.
How much Alfa in the Alfa?
Now I was into it for real. I promised myself I'd get to know what's inside this shit.  Research conducted by the National Bureau for Drug Prevention in Poland states clearly that there is no relation between the price and the purity of the drug. I left the damn Alfa to my Spanish friends from Energy Control, and they promised to send it to a bigger laboratory in Barcelona. There they use precise GC/MS (gas chromatography/mass spectrometry) analysis, done with powerful machines bought by the Spanish government. Happy to hear that, I forgot, for a while, about my 'meow meow'. I was finally going to learn the psychoactive composition of these mysterious crystals that my friends were eating out of the palm of some hot chick's hand.
A month later I was in Barcelona. After the academic year's inauguration, I took off to the Energy Control offices, located in a picturesque district of Barcelona, surrounded by buildings designed by Gaudi. I waited in the queue with other curious clients. We were asked to fill in the forms: what do we use, how, when, and where do we look for more info on the topic of drugs.
A while later we were popping my data into the internal database. There is nothing to be afraid of – the government pays for that to relieve the police and doctors. No one is going to prosecute me for that, like they would in Poland, where the National Medicines Institute is obliged by the law to report every single milligram of any illicit substance to law enforcement.
It was time for the results.
Was it really Alfa-PVP? Apparently, it was, and even cut with desoxypipradrol (2-DPMP). Other fillers were not identified. It could be lime, glass, plaster, basically whatever. It turned out that my mates made a terrible deal. It's just a shame that I had to travel around Europe (back and forth two times), to learn what's really being pushed on the streets of Warsaw.
Translated from Polish by Dawid Krawczyk