In Europe and the United States, the far-right continues to gain political ground. And yet — despite increasingly frequent episodes of racist violence and the breakdown of the rule of law — acts of dissent remain scattered, limited to internet bubbles, and scarcely offer opportunities concrete change.
But how can citizens make a difference when political elites cannot do so themselves? What can individuals do to address any number of pressing problems, when so many people already face stark personal economic realities? The temptation to buy into an accelerationist "burn it all down" worldview is may be strong, but there are some reasons to be optimistic. Growing trans-national protest movements — like the youth-led environmentalism campaign Fridays for Future — as well as a resurgence of smaller, more local activists groups show that fighting back against the global status-quo is possible. Their successes and failures offer important lessons for activists to learn about what works and what doesn't moving forward. Here are three good examples from around Europe.
Choose your fight
Choose your fight and stick to it. That could be the takeaway from the Bratislava-based Cyklo Kuchyňa (Bike Kitchen) collective's years-long experience fighting for local green transportation. Dedicated to being sustainable, Cyklo Kuchyňa is comprised of two shipping containers plus an adjoining community garden, placed right in the middle of a parking lot facing the Danube river. Founded in 2011 by a group of bike enthusiasts, Kuchyňa defines itself as a "cycling community running workshops and community events in order to support the cycling culture in Bratislava." It host workshops to help people learn how to repair their own bicycles, offers a space for bike lovers to meet and even rent out a number of bicycles for free. "Not once a bike was stolen," says Tomas Peciar, one of the group's core members.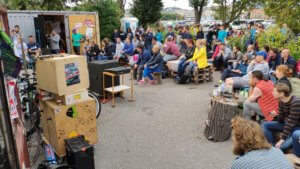 Cyklo Kuchyňa — which Peciar describes as "proudly 100 percent anti-fascist" —  regularly organizes themed protests, garage sales, and May Day celebrations in cooperation with other cycling groups. They also collect bread and sweets from a local bakery and then redistribute the food to those experiencing homelessness.
Because being sustainable is not only about infrastructure, but also social dynamics, the Bike Kitchen is heavily engaged in community building. Peciar himself has taught over 40 children how to ride a bike. 
"The parents are always scared, they want their kids to start with four wheels," he says. "I distract them for a moment and there you go, just a few moments later the kid is cycling perfectly."
If there is anything to learn from community projects such as this, its that being politically active is not just about manifesting dissent to the status quo, but also taking concrete action in order to build something in the long run that can benefit the community. 
Be inclusive 
What makes Fridays for Future and similar movements so successful is their commitment to inclusivity. Everyone can take part; no matter their skin color, background or age. This openness taps into groups that have historically been politically ignored and utilizes their energies. One such group that remains marginalized: elderly women. After years of work and family care, women are normally relegated to bridge clubs, hairdressers and grandmotherhood. In political terms, they are told they count for zero. But now organizations such as Omas Gegen Rechts (Grannies Against The Far-right) are changing that. Originally started as movement of elderly Austrian women in 2017, OGR has now spread to Germany and even the United States.
Spurred on by memories of the Nazi regime and the consequences of the Second World War, members of OGR take to the streets to protests all forms of extremism and to call for the defense of democracy. They do so by organizing regular demonstrations, where they are routinely joined by all kinds of people, including young people with no experience of the post-war years. Being old is, in fact, not a precondition to join the movement.
Dressed in their iconic colorfully hand-knitted wool hats, the grandmothers of OGR are easy to spot at protests. "The hats are our distinguishing mark,"  Elizabeth, 70 years old, explains. "It's a symbol that we like to adopt in a funny way to stand out in the crowd, and we've received very positive responses: People smile at us." 
Far from the classic stereotype of old-fashioned women, the grandmothers of OGR are full of energy and love to talk about how progressive and politically tuned in they are.
"My daughter is married to a woman, and my son is also married to a woman," Elizabeth says, laughing."Before 2017 [and joining Omas], whenever I took the train I used to buy women's magazines, but now I only buy political ones." 
Das ist der Wahnsinn!Diese mutigen OMAS GEGEN RECHTS auf der Bühne beweisen, dass es eigentlich keine Rolle spielt wie alt du bist!Wenn du mutig genug bist, wenn du dich traust, kannst du deine Träume wahr machen. Egal was sie sind…#Mut #motivation #inspiration

Opublikowany przez I trau mi Czwartek, 20 czerwca 2019
Dream big
In Italy, the town of Riace and its mayor Domenico Lucano have become textbook examples of how big dreams and creative organizing can solve international problems. They've also come to represent the brutality with which the far-right can attack positive change.
Riace is a small town of two thousand people in the mountains of Calabria, a few kilometers away from the coast. Subject to years of emigration, Riace had been a dying town until 2004, when newly elected mayor, Domenico "Mimmo" Lucano, decided that his municipality was going to directly manage the funds allocated by the state to administer the reception and integration of recent migrants. The idea was to make immigration an opportunity from which everyone could benefit. By accepting a large number of refugees, the mayor aimed to repopulate the town and restart its economy.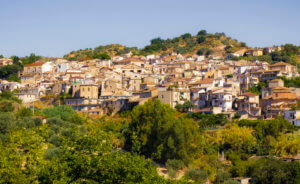 The refugees renovated the abandoned old houses in the city centre and moved in. An "inner currency" for the exchange of goods and services was established to help local commerce. Old workshops and a school were reopened. Tourism returned. By 2018, refugees made up one quarter of the town's population.
"We made Riace the human capital of the world," Lucano says. 
But the experiment didn't last. In 2016, authorities began investigating Lucano for administrative irregularities and criminal activity. The town's funds were suddenly cut and several shops shut down within a few months. Lucano was accused of facilitating illegal immigration, placed under house arrest and then later banned from stepping foot in town.
There are those who believe that the charges against Lucano are politically motivated. "If any administrative regulations were breached, Lucano [broke them] always in the interest of the new inhabitants of the town," Antonio Trifoli — Riace's new mayor — argues. 
Lucano's brother, Sandro Lucano, agrees and believes that his brother's pro-immigrant actions put a target on his back. "It is evident that his actions were 'inconvenient' for someone and, therefore, they did everything possible to put him down," Sandro insists.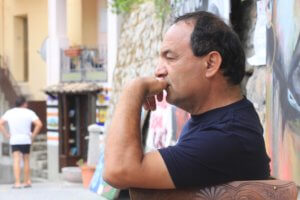 Despite the continued trust of many of his supporters, Luciano was unable to salvage his political reputation and lost the following election. 
In Italy, the situation for migrants has continued to worsen. Minister of Internal Affairs Matteo Salvini has tried to distinguish himself internationally as an anti-immigrant crusader by attacking NGOs rescuing migrants in the Mediterranean and adopting measures that have criminalized aid and taken away basic rights from asylum seekers. Among other things, Salvini has dismantled the System of Protection for Asylum Seekers and Refugees (SPRAR), which had until then implemented the reception and distribution of migrants over Italian soil through different projects at the local level, of which Riace was the brightest example. 
Some neighboring towns have tried adopting similar integration mechanisms to Riace, but the "Riace model" has not been implemented replicated anywhere else in Italy. This oasis in a desert of barbarity appears to be lost forever. 
Hope
The case of Riace, while depressing, remains exemplary of the hard reality many activists face. In these confusing times, some have taken solace in a quote from the Italian marxist Antonio Gramsci. "Ours is not an epoch of rest, and it is not an epoch for looking backwards. It is an epoch of historic change of global proportions. It is up to us to ensure that change is towards political citizenship and collective agency, and not subservience and isolation."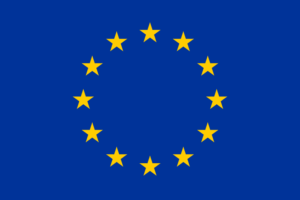 The Transeuropa Caravans project was funded by the European Union's Rights, Equality and Citizenship Programme (2014-2020). The content of this article represents the views of the author only and is his/her sole responsibility. The European Commission does not accept any responsibility for use that may be made of the information it contains. Find out more at https://transeuropacaravans.eu.