In her article The Failure of "Choice Feminism" for Jacobin Magazine Amelia Ayrelan Iuvino says that feminism is having a moment in pop culture: "celebrities are clamoring to identify with a word that was more likely to be used as an insult in mainstream conversation just a decade or so ago, and products as wide-ranging as exercise routines and absorbent underwear are marketed to millennial women under the guise of "empowerment.""
On a Sunday afternoon walking through Brooklyn, Iuvino reports that she saw no fewer than three "The Future is Female" t-shirts peeking out from beneath denim jackets. Even if one can recognise the contradictions and ambivalences caused by the commercial use of  feminism, it is also important to recognise the real impact and penetration that this has in some sectors of society and celebrate the irruption of feminism in the dominant normalised contexts, discourses and backgrounds.
Can artists like Rihanna, Emma Watson or Beyoncé be a medium with a bigger outreach to challenge patriarchy than Judith Butler or Luce Irigaray?
This conversation is returning almost like deja vu from 2014, when Beyoncé performed in front of a luminous ten feet high display of the word "Feminist" at the MTV Video Music Awards. It was an important moment because million of women across the globe could identify with a message of empowerment, self confidence and strength, openly embraced by Beyoncé and directly connected with the word she had behind her.
It is important to recognise the role that Beyoncé plays, creating a collective imagination, bringing up feminist issues in unexpected contexts.
Since then, it has been interesting to read and listen to the debate about whether or not we can call Beyoncé a "real feminist". We could ask ourselves, for example, if Beyoncé has read all of what is needed to be a so-called "good feminist", and if she has an economic interest behind portraying herself under the F. word. But in our daily and arduous task as feminists of conveying and communicating our discourse to everyone, and especially to those women who do not feel represented by feminism, Beyoncé is above all an ally. It is irrelevant to consider how 'pure' her feminism is. Instead, it is important to recognise the role that she plays, creating a collective imagination, bringing up feminist issues in unexpected contexts, speaking about relationships, empowerment and race in her songs, addressing social and political questions that target communities that might not be reachable by other mediums.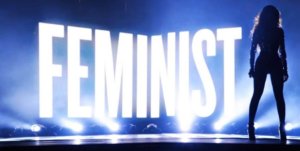 Artists like Beyoncé are introducing and normalising feminism in new contexts where previously the discourse was not arriving. Tagging and labelling feminism as 'good' or 'bad' is counterproductive and does not further the collective action needed to produce real change which would have a lasting effect for women and the majority of society. In a recent article for The New Yorker, Jia Tolentino divided and classified the main arguments against contemporary feminism into two opposing categories:
"Either feminism has become too strict an ideology or it has softened to the point of uselessness. On one side, there is, for instance, Kellyanne Conway, who, in her apparent dislike of words that denote principles, has labelled herself a "post-feminist." Among those on the other side is the writer Jessa Crispin, who believes that the push to make feminism universally palatable has negated the meaning of the ideology writ large."
The opening of the article suggests that women (and feminism) have infinite ways to fail, as if there were good and bad ways of being a woman, as if there were good and bad ways of being feminist. This puts first an incredible amount of pressure into young (and not that young) women who consider themselves feminists but do not feel they have the right, or knowledge, to claim so. At the same time, it discourages and keeps away women who might through feminism find a way out, a community, a narrative, a discourse and even an idol with which they can find their way to speak out.
We need a feminism that touches all women regardless of their ideology, race, nationality, social class, religion, gender and especially, education.
Women need to find their way to actively participate as protagonists in political moments with the tools and means that each of us have available. We need a more inclusive feminism that moves across different disciplines, spheres and contexts, a feminism that touches all women regardless of their ideology, race, nationality, social class, religion, gender and especially, education. These means the full and on-going integration of women in politics and political discourses but also in popular discourses: we need a popular feminism that reaches all wo(men) and a feminism where men also participate.
In the current political conjuncture it is fundamental that feminism is able to connect with the majority of women from across the world. To do this we must be extremely generous, open and flexible in our speech and our language, able to challenge all these women that do identify with a discourse of change that address and influences them. Feminism has to enable all women to achieve political and personal emancipation. Therefore, we must prioritise its capacity to meet its objectives, to make it useful in the context where we live and experience the daily oppressions of patriarchy. Such feminism must take into account woman migrants who are often forgotten in political spaces and discourses, recognising the difficulties they face participating in political organisations and accessing spaces for discussion. The same is true for women from ethnic minorities, women with functional diversity, and women with lower levels of education.
The feminism of the twenty first century needs to be one that does not distinguish between that of the activists and that of the academics. It must be thought of as a proposal of majorities capable of connecting other perspectives to achieve a generalised social and political transformation. We live in a historical moment where we need a transversal, brave and open feminism, a transformative movement for all. But in order to achieve it, in order to increase its range, we need to put feminism and feminist discourses in mainstream magazines, in Facebook videos, on Instagram accounts.
We cannot afford to leave out women like Beyoncé who are reclaiming feminism on a daily basis, taking selfies and posting photos of the Women's March on Instagram, who are taking responsibility and raising their voice in a common struggle. The women's mobilisations that have been taking place in 2017, are just one expression of a common political and social sentiment that is growing across the world, finding a way to raise its voice, with the ultimate goal of a radical feminism which ultimately means social justice and equality for all people.