"I always wanted to do something for society," 17-year-old Louise Vanden Abeele from Belgium tells me over Whatsapp. "After these summer holidays, which were very hot for Belgium, I heard about a mobilization for climate and was very interested in it. When I heard about the global strike beginning January, I thought that the Belgium youth had to do something about it and began to reach out to people from all over Belgium to think about actions we could do."
Louise is one of many high school students who will join the global climate strike this Friday, March 15, with the slogans #FridaysForFuture #ClimateStrike. This year alone, and we are now in March, tens of thousands of high school–age students across many countries including Belgium, Germany, Sweden, and the UK have boycotted class and protested against climate change.
The movement was triggered by Greta Thunberg, a 16-year-old  Swedish climate activist. In December 2018, she made international headlines after her speech at the UN Climate Change Summit in Poland in which she criticised world leaders for their passivity. Thunberg was 15 when she started her protests last August. She continued to boycott school every Friday and instead decided to sit in front of the Swedish Parliament to demand the country takes its obligations under the Paris climate agreement seriously. Since then, Greta has been labelled as a "schoolgirl climate change warrior". Her quote is often taken as the one summing up the movement: "Save the world by changing the rules".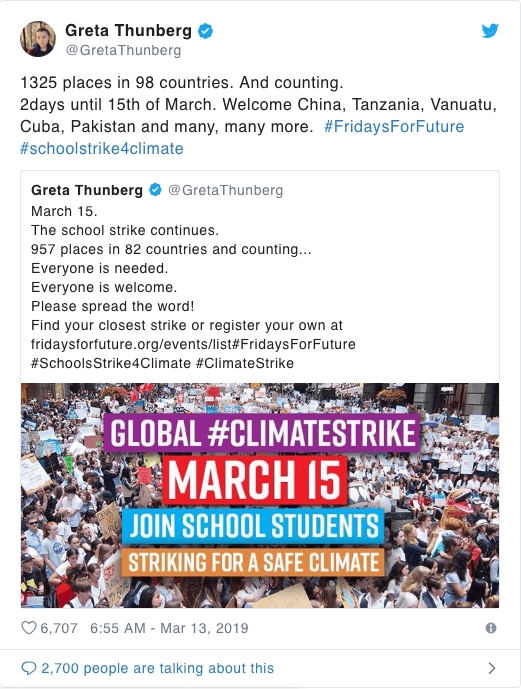 As the media are already reporting, this movement is almost entirely led by teenage girls. For instance, in Belgium, a student-led climate march was started by schoolgirl Anuna De Wever and her best friend Kyra Gantois.
In BuzzFeed's article on young women leading the movement, Jamie Margolin, the 17-year-old founder and executive director of Zero Hour, a group working on the March 15 protest in the US, said that "climate activism has given young women like her a chance to be heard". The 2014 report on Gender, Climate Change and Health provides a first review of the interactions between climate change, gender and health. It documents evidence for gender differences in health risks that are likely to be exacerbated by climate change. In other words, women are more likely to be harmed in the kinds of natural disasters, bear greater responsibility for getting access to water, energy, and other basics of domestic life, and often cannot access opportunities when resources decline. For those young girls, climate activism has meant the chance to raise their voices about those concerns. This is not the case only in Sweden, US or Belgium, Laura Skala is a schoolgirl from Croatia, organising the protest in Zagreb.
When I ask Louise why she thinks that young people should be involved in the dialogue on ecological crisis, she says "Young people are born with these problems on their mind. Climate issues will affect everybody's future but the youth feels they will directly feel the consequences, and then it will be too late to handle them." For Louise and many others involved in the strike, this is really about fighting for their future.
Climate Spring for Future, one of the organisations connected with the protests, have no doubt about expressing their anger in their manifesto: "Climate scientists have evidence that even 2C will cause massive starvation, drought, fire tornados, floods, wars and death. All because today's adults do not care about tomorrow. They are stealing our future right in front of our eyes!" This anger is already translating itself in numbers: this Friday, more than 71 countries and more than 700 places have announced that they will participate in the strike but by the time this piece is published, the number will probably be even bigger.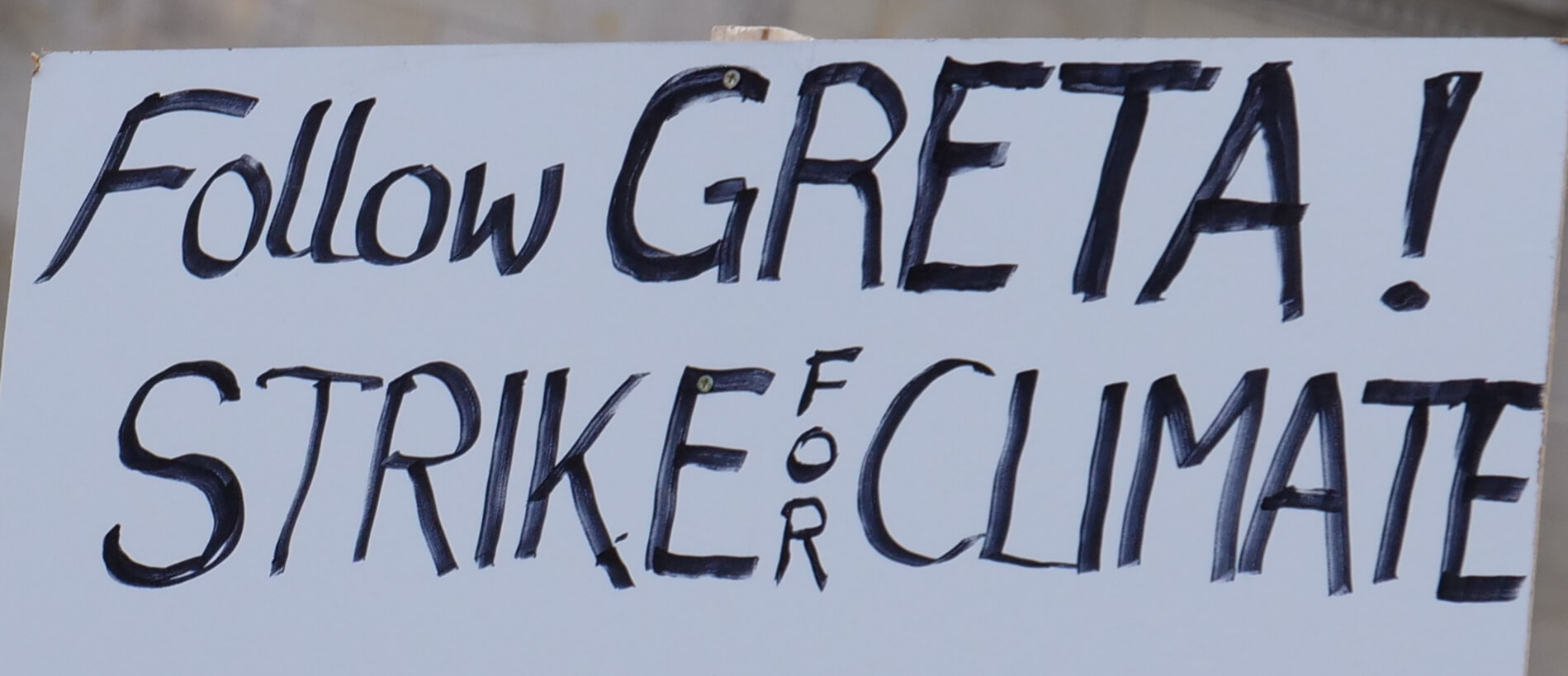 Louise thinks that we are coming up to an alarming moment. "It's too late to wait for individuals to change. Now is the time for the governments to take action – they have the power to introduce drastic changes." In the climate strikers' letter, published in the Guardian earlier this month, the young proclaim themselves as "a betrayed generation" and claim that, although they make up more than half of the global population, they are rarely involved in any decision-making process. This resonates with Louise. Being aware that as a 17-year-old girl she does not have the knowledge to say what exactly needs to change, she however makes things clear: "experts have proposed things, it's up to the government to listen and to apply them." She is confident that March 15 will show that this is an international problem. "We are all on the same planet, we are showing you that we want things to change – so do it," she adds.  
For the ones still unconvinced, those youngsters might not have all the knowledge about fossil-fuel and carbon emissions, but they certainly have phones and internet and they are of course, very well connected. They won't be in school this Friday – they will be on the streets and their demands are becoming harder to ignore.