---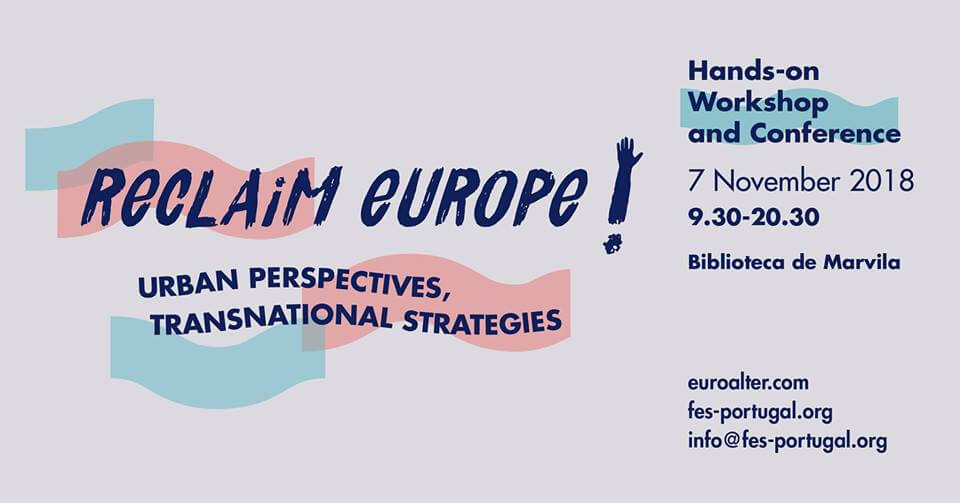 Cities throughout Europe are the stage of social and political struggles and, at the same time, of pioneering solutions. It is at the city level where citizens face the issues that directly affect their communities, but also have a cross-borders impact. It is in this intersection between the local and the transnational where we can find effective solutions for the most pressing matters of our times, from the managing of decent housing to climate change and to the arrival of newcomers in our cities.
What Europe would we like to live in and what does that mean for the struggles in our cities?
What must change if the European Union is to gain in democratic legitimacy from the grassroots level?
How can we evaluate the existing instruments of civil society influence on the decisions of EU institutions?
What plans for a Europe that we experience in common – not only through the institutions – already exist and how can they be strengthened?
The event is the next step of "Reclaim Europe – A Project for the Participation of Civil Society in a Common Europe" by Friedrich Ebert Foundation Portugal that has brought together civil society organisations to discuss the European dimensions of their struggles and to identify claims and proposals for a jointly shaped Europe.
The event will be divided in two parts: A series of workshops in the morning (open to registration) including training and information sessions based on the necessities identified in the former meetings; and an evening public event where the most relevant claims and ideas will be discussed with political stakeholders. The gathering will also provide a framework through which strategies for implementing the proposals can be more specifically elaborated.
European Alternatives and Friedrich Ebert Foundation Portugal invite all interested civil society actors to join our dialogue aimed at a more democratic Europe. In the spirit of a mutual transnational learning process, there will be participants from other European cities with similar struggles and experiences.
Due to international participants, the public event will be in English and Portuguese (simultaneous translation provided). The workshop part will be partly in English and partly in Portuguese, but ad-hoc translation will be provided when needed.