Wing has strong opinions on many subjects. Unionists? They do nothing for workers. Activists? Don't really care about workers; all that interests them is a good union job. Progressive politicians? Come on, they are all reactionaries. The left? Give me a break, there is no left in the US. Developers? Mafia. Lawyers? Same mafia. What about worker's centres, then? That is something we can talk about.
***
I met with Wing Lam, because I wanted him to tell me about the workers' centre in New York's Chinatown. Wing is 67. He has greyish hair and more than three decades of experience in organizing Chinese workers in New York. Born in Tianjin, China, he came to the United States at the age of 17. In the early 1980s he worked in sweatshops in the garment industry. At that time he tried to organize an independent union, but it turned out less effective than he hoped. So, he started looking for another way of organizing sweatshop workers.
The Chinese Staff and Workers' Association (CSWA) came into being in 1979 as the first workers' centre in the US. It was established by a group of Chinese immigrants working in restaurants, but after a while workers from other industries joined them, Wing Lam among them.
The Chinese Staff and Workers' Association came into being in 1979 as the first workers' centre in the US.
Today CSWA is one of several hundred workers' centres around the US. The centres do not constitute a common structure and it is hard to say if there is an idea that connects them all. When I spoke with Wing on the phone before our meeting, he told me that if I want to talk about a "workers' centres movement", there is nothing to talk about, because there is no movement. There are just workers' centres, that's all.
One of them, the Chinese Staff and Workers' Association, is located in Lower Manhattan, at 345 Grand Street, on the border between Lower East Side and Chinatown. It's easy to find. Above the entrance to the four-story blue tenement building there are two yellow signboards with red letters, one in English, the other one in Chinese. You can enter the CSWA right from the street. This is both a plus and a minus, as Jei, a CSWA board member, told me. When the centre was renting an office in Brooklyn, to get to the entrance you had to climb a narrow metal staircase hidden in a back alley between the buildings. 'This was good, because a lot of workers did not necessarily want their bosses to know where they were going'.
***
'You're always open on Sundays?' I ask Wing.
'Every Sunday. Because a lot of people work all days of the week. Sunday should be the day off. But now everyone has a different day off.'
I ask Wing, what workers' centres actually do. I suggest that maybe it'll be easier, if he tells me how they differ from a typical trade union. I will realize in a moment that it probably wasn't the best suggestion.
[easy-tweet tweet="Workers' centre is not a union. It's something completely different!"]
Wing rolls up the sleeves of his checked shirt, he sets his glasses straight with his index finger and slightly irritated goes, 'Why do we always have to describe ourselves in comparison with unions? A workers' centre is not a union. It's something completely different! In America when people say organize, they actually mean unionize. As if the unions are the only way to organize workers, and everything else is bullshit. It's not true. Unions are an employees' movement, not a workers' movement. In Chinese Staff we know that workers are not just employees – they're living in this neighbourhood, they shop in the stores here, they are mothers, and fathers. Besides, there are also people who work but are not employed – they take care of their parents or keep their houses. This is work as well. We do remember about this and unions don't, even those that call themselves progressive.'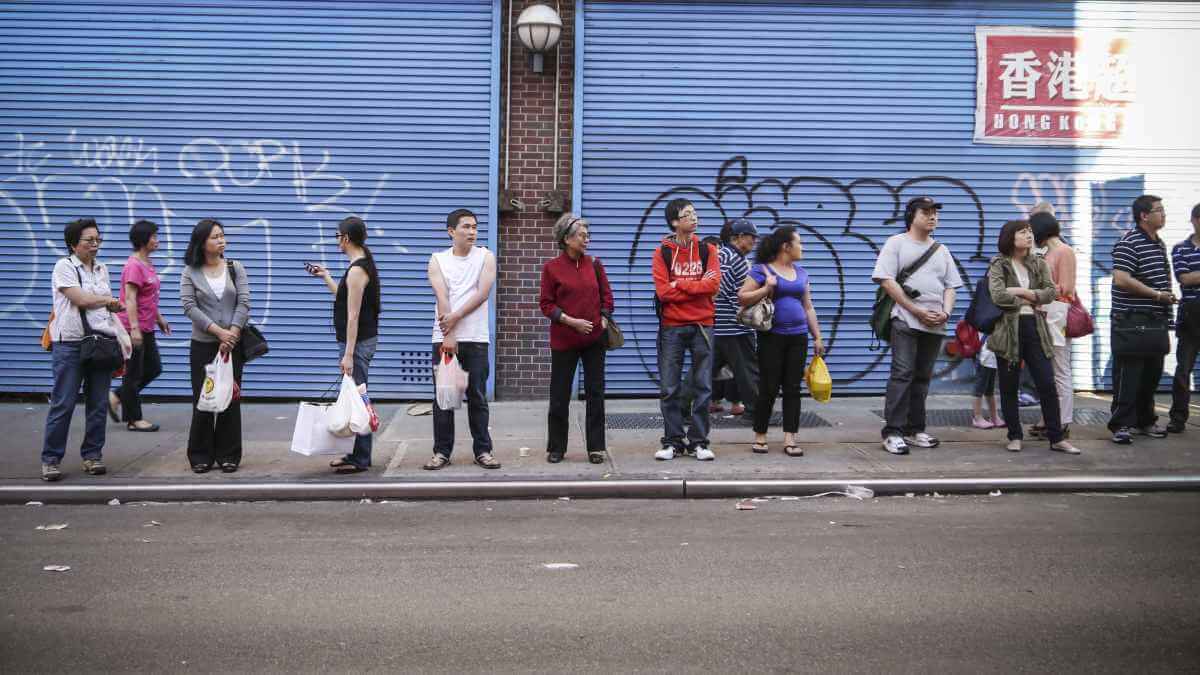 According to Wing, unions are the hotbed of corruption, racism and prejudice towards immigrants. I wondered whether this was just Wing's personal crusade against unionists or a common standpoint among workers' centre activists, so I asked E. Tammy Kim, a journalist at Al Jazeera America, and a lawyer who has been cooperating with a number of workers' centres for almost a decade.
The stars of the workers' centre movement have been immigrants, or second generation immigrants, many of them women.
'No-one is going to be as vocal as Wing,' she laughs. 'But I think there is a critique. Workers' centres tend to be more radical and they do criticize unions from the left. And most of the times they're right. Unions are racist and sexist, extremely white and old. That's still true. To understand the difference between unions and workers' centers you just need to look at their leadership. The union elite is a bunch of self-satisfied white men. They are rightly accused of racism and sexism. And the stars of the workers' centre movement have been immigrants, or second generation immigrants, many of them women. It's also hard to forget that in the '80s unions opposed immigration reform, but in '86 they lobbied for employer sanctions [a part of Immigration Reform and Control Act of 1986 that according to U.S. Citizenship and Immigration Services "prohibits employers from hiring, recruiting, or referring for a fee aliens known to be unauthorized to work in the United States." D.K.]. Now they are against employer sanctions, but the legislation is still in power.'
[easy-tweet tweet="They turned immigrants into slaves."]
Wing is not about to forget any sins of unions. And most certainly not their support for employer sanctions in 1986. Not mincing his words, he says firmly, 'They turned immigrants into slaves.' He taps the table with his index finger. Among various changes that the Immigration Reform and Control Act of 1986 introduced, Wing claims that the employer sanctions are the most harmful. It is estimated that 12 million undocumented immigrants live in the United States today. They have to work somewhere. By hiring them, employers break the law, so undocumented immigrants are forced to work illegally, not seldom in hiding, and under dangerous circumstances, but most importantly, for much smaller wages than on the legal market. 'It is a modern slave law. I know what I'm saying. In capitalism you're supposed to sell you labour freely. In slavery you're not. So, basically it's a slave law,' Wing explains. One of the Chinese Staff and Workers' Association's goals is to repeal employer sanctions.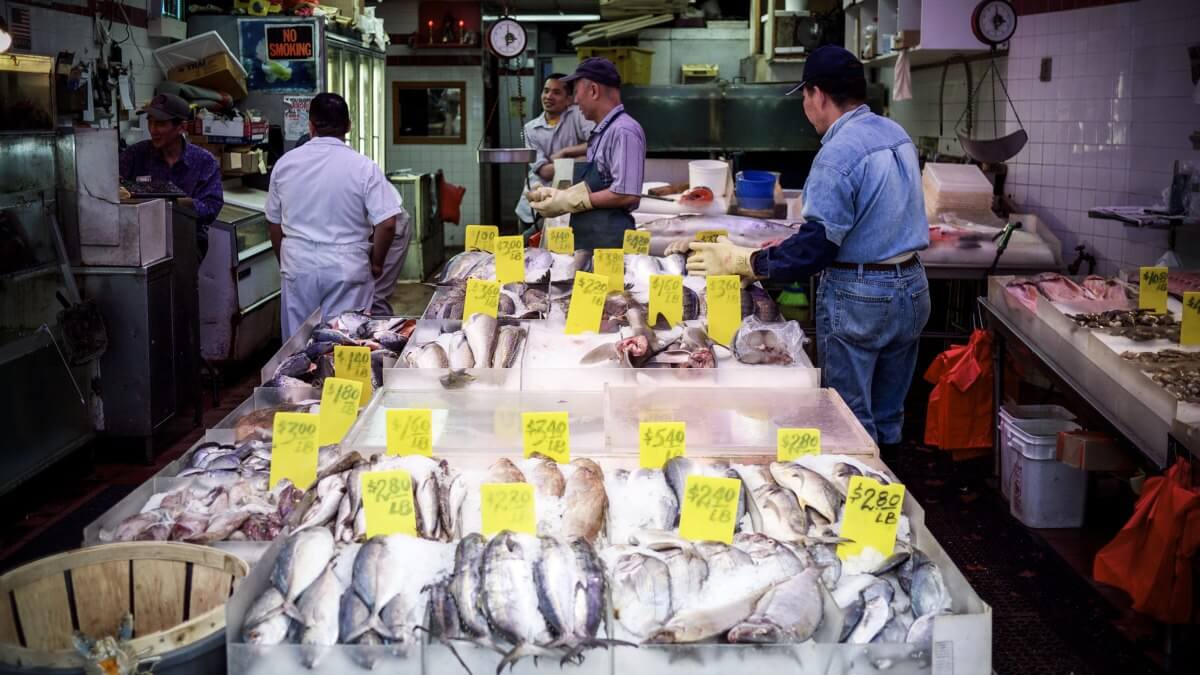 But not many people from CSWA are excited about the minimum wage, which surprised me at first. 'Okay, let's even say it will be $15, right? It'll be a phony wage increase. Tell me what our people will get from this $15? They don't even get what's minimum wage now, because they're undocumented, or bosses steal their wages. They earn $5 an hour, that's it. So, the increase will cause them more harm than good, because prices and rents will go up. First, we have to fight for equal rights for all workers. Otherwise, the wage increase will help one group of workers, while others will be brought down!' Wing accents his words as if he were speaking at a rally.
[easy-tweet tweet="First, we have to fight for equal rights for all workers. "]
'What are the issues that people come with to you? What do they expect?' I ask.
'When it comes to strictly labour issues, it's most often probably wage theft. They agreed on a certain rate with a boss and then when it comes to payment they get less.'
'And what you can do about it?'
'Two things. Go to court and organize a picket. Picketing is actually more important, because after you get a judgement at the court, you still have to collect the money. Bosses have gotten so smart that it always turns out that they don't have any money under their names. This is America! In front of the court they are poor as a church mouse. Then you have to act and get your money back.'
Bosses have gotten so smart that it always turns out that they don't have any money under their names. This is America!
Acting means that CSWA members grab their banners and form a picket line in front of the company that stole wages from workers. They picket for other reasons too. When in October 2015 the employees of the Grand Harmony restaurant in Chinatown unionized, the owner of the company shut the restaurant down. But this wasn't the end of the struggle. 'We don't care who the new owner is, they have to deal with this. The employer had seen how we fight. We had a conversation and they agreed to hire all the workers back. Otherwise the employer knew that if he reopened, the picket line would be there,' Wing tells me, glowing with pride.
'But for how long can you have a picket?' I inquire.
'For a long time. Oh, we can really picket for a long time.'
'You mean a month or two?'
'Our longest picket lasted for years,' Wing leans back on his chair cheerfully. 'But not every day,' he adds.
***
Workers' centres have started to provide immigrant workers with means to fight for their rights. Because of the fact they were established for people 'outside the system', they operate in a much less regulated way than unions. Since they're not limited by the National Labor Relations Act, to organize a picket they don't need to fulfil all the bureaucratic formalities that a union has to before it goes on strike. Workers' centres can also call for secondary boycotts – campaigns aimed against the companies that do business with an employer. US law prevents unions from using such strategies, depriving them of a powerful weapon in the struggle against the ubiquitous outsourcing.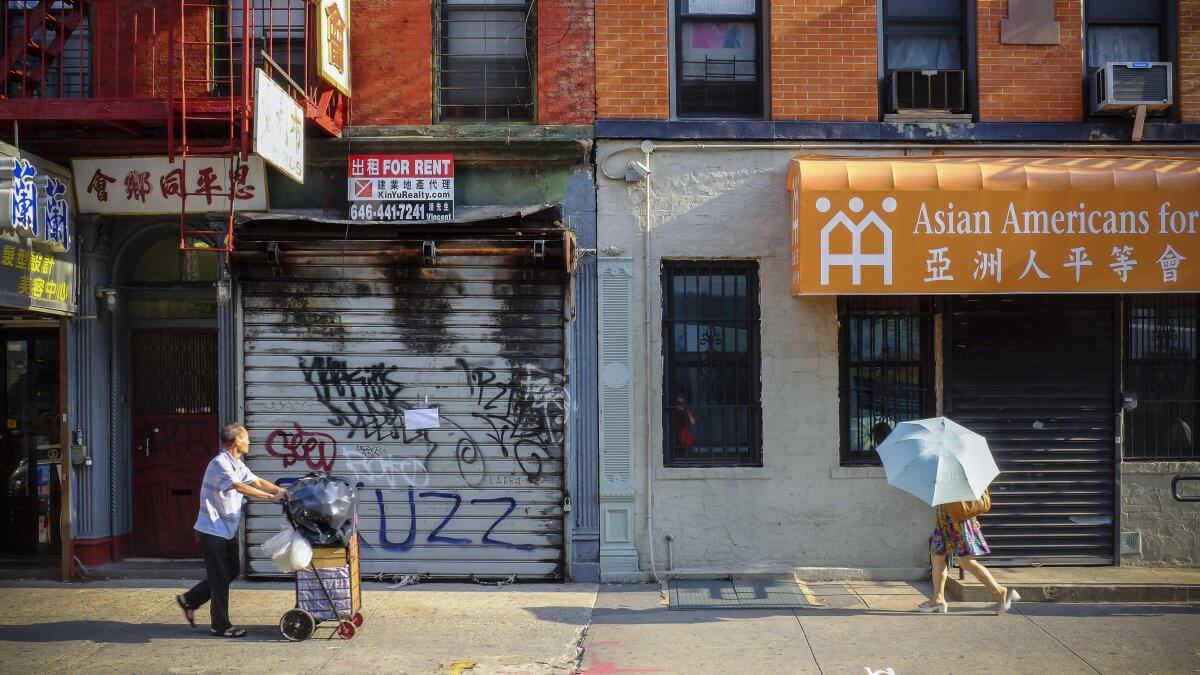 But workers' centres, as Wing loves to emphasize, are not only places where workers deal with fraudulent employers. You can come to the CSWA for English and Chinese classes, and even for karaoke nights. 'We are a kind of a community centre as well,' Jei Fong of the CSWA told me. People from workers' centres are up-to-date with neighbourhood affairs. For Chinatown residents, the most important issues are rising rents and fears related to the ongoing gentrification of the neighbourhood where they grew up.
We are a kind of a community centre as well.
I set up a meeting with JoAnn Lum of National Mobilization Against Sweatshops (NMASS). It's a workers' centre too. I want her to tell me more about the challenges that Chinatown is facing nowadays. We meet at the headquarters of NMASS, right next to CSWA, in the same blue tenement building.
'How is it with you? Are you a part of the Chinese Staff and Workers' Association, or a separate group?'
'Let's say that we are a sister-organization. We cooperate a lot, and we have a common history, but NMASS and CSWA are two different workers' centres. I'm having tea. Would you like some?' JoAnn answers and proposes that we move to the room at the back of the office.
We are sitting at a table next to a percussion set. Later I find out that several NMASS members have a band that plays protest songs. They're called Sick Leave. JoAnn takes a seat in front of me. She is a bit younger than Wing. She warms her hands in woollen fingerless gloves with a cup of tea. 'I'm sick right now, that's why I'm wearing those gloves, and cap, and scarf. I don't want it to get worse,' she explains. She asks where I've come to Chinatown from. I explain that I'm from Poland. JoAnn shows me a press clipping from the New York newspaper Nowy Dziennik (Polish Daily News) that is pinned to the wall behind me, amongst other papers. I see the title: "Zapomniane ofiary 11 września" (Forgotten victims of 9/11).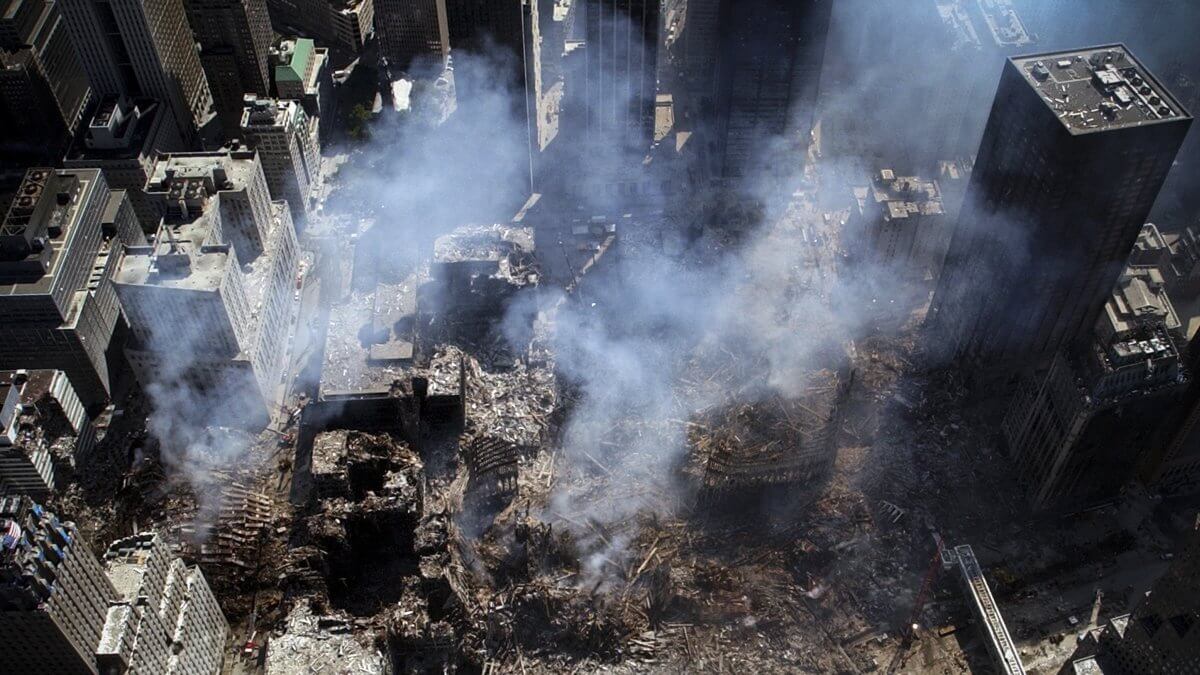 'Yeah, we worked with injured Polish workers who were cleaning up after the disaster of September 11. We helped them to get compensation,' JoAnn recalls. I learn from the slightly yellowed sheet of paper that just a week after the attack, the US Environmental Protection Agency declared that the air in Ground Zero is completely clear. A few paragraphs below there is a passage on the cancer and lung diseases that firefighters, rescue workers, and cleaners working at the World Trade Center site were diagnosed with in numbers much higher than average. The workers' centre in which I'm sitting right now with JoAnn is about two kilometres away from Ground Zero. 'Here, in Chinatown, the air was toxic for months, but government officials told us that everything is ok, that the air is safe to breathe. No-one will give the workers their health back, but they deserve their compensation,' she adds.
Here, in Chinatown, the air was toxic for months, but government officials told us that everything is ok.
I ask JoAnn whether she's always lived in the New York Chinatown. It turns out that she is from Los Angeles, and was born in a family of Chinese immigrants. When her father first came to the US, he worked in restaurants as a dishwasher. But after some years he became a social worker and attained middle-class status. JoAnn's mother was an office clerk. 'So, I think I was under an illusion at this time that this is how you move up. You learn English, get an education, and then you get a better job. That's how you move up. That's the United States,' she laughs bitterly, going back to these memories.
In the early '80s JoAnn moved to New York to work as a journalist. I ask where she worked at that time. She answers reluctantly that she was involved in really big corporate journalism. I sense that she is a bit ashamed of this, but I inquire about the name of the magazine. 'Ok, it was TIME Magazine. So, I hated it,' she says finally. 'It was horrible. It's horrifying to see how they do this so-called news. It's totally a propaganda machine. And it's depressing, you feel like you're selling your soul by being part of that.'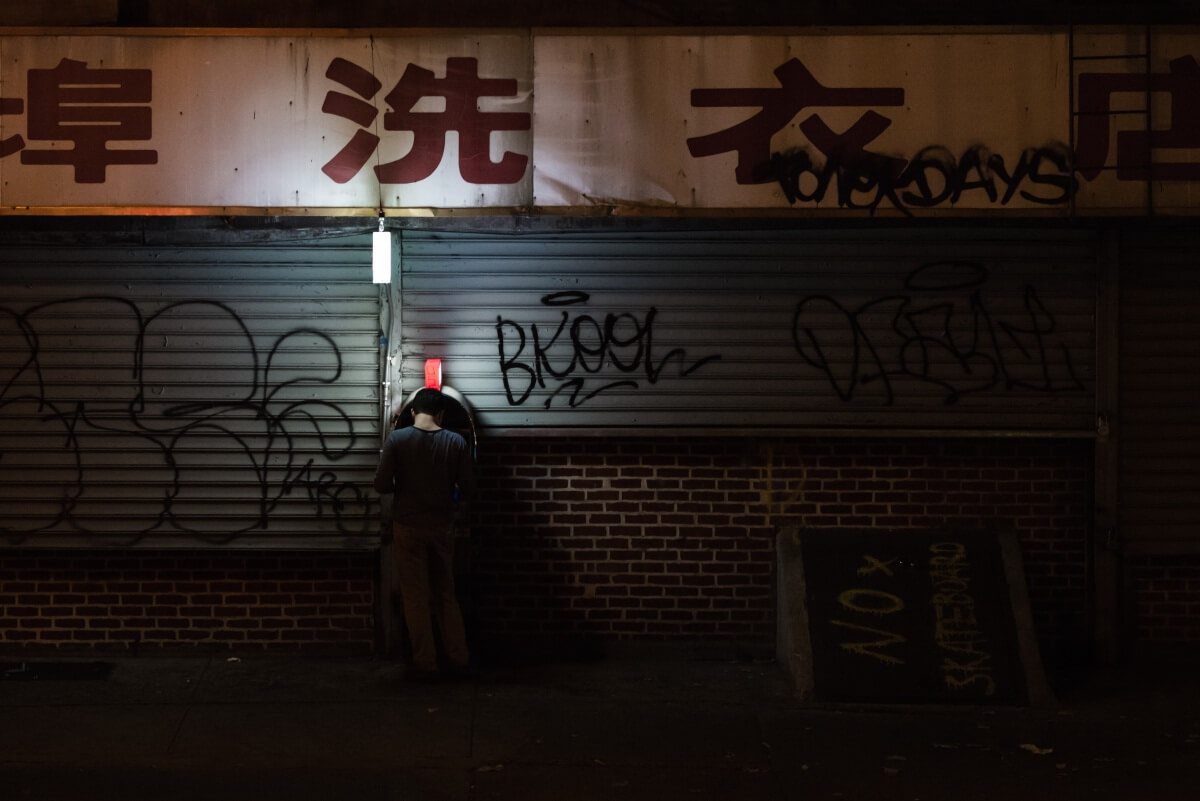 'So, you quit your work at TIME Magazine and started organizing pickets?'
'Something like that. But not right away. When I was still working as a journalist I started volunteering at CSWA. I was teaching English on Sunday mornings to Chinese immigrants, still believing that when you know English, and you have an education, you move up. I was thinking that I'm helping, doing my part. One day the workers invited me to a picket in Chinatown in front of a restaurant where workers were having their tips and wages stolen. So I went along with them, and that really blew me away.'
'But what exactly?'
[easy-tweet tweet="And then, here I am with these Chinese people, screaming and yelling."]
'Chinese people standing up in front of their boss, demanding their rights like that. I remember that at that time there was a part of me that was kind of ashamed, 'cause a lot of my family worked in horrible conditions in garment factories or in restaurants. I felt they just put up with it. We just work really hard, we Chinese. We think that's how we'll get a better life. And then, here I am with these Chinese people, screaming and yelling. They really impressed me, I had a lot of respect for them, and there was so much dignity in it. I think that was a turning point for me 'cause I felt "Wow. I have a lot to learn from them." I mean, I wouldn't dare to stand in front of my company and demand this and that.'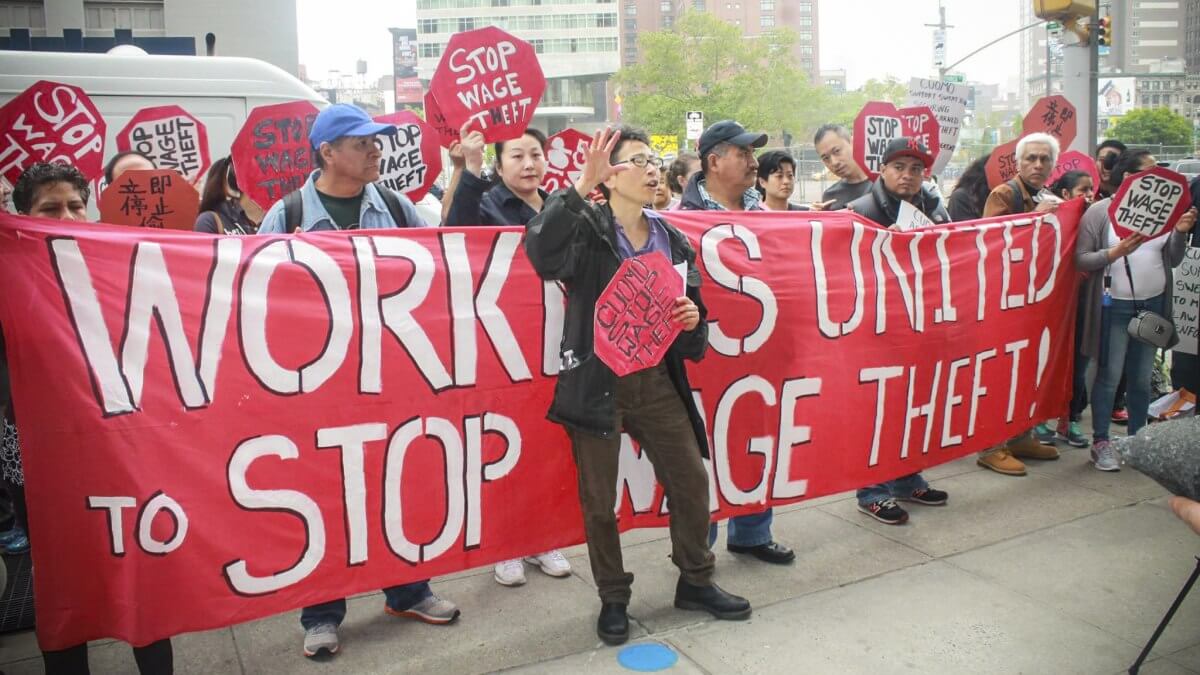 After this picket JoAnn started coming to the workers' centre more often, though she admits that she still felt she had nothing in common with workers. She felt like she was helping them. Born in the US and raised speaking English, she worked at the office of widely-read magazine. 'And it wasn't until years later, after being involved in organizing, that I finally could accept that I'm a worker also. That's how it messes with your mind. You know, this system really makes you think that you're above it all. It took a lot of unlearning. Which much of my involvement in organizing was about: unlearning a lot of lies from my past, from my education, and upbringing and everything.' says JoAnn. We have to take a break for another cup of tea. After all, the constant talking is quite a strain on her sore throat.
***
National Mobilization Against Sweatshops was established in 1996. More volunteers of different backgrounds gathered around the CSWA, not only Chinese. They wanted to be active and realized that the problems Chinese workers' had to deal with affect other immigrants as well, Latinos in particular. That's why NMASS leaflets are bilingual – in English and in Spanish.
In the 1990s, Democratic Party politicians and activists talked a lot about exploitation abroad. Everybody knew about sweatshops in China and India. But no-one would take cognizance of the fact that the same sweatshops existed in the basements of Brooklyn. 'It was our goal back then, in '96 – raising awareness about the sweatshop system in this country,' says JoAnn.
It was our goal back then, in '96 – raising awareness about the sweatshop system in this country.
'And today, twenty years later, what are you focusing on?'
'Mainly on the anti-displacement campaign in Chinatown,' JoAnn replies, sipping her hot tea. People of Chinatown have been protesting for months against the construction of the Extell building. Their struggle became a symbol for the entire anti-displacement campaign. For now, the Extell building exists only in the developer's visualizations. But in the future it is supposed to be erected right next to Manhattan Bridge. According to advertisements, the 71-story skyscraper of glass and metal, will reach as high as 240 metres above ground level. If built, it will be at least four times taller than any other building around. In November, when I met JoAnn, workers at the construction site were working day and night, and the foundations had already been laid.
People organized in the Coalition to Protect Chinatown and the Lower East Side still protest regularly against the construction of the Extell building. In Wing's office I saw a cardboard banner: a big visualization of the glass skyscraper and the caption "Extell. Building from Hell." JoAnn shows me the latest issue of the community newspaper published by NMASS. The same visualization with the headline: "Extell's Racist Development Would Make Lower East Side Home to the 1%. Rents will skyrocket throughout the LES/Chinatown".
East Village is a rich and predominantly white community. Chinatown and Lower East side are mostly Asian and Latino communities, and rather poor.
'JoAnn, tell me please, what's racist about this development?'
'Everything boils down to the rezoning plan accepted in 2008,' JoAnn begins. 'In short, Mayor Bloomberg put together a rezoning plan to provide height restrictions for the East Village, which is just north of our community and did not include Lower East Side and Chinatown in this. If the developers want to build higher than they are allowed to, they need to make 20% of the housing units "affordable". But there is a catch. This "affordable" price is calculated in such way that no one from Chinatown would be able to pay this rent. But you asked about racism,' JoAnn observes. 'Well, the point is that East Village is a rich and predominantly white community. Chinatown and Lower East side are mostly Asian and Latino communities, and rather poor. The more we found out about that plan, the more we saw it was racist because it really cut out our community of colour from that protection. We also deserve to live in the community that we know. Why is East Village treated better than us?' she asks.
[easy-tweet tweet="People feel really betrayed by Bill de Blasio."]
JoAnn says that the Extell building epitomizes the process Chinatown and Lower East Side have been subjugated to for years. First, a new development targeted at the rich is built, then rents in surrounding buildings go up because wealthy people move in to the neighbourhood. Why rent a place to a mom-and-pop store when you can have Starbucks paying better money? As a consequence, long-time tenants and small businesses are forced to move out to poorer neighbourhoods. 'Bill de Blasio was elected on a vow to "end the tale of two cities". That's what he'd said. He said he wanted to end this inequality. But since he came to office two years ago, things have just gotten worse. People feel really betrayed by him,' JoAnn concludes bitterly.
So many people living here are low-income, working families, and there is such a great need for housing.
Yet the activities of the coalition that NMASS and CSWA form part of are not limited to the rallies in front of the Extell construction site. Chinatown residents and small business owners didn't want to wait any longer for the mayor to fulfil his promises, and they decided to create their own rezoning plan for their community; it's called the People First Rezoning Plan. According to the plan, developers who want to build higher than they're allowed to would have to make 50% of the new housing units affordable for low-income people (the price would be calculated on the basis of the median income in the neighbourhood, not in the city as a whole). If developers want to build something on public property, all housing units should be low-income. 'I don't know how many times I've heard that our demands are unreasonable. So many people living here are low-income, working families, and there is such a great need for housing. And that's public land. I mean, public. Why shouldn't it be 100% low-income? I honestly don't get what's unreasonable about it,' JoAnn ends abruptly.
***
Before I go there is still one thing that JoAnn wants to show me. 'Wing probably told you about minimum wage, so I don't have to explain everything, right?' she makes sure. 'So, just take a look at this map we have here,' she says, pointing to an enormous map of New York City on the wall. 'We want to know how much people really make in our city. Workers can come and stick a note with how much they earn an hour at their place. We have to know that, and no one is going to gather this information for us.'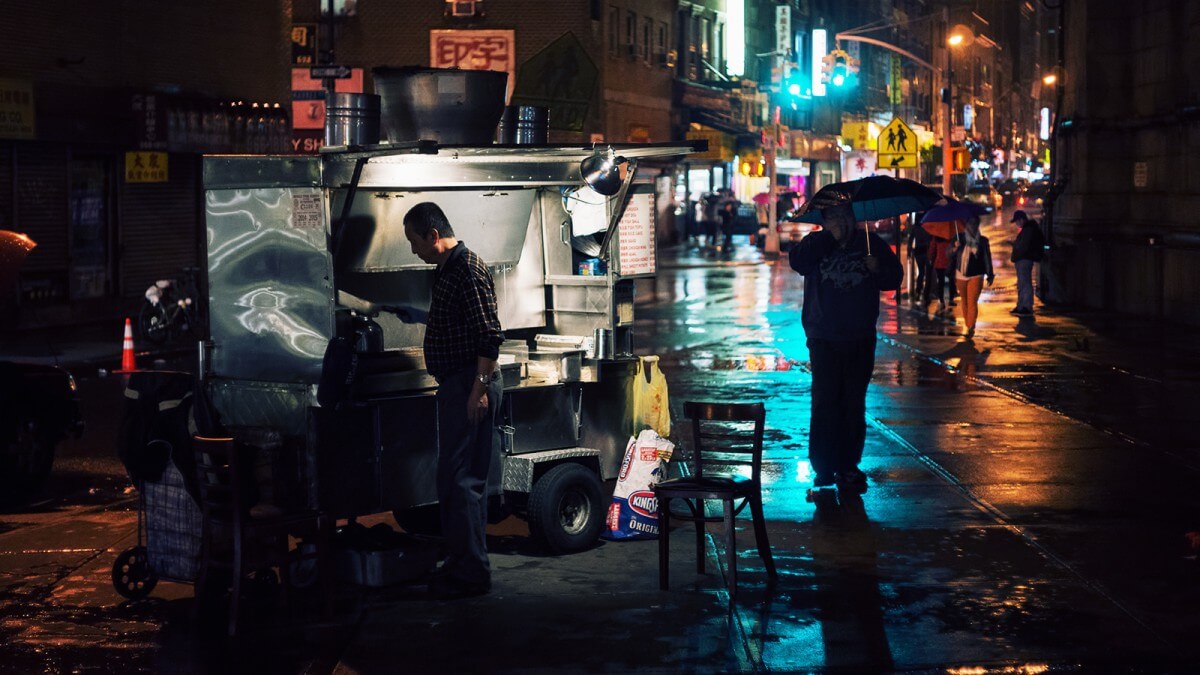 New York State Department of Labor's website reads: 'As of December 31, 2015, New York State's minimum wage is $9.00 per hour.' A few lines below it says that the figure doesn't include industries that make allowances for tips. 'For example, as of December 31, 2015, food service workers may earn $7.50 per hour if they earn $1.50 per hour in tips.' Parts of the map that JoAnn showed me are densely covered with colourful post-it cards with handwritten hourly rates: $3, $4, $5.
***
I would like to thank Dominika Ferens for editing the article.
Featured photo by sopasnor (cc) flickr.com

 This work by Dawid Krawczyk is licensed under a Creative Commons Attribution-NonCommercial-ShareAlike 4.0 International License.